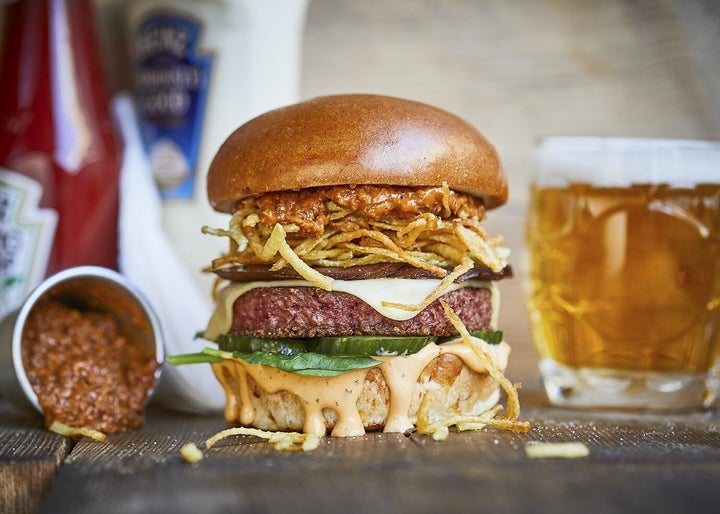 My mouth waters when the burger is placed in front of me by the waiter. That could be because I had a small lunch and waited until 7.30pm to eat dinner. Or it might be because it smells – and looks – delicious.
I'm sitting in an Honest Burgers branch in south London, having just ordered a vegan burger – and when it arrives, I'm puzzled at how this gorgeous pile-up could actually be vegan. According to the menu, it combines a plant-based patty with a rasher of THIS Isn't Bacon, vegan smoked gouda, shoestring fries, plant-based bacon ketchup, chipotle 'mayo', spinach and pickles.
On the menu until 3 February to coincide with Veganuary, the chain said it wanted people who aren't eating meat to have a satisfying bacon burger, too.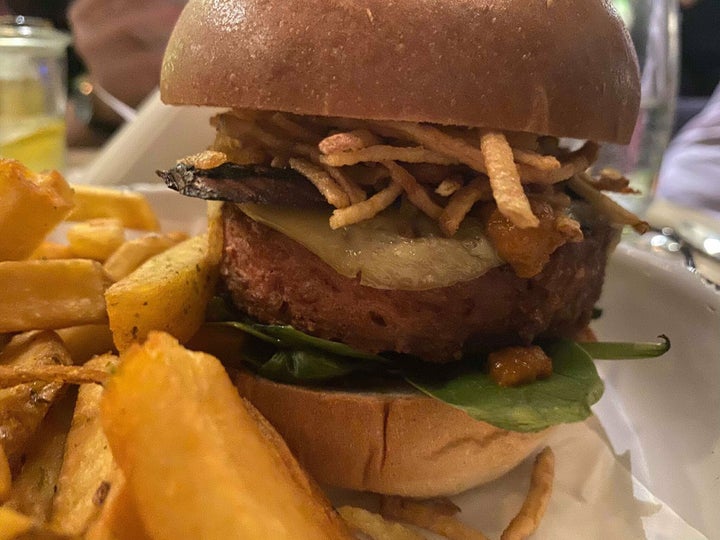 I'm a meat eater – flexitarian to be specific – who is trying to be veggie in January. I love bacon, burgers, and pepperoni pizza, but usually eat meat only when I'm out. So when the burger is set down, I'm eager to get stuck in.
It looks like an Actual Burger™ and smells like one, too, packed full like the picture, with skinny shoestring fries, bacon, a patty, salad, deliciously-smelling bacon ketchup, and vegan cheese – all bookended by a brioche bun.
As I bring it to my mouth, the smell of "bacon" is overpowering. I take my first bite. Moist, not dry (for some reason, that's what I was expecting), a strong bacon taste, the delicious addition of 'bacon' ketchup, and the crunch of a pickle. I smile, that "I-can't-believe-this-is-vegan, smile", while chewing my that first mouthful. It's good. It's... really good.
With the next bite, the ketchup oozes out, and I use the rosemary fries to mop it up. I catch part of the bacon to take a peek – and realise I've tried it before, in this vegan bacon sandwich. My reservation then was the look of it – oddly darker in colour – but in a burger covered in sauce and full of other ingredients, it's not so noticeable. I'm going completely on the taste, and despite being slightly chewier than regular bacon, it's pleasant.
The patty is a juicy, meat-style burger – less substantial than its meat counterpart, and lighter on the stomach, but it does the job. The flavour on its own is quite plain, but there's so much else going on that it doesn't matter.
Eating everything together – the patty, with the crunchy fries and bacon rasher, plus the ketchup and the pickle – is a delight. I chomp through my meal, trying each part separately – the cheese, the bacon, the patty, and the ketchup – satisfied by each one.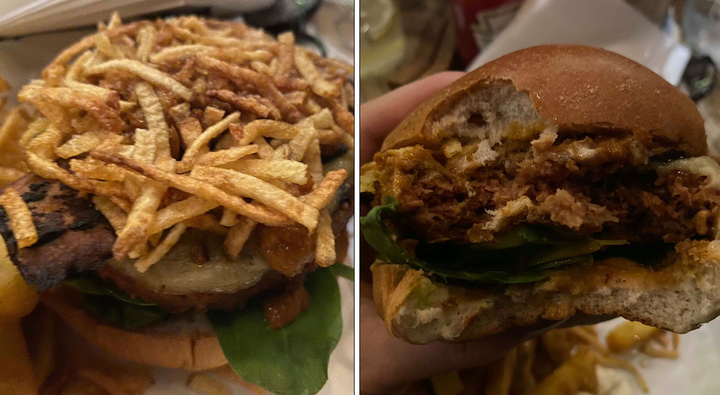 As I take my last bite, I'm stuffed. But that groggy, tired, feeling I usually get after eating a greasy, meaty burger isn't there. You know, that post-meat lull after you've scoffed a lot of meat? I feel full, comfortably full, but not too weighed down with the amount I've eaten.
Has the burger been popular, I ask the waitress, who is clearing our plates. "Yes!" she says, adding that the limited edition bacon element seems to have drawn people in. The chain already sells a plant-based burger with vegan smoked gouda, chipotle 'mayo', mustard, red onion, pickles and lettuce. But there's something about the bacon plant that seems to be more intriguing – perhaps appealing to those who, like me, are meat-eaters trying to cut down.
At £14.50, it's a tad pricer than I'd have liked. I've long been a fan of Honest's vegetarian burger – a courgette and sweetcorn fritter burger with cheese, chipotle mayo, slaw, and pickles – and that's only nine quid. But considering the bacon plant burger is full of fries and lot of other greasy goodness, as well as being limited edition, you can understand why they've hiked the price up.
I walk away content. It tasted great, I don't have that sleepy-full feeling and I genuinely wouldn't pick a meat burger over this one if I came back again.
I'm a convert, a total bacon plant burger convert.
Try the Bacon Plant Burger at Honest from 2 January to 3 February.