The former Ukip leader made the accusation during an interview with LBC on Tuesday morning.
Hope not Hate was formed in 2004 as a means of countering the rise of far-right groups such as the British National Party (BNP). It describes itself as an organisation seeking "to challenge and defeat the politics of hate and extremism within local communities".
Hope not Hate said in a statement: "Nigel Farage's allegations against HOPE not hate on LBC today are a political smear, which is why our lawyers have written to Mr Farage demanding that he retracts and publicly apologises for his remarks, or face further legal action.
"Hope not Hate is a well-respected, civil society organisation whose more than 200,000 supporters come from all political persuasions. They are united by a common desire to combat racism and to do so using lawful, peaceful means.
"That Nigel Farage made his remarks in the context of a discussion about Jo Cox, who was so brutally murdered earlier this year, makes them all the more poisonous and hateful.
"As is well known, Hope not Hate was one of three entities chosen by Jo's widow, Brendan Cox, as the recipient of donations from the public who wished to show their solidarity with the family."
Farage also sparked outrage this morning after hitting back at the husband of murdered MP Jo Cox, telling the widower that he would "know more about extremists than me".
The Ukip MEP's comments come after he said the Berlin terror attack, which left 12 people dead and 48 injured, was "no surprise" as he criticised German Chancellor Angela Merkel's "legacy".
Brendan Cox replied to Farage, saying: "Blaming politicians for the actions of extremists? That's a slippery slope Nigel."
When asked about Cox's comments during an interview on LBC this morning, Farage responded: "Yes well of course he would know more about extremists than me, Mr Cox.
"He backs organisations like Hope not Hate who masquerade as being lovely and peaceful but actually pursue violent and very undemocratic means.
"And I'm sorry Mr Cox but it is time people start taking responsibility for what happened. Mrs Merkel has directly caused a whole number of social and terrorist problems in Germany, it's about time we confronted that truth."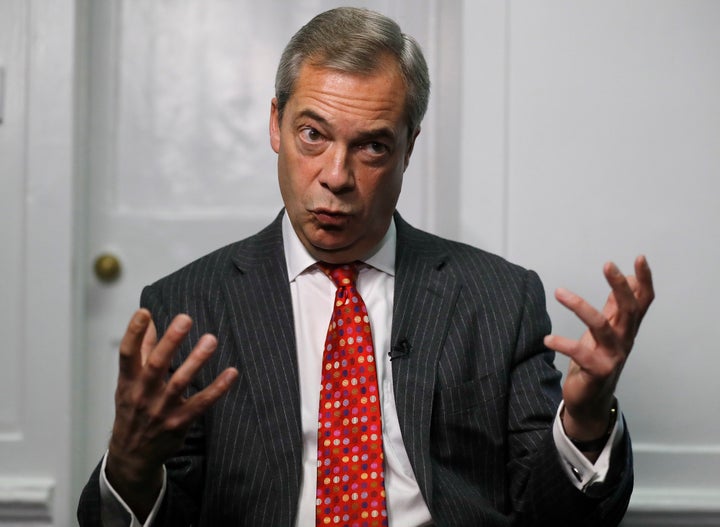 Forced to acknowledge that no-one has arguably been more on the receiving end of this sort of extremism than Cox, Farage said: "Yes and it's a terrible thing that happened to his family with the murder of his wife but he continues to be active in the political arena and as I say, given some of the organisations that he supports I can't just stand here and say 'I'm not going to respond'."
A Hope not Hate spokesman said they will be consulting with their lawyers over the "potentially libellous statement" made by Farage.
The orgnisation said in a statement: "We are aware of a serious and potentially libellous statement made about Hope not Hate by Nigel Farage on LBC radio this morning.
"We have no idea on what Mr Farage bases his outrageous comments. Hope not Hate has a proud history of campaigning against extremism and hatred.
"We will not be making any further comment until we have had the opportunity to consult with our lawyers."
Many were furious at Farage's comments.
Labour MP Jess Phillips said Farage, who she labelled a "monster" was "essentially sneering at the murder of my friend".
It is not the first time that Ukip has targeted Hope not Hate. In 2013 Ukip's national conference ruled that any supporter of Hope not Hate cannot be a member of Ukip.
Hope not Hate said at the time: "It's incredible that a party that's desperately denying claims that it is racist bans membership from Britain's largest anti-racist organisation.
"Ukip claim Hope not hate is an extremist organisation, putting us on par with the fascist BNP. This is clearly ridiculous."
The group added: "We have got under UKIP's skin and they don't like it. But rather than deal with their own racists they are trying to silence us."
Monday's attack in the German capital killed at least 12 people and injured 48.
Police said the truck was driven into the busy part of Berlin intentionally.
Far-right groups and a nationalist party seized on Monday's attack, blaming German Chancellor Angela Merkel for what had happened.
"Under the cloak of helping people Merkel has completely surrendered our domestic security," Frauke Petry, the co-chairwoman of the Alternative for Germany party wrote.
Manfred Weber, a member of Merkel's conservative party and leader of the European Parliament's biggest political grouping, cautioned against reaching sweeping verdicts following the attack. But he said it was important to ensure that extremists didn't enter the country among those seeking refuge in Europe.
"The state must be able to check every refugee who comes here," he told German public broadcaster ARD.
Popular in the Community