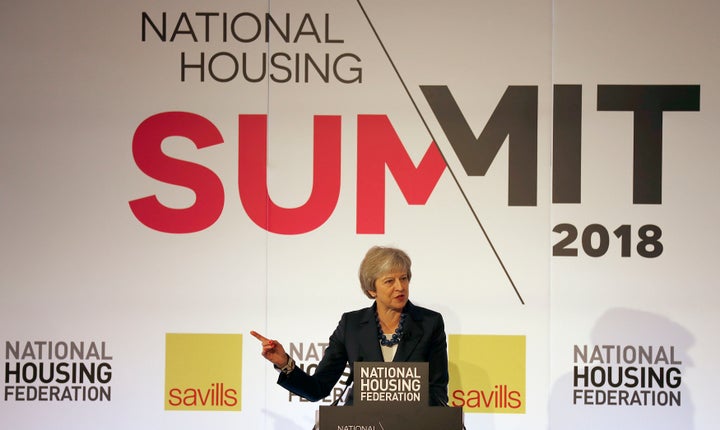 Theresa May's speech today shows what a mess the Tories are in on housing. They know the housing market is broken and, after eight years, they know too that current Conservative housing policy can't fix it.
But unable to break out of the ideological straightjacket of austerity, and hands-off Government which has defined the last eight years, the Prime Minister is only able to bring herself to pledge a small sum of cash, at some point in the next decade when she may no longer be in post and in no position to honour the promise.
This is housing on the never never. Small pots of money pledged for the future that pale into insignificance compared to the more than £20 billion of cuts to grant funding for affordable homes since 2010.
It's part of a pattern of policy that doesn't measure up to the problems being caused by current Tory policy, never mind make inroads into helping with the housing pressures that people face.
More than 150,000 social rented homes have been lost over the last five years, but Theresa May's Tories continue to champion the fire sale of council homes, and now housing association homes too.
Almost every council in the country – Conservative and Labour – wants to build, but Theresa May's Tories still cap this aspiration with punitive borrowing restrictions.
Meanwhile central Government funding was one of the first areas to have its budget slashed after 2010, which is why last year we built fewer social rented homes than in any year on record, probably since the Second World War.
The truth is that to make housing more affordable, we need to build many more genuinely affordable homes, and to hardwire housing affordability right through the system.
That's why Jeremy Corbyn and I have set out Labour's plan to build one million genuinely affordable homes over 10 years, including the biggest council housebuilding programme for over 30 years. This is the sort of scale of ambition that in the past was seen as common sense. We think it still makes sense.
This will start from day one of the next Labour Government, with a plan to fully lift the borrowing cap on council housing and boost central Government funding for new homes.
And because it's not just how many homes we build but what we build that counts, Labour will redefine what "affordable housing" means, so that after years of being corrupted and discredited under the Tories, people can again have confidence that 'affordable' means what it says.
So we'll scrap the Conservatives' bogus "affordable rent" at up to 80% of market rates and replace it with genuinely affordable homes to rent and buy linked to average incomes.
We'll set up an English Sovereign Land Trust to help take the profiteering out of land, and fund the new generation of low-cost homes the country needs, and crack down on developers who dodge their obligations to local communities by sidestepping affordable housing requirements.
This is what a radical plan to build the homes that we need and fix the country's housing crisis looks like. As the election last year showed, there's a public appetite for big idea.
John Healey is the shadow housing secretary and Labour MP for Wentworth and Dearne