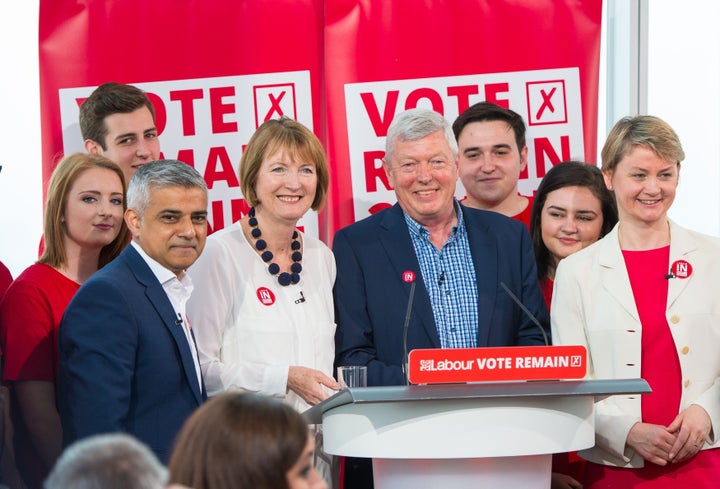 Labour's Yvette Cooper today questioned how Boris Johnson and Michael Gove can "live with themselves" for the "lies" they are telling about Turkey joining the EU.
In a passionate attack on Vote Leave, the former Labour leadership contender accused the Tory MPs of being "utterly shameful" for stoking up fears that Turkey could soon be part of the European Union.
Yesterday, Gove urged people to take advantage of the extension for voter registration in order to have a "vote on whether they share free movement of people with Turkey."
The Prime Minister has repeatedly claimed Turkey would not join the EU for decades, but it is official Government policy that the country should ultimately be a member.
Speaking from the top floor on the London Shard, Cooper delivered the full-throated criticism of Johnson and Gove after London Mayor Sadiq Khan called on Labour to send a "crystal clear message" that it backed a Remain vote in the upcoming referendum.
Responding to Vote Leave's claims about Turkish ascension, Cooper said: "At every single stage it is misinformation and lies from the Leave campaigners and the thing that is really shocking is that Boris Johnson and Michael Gove know that Turkey is not joining the European Union anytime soon.
"They know that Cyprus would veto it, they know that Greece would veto it. They know it hasn't fulfilled any of the conditions and on human rights it is going backwards.
"They know all of those things, they are not stupid but they are deliberately manipulating the facts, they deliberately telling lies.
"In Boris Johnson's case it's for his own personal interest and it is shameful, it is utterly shameful. I don't know how they live with themselves, manipulating this and telling lies in this way because they know what they are doing.
"This is deliberate what they are doing. I don't know what their conscience would say to them about what they are doing and they should really think hard about the way that they are twisting and distorting.
"It's Oxford Union style debating strategy that they think they can just pull anything out, say it, like a columnist just seeking headlines."
Labour's Alan Johnson, who is head of the party's campaign to stay in the EU, said he didn't know if his newborn great-grandchild would see Turkey joining the EU in its lifetime.
He said: "The fact is only one of 35 chapters [to join the EU] has been completed in what – 12, 15 years? There's 34 to go."
He added: "People need to know the only way Turkey will join the EU is if this country, through its democratically elected government, decide that they should join the EU."