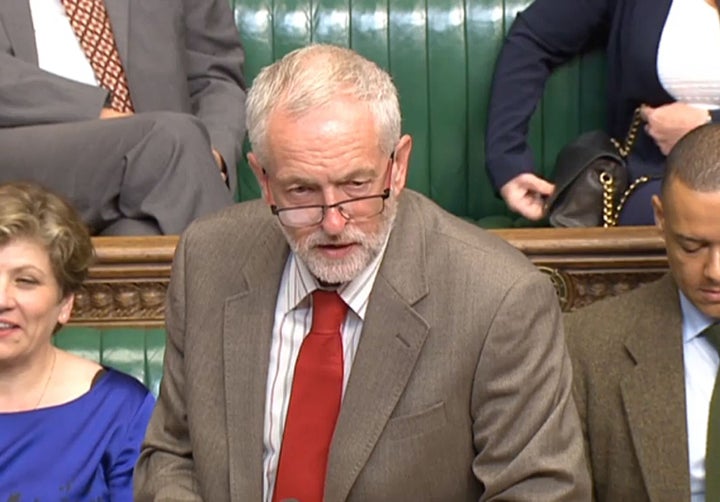 Some 140 Labour MPs voted with the Tory government, in line with official party policy, to renew the weapons system.
But 47 voted against - including Jeremy Corbyn - and 40 were absent from the vote. Just one MP, Rupa Huq, registered a formal abstention.
Here's the full lists of each category.
Those who voted for the Trident upgrade:
Aye (140)
ALEXANDER, Heidi, Ms
ALI, Rushanara, Ms
ALLIN-KHAN, Rosena
AUSTIN, Ian, Mr
BAILEY, Adrian, Mr
BARRON, Kevin, Sir
BECKETT, Margaret, Rt Hon.
BENN, Hilary, Rt Hon.
BERGER, Luciana, Ms
BETTS, Clive, Mr
BLENKINSOP, Tom, Mr
BRADSHAW, Ben, Rt Hon.
BRENNAN, Kevin, Mr
BRYANT, Chris, Mr
BURNHAM, Andy, Rt Hon.
BYRNE, Liam, Rt Hon.
CAMPBELL, Alan, Rt Hon.
CHAPMAN, Jenny, Ms
COAKER, Vernon, Mr
COFFEY, Ann, Ms
COOPER, Julie, Ms
COOPER, Rosie, Ms
COOPER, Yvette, Rt Hon.
COYLE, Neil, Mr
CREAGH, Mary, Ms
CREASY, Stella, Ms
CUNNINGHAM, Jim, Mr
DAKIN, Nic, Mr
DAVID, Wayne, Mr
DAVIES, Geraint, Mr
DE PIERO, Gloria, Ms
DOUGHTY, Stephen, Mr
DOWD, Jim, Mr
DOWD, Peter, Mr
DROMEY, Jack, Mr
DUGHER, Michael, Mr
EAGLE, Angela, Ms
EAGLE, Maria, Ms
ELLIOTT, Julie, Ms
ELLMAN, Louise, Ms
ESTERSON, Bill, Mr
FARRELLY, Paul, Mr
FIELD, Frank, Rt Hon.
FITZPATRICK, Jim, Mr
FLELLO, Robert, Mr
FLETCHER, Colleen, Ms
FLINT, Caroline, Rt Hon.
FOVARGUE, Yvonne, Ms
FURNISS, Gill, Ms
GAPES, Mike, Mr
GLASS, Pat, Ms
GLINDON, Mary, Ms
GREEN, Kate, Ms
GWYNNE, Andrew, Mr
HANSON, David, Rt Hon.
HARMAN, Harriet, Rt Hon.
HAYES, Helen, Ms
HAYMAN, Sue, Ms
HEALEY, John, Rt Hon.
HEPBURN, Stephen, Mr
HILLIER, Meg, Ms
HODGE, Margaret, Rt Hon.
HOWARTH, George, Rt Hon.
HUNT, Tristram, Mr
JARVIS, Dan, Mr
JOHNSON, Alan, Rt Hon.
JOHNSON, Diana, Ms
JONES, Gerald, Mr
JONES, Graham, Mr
JONES, Helen, Ms
JONES, Kevan, Mr
JONES, Susan Elan, Ms
KANE, Mike, Mr
KENDALL, Liz, Ms
KINNOCK, Stephen, Mr
KYLE, Peter, Mr
LESLIE, Chris, Mr
LEWELL-BUCK, Emma, Ms
LUCAS, Ian C, Mr
LYNCH, Holly, Ms
MADDERS, Justin, Mr
MAHMOOD, Khalid, Mr
MAHMOOD, Shabana, Ms
MALHOTRA, Seema, Ms
MANN, John, Mr
MARRIS, Rob, Mr
MATHESON, Christian, Mr
MCCABE, Steve, Mr
MCCARTHY, Kerry, Ms
MCDONAGH, Siobhain, Ms
MCFADDEN, Pat, Rt Hon.
MCGINN, Conor, Mr
MCGOVERN, Alison, Ms
MCINNES, Liz, Ms
MCKINNELL, Catherine, Ms
MILIBAND, Edward, Mr
MOON, Madeleine, Ms
MORDEN, Jessica, Ms
ONN, Melanie, Ms
ONWURAH, Chi, Ms
OWEN, Albert, Mr
PENNYCOOK, Matthew, Mr
PERKINS, Toby, Mr
PHILLIPS, Jess, Ms
PHILLIPSON, Bridget, Ms
POWELL, Lucy, Ms
REED, Jamie, Mr
REED, Steve, Mr
REES, Christina, Ms
REEVES, Rachel, Ms
REYNOLDS, Jonathan, Mr
ROBINSON, Geoffrey, Mr
RYAN, Joan, Ms
SHARMA, Virendra, Mr
SHEERMAN, Barry, Mr
SHERRIFF, Paula, Ms
SHUKER, Gavin, Mr
SLAUGHTER, Andy, Mr
SMEETH, Ruth, Ms
SMITH, Angela, Ms
SMITH, Nick, Mr
SMITH, Owen, Mr
SMYTH, Karin, Ms
SPELLAR, John, Rt Hon.
STARMER, Keir, Mr
STREETING, Wes, Mr
STUART, Gisela, Ms
TAMI, Mark, Mr
THOMAS, Gareth, Mr
THOMAS-SYMONDS, Nick, Mr
TIMMS, Stephen, Rt Hon.
TURLEY, Anna, Ms
TURNER, Karl, Mr
TWIGG, Stephen, Mr
VAZ, Valerie, Ms
WATSON, Tom, Mr
WILSON, Phil, Mr
WINTERTON, Rosie, Rt Hon.
WOODCOCK, John, Mr
WRIGHT, Iain, Mr
Those who voted against the Trident upgrade:
No (47):
ABBOTT, Diane, Ms
ALLEN, Graham, Mr
BLOMFIELD, Paul, Mr
BROWN, Nicholas, Mr
BURDEN, Richard, Mr
BURGON, Richard, Mr
BUTLER, Dawn, Ms
CADBURY, Ruth, Ms
CAMPBELL, Ronnie, Mr
CHAMPION, Sarah, Ms
CLWYD, Ann, Rt Hon.
CORBYN, Jeremy, Mr
CRYER, John, Mr
FLYNN, Paul, Mr
FOXCROFT, Vicky, Ms
GODSIFF, Roger, Mr
GOODMAN, Helen, Ms
GREENWOOD, Margaret, Ms
GRIFFITH, Nia, Ms
HAIGH, Louise, Ms
HAMILTON, Fabian, Mr
HARRIS, Carolyn, Ms
HOEY, Kate, Ms
HOPKINS, Kelvin, Mr
HUSSAIN, Imran, Mr
LAMMY, David, Rt Hon.
LONG BAILEY, Rebecca, Ms
MASKELL, Rachael, Ms
MCDONNELL, John, Mr
MEALE, Alan, Sir
MURRAY, Ian, Mr
NANDY, Lisa, Ms
OSAMOR, Kate, Ms
POUND, Stephen, Mr
RAYNER, Angela, Ms
RIMMER, Marie, Ms
SHAH, Naz, Ms
SIDDIQ, Tulip, Ms
SKINNER, Dennis, Mr
SMITH, Andrew, Rt Hon.
SMITH, Jeff, Mr
STEVENS, Jo, Ms
STRINGER, Graham, Mr
TRICKETT, Jon, Mr
VAZ, Keith, Rt Hon.
WEST, Catherine, Ms
ZEICHNER, Daniel, Mr
And those who abstained or were absent from the vote on Trident:
Abstained (1)

HUQ, Rupa, Ms

Absent (40):
ABRAHAMS, Debbie, Ms
ANDERSON, David, Mr
ASHWORTH, Jonathan, Mr
BLACKMAN-WOODS, Roberta, Ms
BROWN, Lyn, Ms
BUCK, Karen, Ms
CRAUSBY, David, Mr
CRUDDAS, Jon, Mr
CUMMINS, Judith, Ms
CUNNINGHAM, Alex, Mr
DEBBONAIRE, Thangam, Ms
EFFORD, Clive, Mr
ELMORE, Christopher, Mr
EVANS, Chris, Mr
GARDINER, Barry, Mr
GREENWOOD, Lilian, Ms
HENDRICK, Mark, Mr
HODGSON, Sharon, Ms
HOLLERN, Kate, Ms
KAUFMAN, Gerald, Sir
KEELEY, Barbara, Ms
LAVERY, Ian, Mr
LEWIS, Clive, Mr
LEWIS, Ivan, Mr
MACTAGGART, Fiona, Rt Hon.
MARSDEN, Gordon, Mr
MCDONALD, Andy, Mr
MCMAHON, Jim, Mr
MEARNS, Ian, Mr
MORRIS, Grahame M, Mr
PEARCE, Teresa, Ms
QURESHI, Yasmin, Ms
REYNOLDS, Emma, Ms
ROTHERAM, Steve, Mr
SMITH, Cat, Ms
THORNBERRY, Emily, Ms
TWIGG, Derek, Mr
UMUNNA, Chuka, Mr
WHITEHEAD, Alan, Mr
WINNICK, David, Mr
Popular in the Community