Going to the cinema can be a wonderful treat for the whole family, but if your nearest venue charges premium prices then it can be hard to justify a trip. Especially when you throw in the price of sweets or popcorn on top.
"We would love to go more as a family," Tushna Ghadially, who runs the Marylebone Mums blog, tells HuffPost UK. "But at £14 per adult and £11 per kid, it is far too expensive. The cinema is now a special treat."
But with 'Incredibles 2', 'Hotel Transylvania 3: A Monster Vacation' and 'Teen Titans Go! To the Movies' all in last weekend's top 10 films at the box office, clearly some families are still taking their kids. So how do they afford it?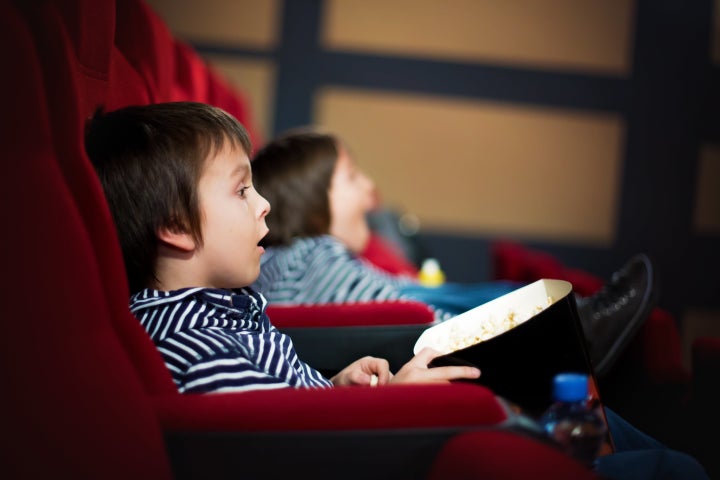 There are lots of ways to try and bring the cost down for the family, from finding cheaper screenings or tickets to taking in your own sweets.
Make the most of family tickets
'Everyone's a kid' is what Picturehouse cinemas say about their family ticket, which lets adults pay child's prices. The family ticket is for four people and at least two of them need to be under the age of 15.
Odeon also lets adults pay child prices with a family ticket, and has special child ticket prices for those under 12, and teen tickets for ages 13 to 17.
Vue has a four-person family ticket too, but this is just for films rated U, PG and 12A, as does Cineworld, which gives a discount on the total price to make it cheaper than buying four tickets individually.
Find cheap screenings for kids
"We go once a month and also do mini mornings which is very cheap," Sophie Kathir, a mother of two, explained. "It's [at our] Vue cinema where they do morning shows for kids on a weekend for £2.49 for both adults and kids."
Kathir says that if you look in the right places then the cinema can be affordable.
A number of cinema chains put on cheap screenings for families. Odeon Kids screenings show recent releases from £2.50 on Saturdays and Sundays - every day during the summer holidays - while Vue's Mini Mornings offer the same deal. Cineworld similarly has Movies for Juniors.
Lora Metheringham, who finds it too expensive to see things on the big screen unless she is using an offer, says her family make the most of the Odeon Kids screenings in Lincoln or Newark, which her husband takes their child to for some "father and son time".
Seek out discounts
Cinema tickets can be a popular reward from brands and companies to their consumers, or even from employers, and are a great way to see the latest blockbuster for free.
Meerkat Movies, which is offered through comparison website Compare the Market, gives users two-for-one cinema tickets on a Tuesday or Wednesday, while Tesco Clubcard points can be exchanged for Odeon and Cineworld tickets. Some banks such as Lloyds and Natwest also offer free cinema tickets with certain accounts.
Dad-of-two Daniel Rust says he takes his six-year-old to the cinema three or four times a year where they live in Birmingham. "I do think it's expensive but we get some free tickets through our bank account which we use for big releases," he said.
Hanna Imaan, who also lives in Birmingham, says she and her partner like taking their child to the cinema quite often. She said: "We get corporate discounts through our workplace so it's quite a bit cheaper at some places. The three of us pay around £26 for tickets plus popcorn and drink - but without our discount that would be about £33."
Don't get caught out by expensive snacks
"I go a lot, especially during holidays but it's super pricey," father Alex Micu says. He says he likes to take his child to see a film during the holidays, but at his Vue in Westfield, London, he can end up spending around £30 on tickets and another £10 on snacks - and that's without lunch thrown in.
If you're not fussed about where you buy your snacks from, many parents recommend stocking up on them before you go. And if your child is desperate for a popcorn fix, lots of supermarkets sell their own bags.
"We always take our own snacks and drinks as it's too expensive otherwise," mother Sarah McSweeney said.
Find a local gem
Big cinema chains can be a great option but it's always worth checking out your local venue, whether it's independent or just a smaller chain.
Elizabeth Trustrum, who loves going to the cinema but finds it too pricey outside of the kids' screenings on offer at her local Odeon in Colchester, says: "We also have an art gallery here called First Site which shows ids films in the holidays," which charges £5 per ticket.
One mum-to-be in south east London pointed out the Peckhamplex cinema in Peckham only charges £4.99 a ticket day or night (it goes up to £5.99 for 3D films), and small chain Light Cinemas do £3 Family AM screenings so the cheaper options are out there, they may just be a little hidden.