Domestic abuse affects one in four women and one in six men in their lifetime. But it's often difficult for these people to access the help they so desperately need.
To tackle this problem head on, Women's Aid has launched a programme teaching members of the public how to spot the signs of domestic abuse and act as signposts directing vulnerable people towards professional help.
The 'ask me' initiative will train people who work in the community - such as hairdressers, shop assistants and job centre workers - to know how to sensitively question and help those experiencing domestic abuse.
Signposted safe spaces will be created in the local community - within businesses and community settings - where people who are experiencing domestic abuse can go and safely speak to someone about it.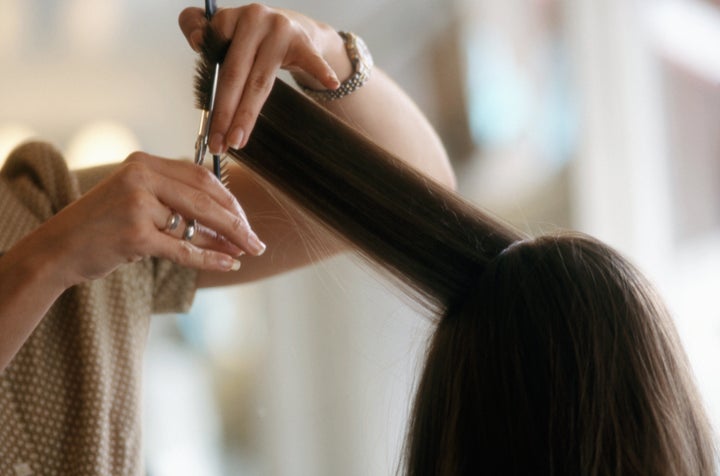 The pilot scheme - by Women's Aid, Welsh Women's Aid and the local authorities - hopes to ensure women experiencing controlling and abusive relationships get the help they need, fast.
It will be initially rolled out in Brighton, Hove, East Sussex, Kensington, Chelsea, Westminster, Hammersmith, Fulham and Powys.
Businesses taking part in the scheme will display a sign that shows they are a safe place to tell someone about their abuse.
According to the charity, women will report abuse five times on average before they get the support they need.
"Early intervention and community support are vital tools in working to end domestic abuse," Polly Neate, chief executive of Women's Aid in England, told The Huffington Post UK.
"We are calling on people whose job means they interact with many people in their community to help in this vital role of understanding and identifying survivors of domestic abuse at an early stage.
"Many women live with abuse for years without telling anyone, and often have contact with several agencies or people in their local community before they get help. These women have few opportunities to disclose their abuse, because they are often completely under the perpetrator's control.
"Therefore, if an opportunity arises for them to disclose domestic abuse, it is vital they receive the right support at that point. Most people are not open to hearing that abuse is happening, or do not know how to respond.
"The 'ask me' scheme will equip individuals in local communities with the basic skills, knowledge and tools to have a supportive conversation and provide an appropriate response to a survivor of domestic abuse."
The charity is currently seeking people to sign up to the program, particularly in London.
People involved with 'ask me' will be trained to know what the signs of coercive control and domestic abuse are, how to respond if someone discloses they are experiencing abuse, and where, locally, can provide in-depth help and support.