You might be celebrating the start of leave-the-house-without-a-coat weather, but these warmer temperatures bring a fresh set of challenges for people living on the streets.
While winter weather can cause all manner of illnesses, the road to surviving the scorching sun is just as perilous for the homeless. Risks include severe dehydration, sunburn and heat stroke, which in some cases can cause organ damage and be fatal.
"People experiencing homelessness are exceptionally vulnerable to extremes of weather," Paul Noblet, head of public affairs at Centrepoint, a charity supporting homeless young adults, tells HuffPost UK.
So how can you take action to help?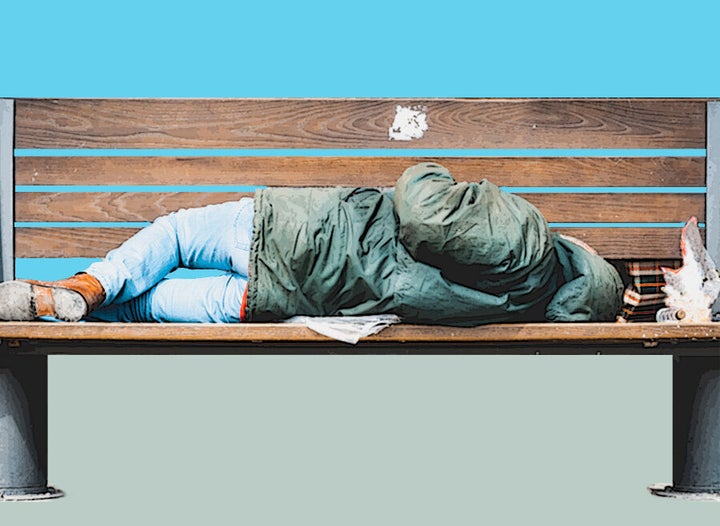 Find Them Shelter – Using Your Phone
There were 4,677 people sleeping rough on any given night in England in 2018, according to homeless charity Crisis. Finding these people shelter should be the first priority, Noblet says – and you can do that using the phone in your pocket.
If it's a young person you're trying to help, call the free Centrepoint helpline on 0808 800 0661. For those over 25 years old – and in England and Wales – contact Streetlink on 0300 500 0914. If you're in Scotland, contact your local council. If someone needs urgent medical attention, call 999.
Provide Short-Term Assistance
There are a number of ways to offer help in the short-term. "Providing water or sun cream can help reduce the risk of heat exhaustion and dehydration," says Noblet. If they have a pet, consider providing an extra bottle of water or some wet pet food (such as meat in jelly) to help them stay hydrated.
If you have spare sets of sunglasses or sun hats you're happy to donate, offer them to those living on the streets. Reusable water bottles are also useful and can be filled up for free in some cafés and at water fountains.
Help Them Find Shade
"Offering to help find shade can also make all the difference," says Jon Sparkes, chief executive of Crisis. People living on the streets often spend their nights on the move to stay safe and sleep during the daytime, which puts them at risk of severe sunburn. Donating an umbrella could be another way for them to find shade.
Pledge Your Long-Term Support
"No one should be facing these dangers when we know that homelessness can be ended," says Sparkes. "We're also asking people to join our campaign to end homelessness for good by emailing their local MPs asking them to pledge their support to end homelessness.
"Help us ensure that in future, no one has to face these conditions again."