From their first birthday when your icing-covered little ones giggle at each other over their cakes, twins' parties are joy-filled events. Just with the potential for a little more cost and chaos...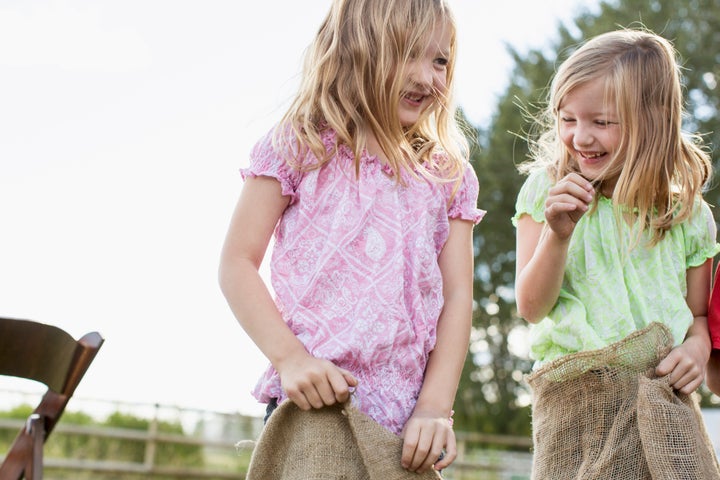 There's no set code to hold a memorable (in a good way!) soirée for your twosome. As with everything twinny, the 'right' way depends on your children, their individual personalities and their relationship with each other – identical twins, same-sex twins, girl-boy twins, twins who share friends and similar passions, twins who are total opposites, close friends or frenemies. The only definite is that as parents we want to treat each child as an individual and create a birthday party they will each enjoy, with memories they can share together for years to come.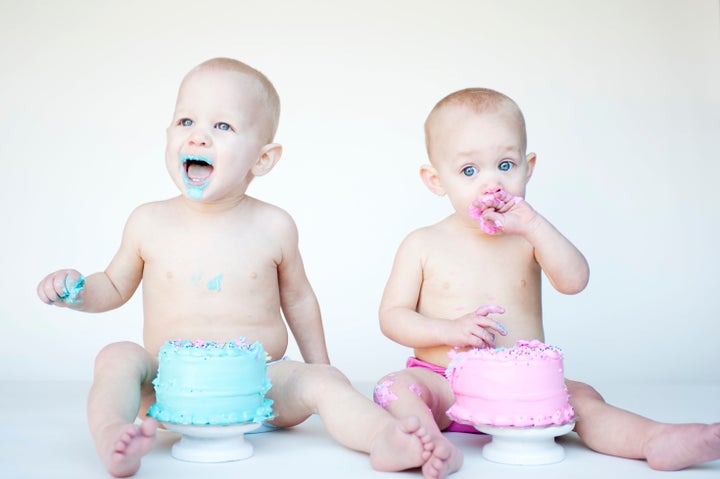 A fine balance – sharing, but separate
"Don't make one twin do something if he doesn't want to – it's his party too," advises my son Ollie, now 16 and a twin. "But you can always find a compromise – like when I wanted pirates and Louis wanted a jungle party, so we had a jungle pirate party." Ah yes, that one – a rented soft play space with a jungle snakes-and-ladders theme and 20 children climbing ropes and sliding in rakish pirate costumes.
Your children will be aged three to five before they start being invited to parties of nursery or school friends, realise having a party is a big deal and they want one too. Friends, attention, games, presents, cakes, what's not to like?
As your children become older or develop separate interests, they may want to have separate parties on different, and possibly, consecutive days. Exhausting, expensive, but perfectly possible with planning. Don't insist on a shared party if they don't want one – you wouldn't make siblings born in the same month share a party.
"My twins are like chalk and cheese so the days of joint parties are behind us," says Ursula, a mum of four boys whose youngest two are twins Jonah and Zachary, seven. "When they were babies I could do a big, joint party with just one cake. Nowadays one wants a super hero cake, while the other wants a pink, sparkling princess affair (he is very in touch with his feminine side). One wants football and lots of boys, the other wants girls, cupcakes and jewellery making.
"My solution is to do a small outing for each of them, which is themed to their own interests and involves their own friends."
Your guest list will depend on whether your children are in the same class, (and therefore have more shared friends) or are in separate classes. Parties for twins definitely have the potential to be bigger – singletons might invite every child in reception class, but are you really going to invite two classes totalling 60 children for one party? – so it's sensible to limit party invitations.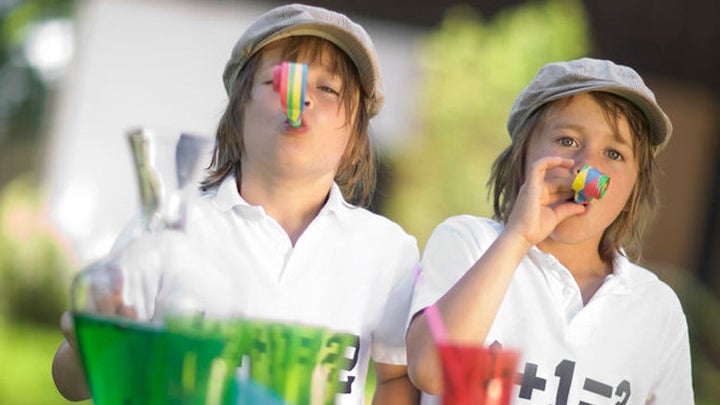 Party budgeting for twins
The good news is if you do have one shared birthday party, you can halve costs, for example, hiring one venue for the two children, one supermarket shop. You can also cut costs dramatically by shopping for the dreaded party bags at pound stores. (Bubble pots, felt tip packs, colouring books will all find favour with parents more than sweets and plastic tat fillers.)
You can plan ahead, but accept an element of chaos/fun
That's why it's always a good idea to rope in as many hands-on adults to help out on the day, not the ones who get stuck into the wine and adult conversation, but godparents, grandparents and friends who can give real help in handing out food, keeping the peace, clearing up afterwards and, perhaps even driving children to and from a party destination. As a parent of twins, you may hate the phrase 'double trouble', but with twin parties there is the potential for a little more flying-by-the-seat-of-your-pants.
The best plans can go awry, but if everyone's happy, your intentions aren't 'spoilt'. When the clown with no comic timing I'd booked for my sons' sixth birthday lost their attention and all the guests made a run for the garden (in the time I took to put on pizzas), there'd have been no point rounding children up and bossing them back inside. We quickly served up tea and then they happily played tag for the rest of the afternoon.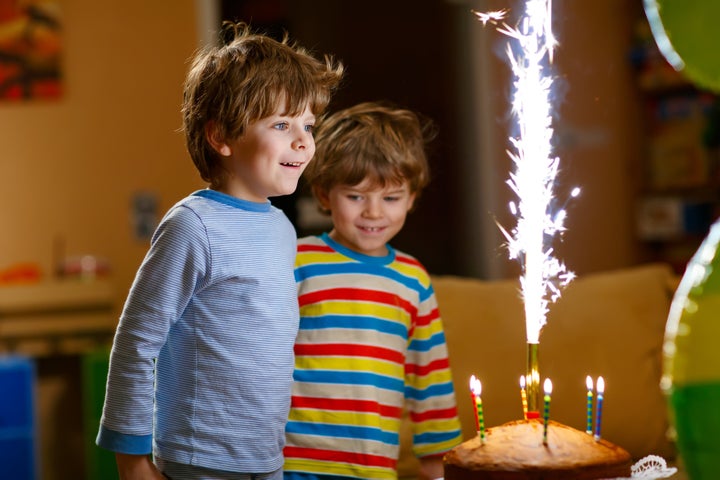 Cakes are a big deal
"You have to have a birthday cake each," decrees twin-expert Ollie. "You wouldn't give someone who wasn't a twin half a cake!"
Over the years, my twins have loved their separate cakes – but blowing out the candles together, competitively. They can recall with terrifying accuracy every cake over the years, from hedgehogs and Thomas the Tank Engine to the more sophisticated and most recent chocolate Oreo cake and coffee cake.
Each cake has to be perceived as equally delicious and impressive. While they can't remember their first birthday, Louis finds it shocking he had carrot cake, ("CARROT! ON MY FIRST BIRTHDAY!") while Ollie was daubing chocolate cake onto himself in his highchair.
Remember to buy double sets of candles and holders. Our twins have always been happy with a shared Happy Birthday song, but some twins will want a rousing individual song.
Presents
Twin parents are all too aware that an invitation to a single event, but with two birthday children, can be an extra, unwanted cost for other parents. Separate, individually wrapped, but inexpensive presents are generally best, with their own card each. But then again, a joint, easily shareable present is a good option too. There really are no cast-iron rules. Just don't give them the exact same book in duplicate when they're too young to read to themselves, as one friend did. Did she seriously think I was going to read them each their 'own' book? Also, remote control car on the same frequency can be frustrating!
Being a twin is special. You're born with a best friend, someone you can play with and share milestones with throughout your lives, including your birthdays. For the parent of twins, it's also magical, a little bit special. Yes, that first year may be exhausting and you may find yourself doing little more than 'coping' between feeds and sleep deprivation, but from that first birthday every one of your twins' birthdays is a time to celebrate that momentous life event when you became parents to TWO children on ONE day. Make sure you enjoy it (and take lots of photos too). Congratulations!