Celebrities who have won accolades and awards, the love of the nation and a lifetime of exciting experiences haven't achieved all this with simple good luck and a bit of talent.
Every single one has reached the top of their professions through hard work, determination and having the resilience to keep going and put failures behind them, while learning from disappointments.
These key skills are vital for all people but especially for young people. This is why Sky created Sky Academy, which offers opportunities and experiences for them to build skills and experience through TV, creativity and sport.
An impressive roster of celebrities have shown their support for Sky Academy, including TV presenters Davina McCall and Eamonn Holmes as well as sporting icons David Beckham, Thierry Henry and Jessica Ennis-Hill.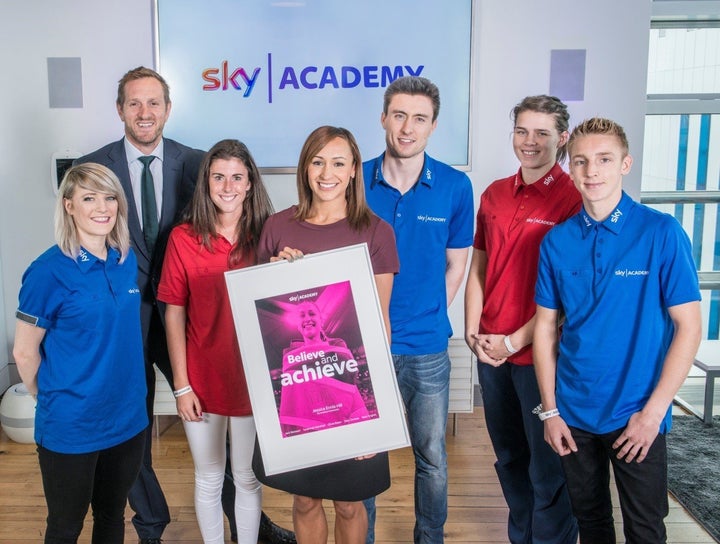 Knockbacks can be good
Success isn't all plain sailing, whether you're an Olympic gold medallist like Jessica Ennis-Hill or a teenager who enjoys running races at school. If you set your personal bar high, there will inevitably be disappointments - but what matters is how you learn from those failures.
Jessica, who is the current Olympic heptathlon champion, says she learnt to "understand that setbacks are not necessarily the end of the world, but just valuable learnings.
"All hard knocks are a valuable lesson - you have to pick yourself and get on with it if you want to be the best you can."
TV presenter McCall says she owes her grit to her dad: "My dad taught me to never give up. He taught me to always dust yourself down, pick yourself up and try again. That has been one of my most valuable life lessons."
But believe in yourself
Led by Ennis-Hill, a group of Rio Olympic hopefuls who are part of Sky Academy's Sport Scholarships programme, which supports Olympic hopefuls with financial and mentoring support, decided on the simple but effective motto for life, 'Believe and achieve'.
Jessica reveals: "If you don't believe in yourself, it's hard to convince others to believe in you. Self-confidence isn't easy, and sometimes we seem more confident than we are. We all need to be able to put our toe in the water and try things to actually succeed. Success is the end of a journey - you have to put your mind to achieving a goal and have a strategy to get there."
Davina reiterates the importance of self-belief: "I always try and push thoughts of self-doubt aside and tell myself that I am good at my job, and I wouldn't be here if somebody didn't think I was alright."
And she's got her own unique way of creating this confidence: "Fake it till you make it and the rest will come. That would be my advice."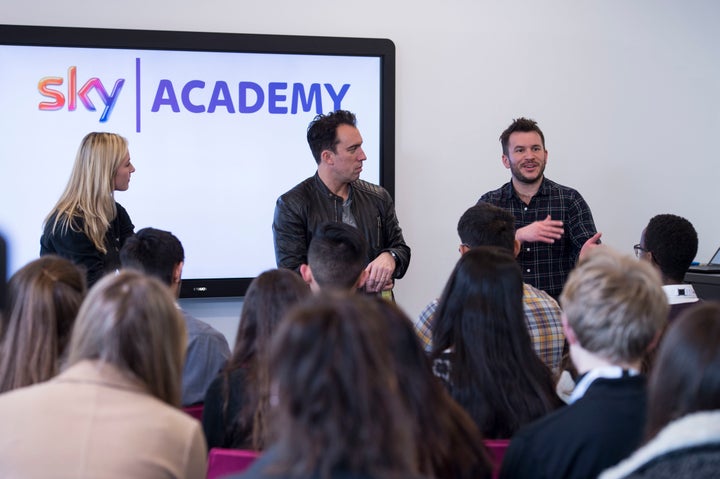 Say yes to new experiences
Grab opportunities with both hands is a key message from Sky Academy's celebrity ambassadors.
Absolute Radio presenter Richie Firth's words of wisdom are to "just say yes to things." As an example, he recounts how he said yes to "the ridiculous thing" of dressing up as a chicken, going out on the street and reading the travel reports during a week's work experience at his local radio station.
As a result of his willingness to have a go, he reveals how one week's work experience turned into two years' work while doing his degree and a full-time job materialised afterwards.
And his on-air partner Christian O'Connell also echoes this when giving his ethos for success: "Work hard, don't ever stop dreaming, always say yes."
So keep an open mind about even the strangest of opportunities as you never know where they might lead. And, most importantly, believe in yourself and never let knockbacks define you.
Sky believes that every young person has potential. That's why they created Sky Academy which works with young people from primary school right through to starting their career using the things that both Sky and young people love - TV, creativity and sport - to build skills and experience and unlock their potential.
Related