As a young, campaigning lawyer in the 1960s, Anthony Lester would send fake job applications for invented people with identical qualifications, one called Singh, the other called Smith. The imaginary Mr Smith was invariably more likely to be invited for interview. Fifty years later, Lester, now Lord Lester of Herne Hill, Lib Dem peer and distinguished human rights barrister, doubts much has changed.
Humans need "bearings" like any other animal, he says, that draw us to people who look and sound like us. "We deny it. We feel uncomfortable when we don't have any bearings," Lester says. Employers recruiting for a role that has never been held by a black person or a woman would think hiring either is a bold move, he says. "What happens is, we take the line of least resistance. The line of least resistance is to play it safe," he adds.
If this makes it sound like Lester, 79, tolerates prejudice, think again. He had an early insight into its dangers, having lost relatives in the Holocaust. He says he will "always be haunted" by newsreel images of the Nazi death camps he saw aged nine, showing mountains of bodies and people so emaciated that "bewildering staring eyes and gaping mouths were all that remained of their humanity".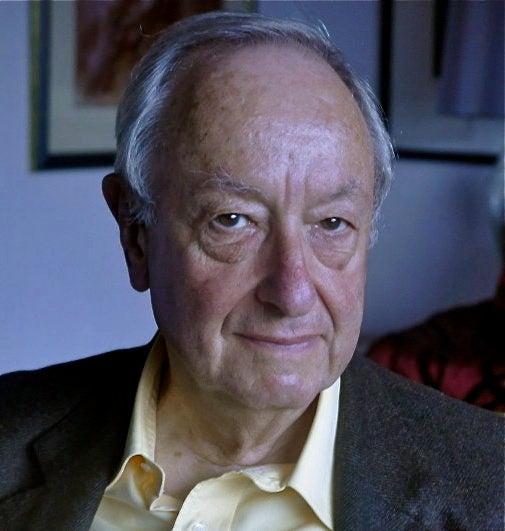 He is no stranger to British anti-Semitism. As an army officer in 1956, Lester refused to list his religion as Church of England rather than Jewish, which his commanding officer told him would make torture less likely if he were captured during the Suez invasion. His commander took offence at his refusal and barred him from a dance in the officers' mess to prevent "miscegenation". "I was apparently good enough to die for my country but not good enough to dance with the maids in Kent," Lester writes. At Cambridge in the late 1950s, he and future Home Secretary Leon Brittan petitioned fellow undergraduates to have academics removed from the careers service for describing students as "short and Jewish with wet palms" and "Jewish but of the refined kind". The petition failed. Not enough students regarded the comments as offensive.
If discrimination is often the line of least resistance, you need "another line of least resistance to compete with it", he says. That is where the law comes in. In more than 50 years as a barrister, advisor and lawmaker, Lester has fought to protect people from discrimination. He spent two years working on race and sex discrimination laws with Roy Jenkins, the reforming Labour home secretary who had "the rule of law in his DNA".
In 1967, Lester successfully represented a Pakistani man from Bradford whose son had been refused permission to join him in the UK, in the first British case to go before the European court in Strasbourg. The case led to the establishment of an appeal system for immigration cases for the first time. The following year, the government passed an emergency bill to deny British Asians from former colonies in East Africa the right to settle in the UK. Lester saw it as stopping people "settling in their country of citizenship on racial grounds". But the only way to challenge it would have been to go back to Strasbourg.
Lester spent 30 years fighting for a Human Rights Act (HRA). It was passed by Tony Blair's New Labour to make all the provisions of the European Convention on Human Rights (ECHR) enforceable before courts in the UK and force politicians to consider how their laws impact on minorities and the disadvantaged. It is crucial for enforcing the rights Lester came to cherish. Now, he sees it as under threat.
In his new book 'Five Ideas To Fight For', Lester urge readers to rally in the defence of human rights, equality, free speech, privacy and rule of law. He warns politicians and journalists are subjecting the HRA to "sustained attack". It has been labelled a "farce" by the right-wing press for protecting the rights of criminals and complicating government efforts to deport foreign-born offenders. This government was elected with a manifesto pledge to abolish it. Despite criticism from its own backbenchers, the government is pressing ahead with it and will unveil details later this year to repeal the HRA and institute a British Bill of Rights in its place.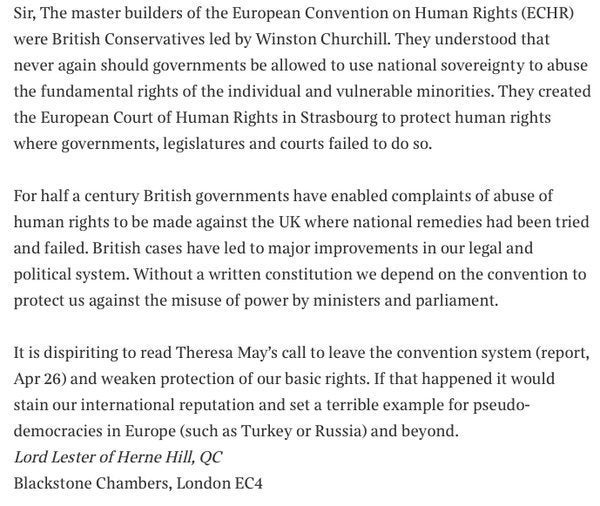 Most who advocate the HRA's abolition claim to want parliament's "sovereignty" on matters of human rights restored, but Lester dismisses this with a hypothetical scenario that recalls the genocide that was burned onto his memory as a child. "There has to be some protection for when the parliament misuses its powers," he says. "If parliament were to say, 'all Jews should be exterminated', the supremacy of parliament suggests 'that's fine. There's nothing you can do about it'. But I think everyone would understand, it's a violation of the very notion of democracy and the rule of law."
Lester, now arguably the most eminent human rights lawyer in Britain, calls the hostility of David Cameron's government to the Human Rights Act "populist" and "reactionary". The prime minister is "a master of public relations" with "no long-term strategy other than to ensure his own survival," Lester writes. He tells me: "The Act has become a political football. It's been attacked so much by right-wing newspapers and so much by right-wing politicians and some left-wing as well that human rights have become dirty words."
He thinks the Tories don't want to abolish the HRA. The party put it in its election manifesto expecting to give it away in coalition negotiations, he says, but, having unexpectedly won outright and it must now follow through. The Tories have a slender majority in the Commons and MPs like ex-Attorney General Dominic Grieve would oppose weakening the system, making it tough to pass there, Lester says. The House of Lords, which has inflicted numerous defeats on Cameron's government, would be even harder to get it through. "They put something on a manifesto that they thought they would never have honour... When they, beyond their wildest dreams, found they had won power, they were stuck with it," Lester says. He says Raab and Justice Secretary Michael Gove will struggle to actually do it. He expects a bill by autumn this year but predicts it will be rejected by MPs. "[Gove's] got to be extremely careful and very moderate in what he does. He's hemmed in and that's good," Lester says.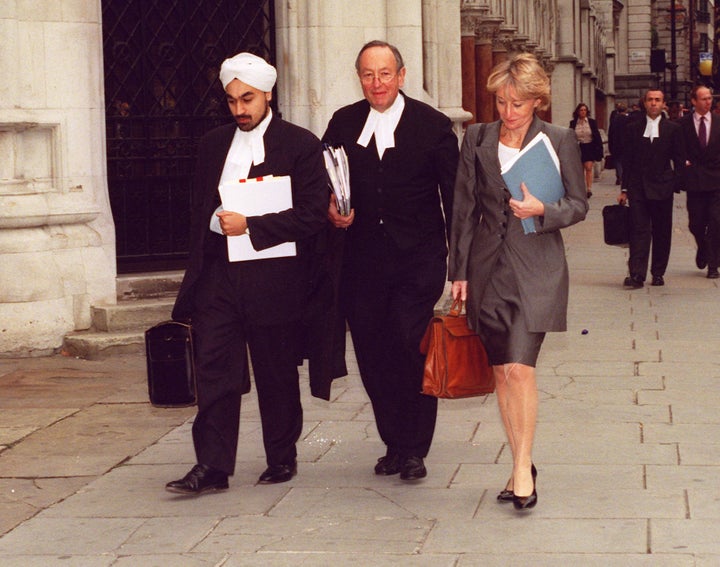 He laments that he had "to vote for things I detested" during the coalition which saw parliament "destroy much of our legal system" by cutting legal aid and restricting access to justice. But Lester says his party was at least able to block the abolition of the Human Rights Act. He calls the Tories' election campaign against the Lib Dems "a Pyrrhic victory" that left them facing a small majority in the Commons and none in the Lords. Cameron "would've been much better place if we had still been in government with [him]," Lester says, adding: "I'm glad we're not, for my own personal feelings."
Lester traces press hostility to the HRA back to when it was being drawn up in 1997. By then a peer, he was lobbied by the media to give them an exemption from its privacy protections. As a media lawyer, Lester had represented the press and used the European Convention on Human Rights' protection of free speech. But he found them wanting immunity to its privacy protection while benefitting from its free speech protection "a bit rich" and it was not granted. "Ever since, tabloid newspaper have been attacking it day after day," he says. "You don't find newspapers in other European countries attacking [the ECHR] in this sort of way. You find only politicians doing it. Here, we've had both and that has been very, very undermining."
Lester does not believe the public share the media's loathing of the HRA. As a Lib Dem member of the Bill of Rights Commission, he took part in two public consultations, travelling across the country to hold seminars, conferences and debates. "There was no evidence at all that [the HRA] was unpopular or that people wanted it to be scrapped ... I think actually the government are out on a limb on this."
Lester says he would actually support replacing the HRA with a British Bill of Rights as "cosmetic" exercise - effectively relabelling the rights of the ECHR as ones emanating from a British constitution rather than a European convention. "I think that would make many people happier about the system," he says. Lester adds he would support a Bill of Rights that gave greater protection than the HRA to areas such as non-discrimination and equal protection the law. "The problem is I don't trust this government to do that. They're all over the place," he says warily. His commitment to the rule of law is so strong, he advocates the Council of Ministers being given powers to fine governments that breach the ECHR and backs one of the most unpopular decisions of the European court. Lester castigates former Justice Secretary Jack Straw, whom he advised, for failing to legislate to allow some prisoners to vote, something that was deemed to breach the ECHR. "Roy Jenkins, though not a lawyer, would not have dreamt of behaving like that," he sighs.
The press may obsess about how the HRA favours terrorists and criminals but, on the day I speak with Lord Lester, there is a poignant reminder of how human rights are universal. That morning, fresh inquests into Hillsborough disaster concluded the 96 people who died were unlawfully killed, after 27 years of public authorities trying to cover up the truth and previous inquests verdicts, held before the HRA was enacted, were quashed. But since the HRA's introduction, Article 2 of the ECHR, the right to life, has broadened the scope of inquests to take the state's duty of care to its people into account. "Put simply: without the Human Rights Act and ECHR there would not have been this new Hillsborough inquest," lawyer David Allen Green wrote. Lester tells me: "Everyone is in need of these rights ... All of us are able to be victims of one form of unfair treatment."
At the end of the book's final chapter, entitled 'The Fight Ahead', Lester warns: "The achievements of the past 50 years are seriously threatened." The book's last words are: "Over to you." I ask Lester whom he is addressing. "My fellow citizens. The new generation of people who didn't grow up as I did, when our system was very bad and see it become good," he says. When he was called to the bar in 1964, it was "male dominated, sexist, racist and narrow minded", he says, with judges who were "literal minded and narrow". "None of those generalisations apply now," he says of the current generation of lawyers and judges. He wants people, too young to have fought his battles, to read it to understand "what was wrong, what we have achieved, what is threatened and what we should do about ... not just among politicians but among the people".
People intend to be good, Lester says, but the law just pushes them a bit further towards being good. He quotes wartime Archbishop of Canterbury William Temple. "He said 'Whenever I take a train, I always intend to buy a ticket. But the fact that there's a ticket collector at the other end, just clinches it'," Lester says. "We are very frail. We are conformists and the pressure to conform can be used for good or for ill. The law can get us to conform more towards equality or inequality ... Of course I don't intend to discriminate against women or black people. But the fact there's a law at the end, telling me that, just clinches it."
'Five Ideas To Fight For' is published on Thursday, May 5, by Oneworld Publications