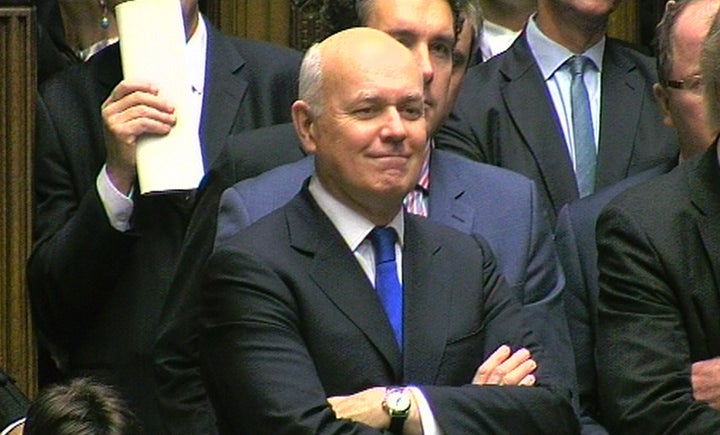 Iain Duncan Smith has been ridiculed for blaming a "shut down" of the immigration debate on unspecified "elites", despite being a Cabinet minister and ex-Conservative leader himself.
The work and pensions secretary lamented today that a mere "mention" of immigration in recent years was enough for the speaker to be labeled a racist.
"For far too many years what's happened is that in a sense the elites have said it's terrible to talk about immigration, and if you do you're racist. They shut down the debate for many years," he told BBC Radio 4's Today programme.
"I can even remember back when Tony Blair was prime minister to even mention immigration was to be accused of being a racist, if you talked in terms about asylum seekers."
Blair, speaking earlier on 'Today', ridiculed the idea elites were exclusively populated on the 'Remain' campaign side.
He commented: "When people go on about how the elites want Europe but the people don't, there plenty of elites on the anti-European side!
"The powerful people in the newspapers who are driving this and others who are major politicians who are fighting this case: they are no less elitist than politicians on the others side. The question is what is right for the people."
IDS' comments also earned him mockery from pundits, who accused IDS of rewriting history and asked: "I wonder who he thinks 'the elites' are?"
Hugo Rifkind, the Times columnist and son of a former Conservative foreign secretary, pointed how Duncan Smith might be part of the "elite" he so angrily decried, having been a frontbencher for 19 years.
While Jonathan Portes, an ex-DWP and Cabinet Office chief economist, claimed Duncan Smith was conducting an "astonishing rewriting of history".
The Telegraph's Jeremy Warner chipped in too, saying it was "absurd" for IDS to try to portray himself as an outsider "when he's part of the political elite himself".
While some commenters took a far more simpler view...
Immigration was also a subject addressed today by the Archbishop of Canterbury. Justin Welby said it was "absolutely outrageous" to dismiss people who feared the influx of migrants as racists.
In his first intervention on the EU debate, he said there was "genuine fear" in "fragile communities" over the impact on jobs, housing and the NHS. But he makes clear the UK should be "taking our share of the load".