These days, Netflix's flagship programmes are its original offerings – think Stranger Things, Orange Is The New Black and When They See Us.
But in all of those rows on the lower half of the homepage, there are plenty of other shows well worth watching.
The premise is basically Australian Four In A Bed, but thanks to genius casting and y'know, the fact it's sunny Australia instead of the gloomy UK, the series has become a surprise hit.
The second set of episodes arrived on Netflix last month and we soon fell in love with Debra, Justin and co. Yes, we even loved Gene.
But the series leaves a lot of questions too, as it reveals relatively little about the contestants' lives and what nothing on what happens to them after the show.
We've taken this at an invite to do some digging (don't worry Mark, we'll leave the opals alone though). Here's what we've found...
Razz and Mark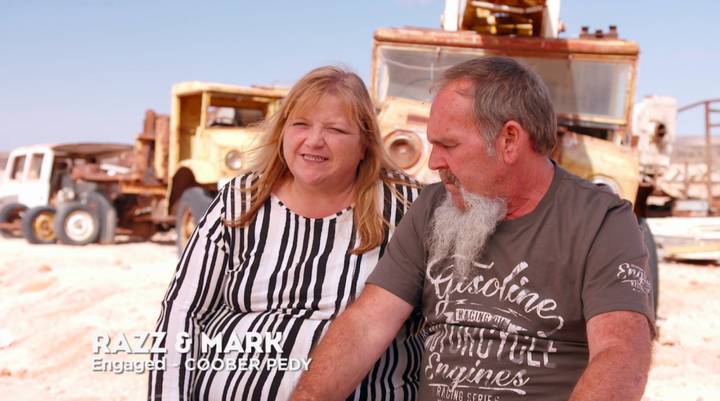 Mark had a cameo in The Adventures of Priscilla, Queen of the Desert
The engaged couple were first up in series two, which is a good place to be when it comes to ensuring contestants score fairly. But the episode wasn't Mark's first brush with showbiz.
His cameo is teased in the couple's actual Air b'n'b Instant Hotel listing, where there are three house rules listed: Din't dig for opals, keep the front door closed and "Ask Mark about his starring role in Priscilla!".
Unfortunately, there's no more information available, so it looks like we'll have to stay there to find out the deets.
They have actually helped put Coober Pedy back on the map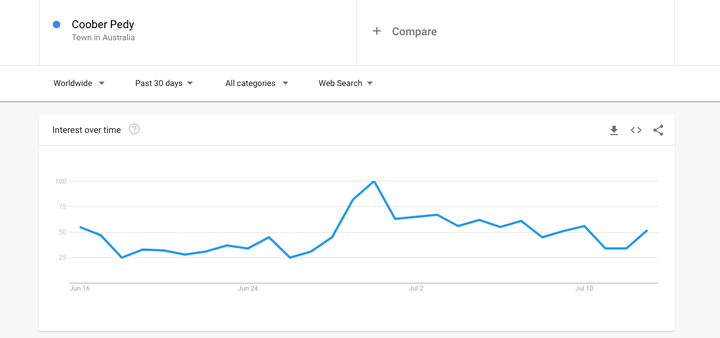 That spike in google searches for the town coincides with when series two of Instant Hotel debuted on Netflix. #RazzAndMarksImpact.
Debbie and Justin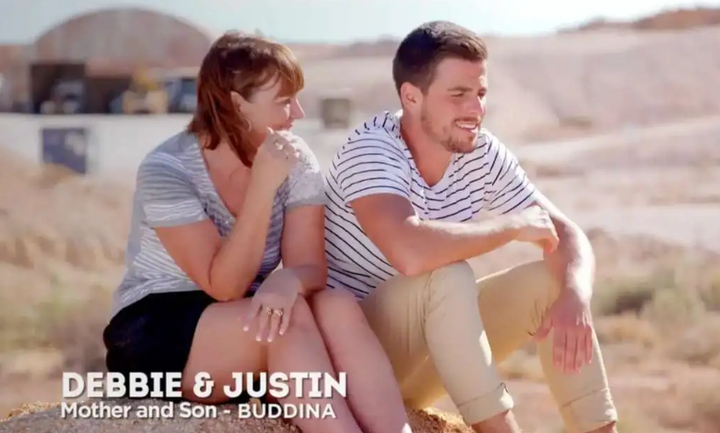 They've upped their nightly rate
The jury may not have been impressed with the penthouse's value for money, but expert judge Juliet Ashworth told the pair they could be underpricing themselves. And what do you know? She was right.
And the three night minimum stay is back
Juliet. Is. Always. Right.
He's now marketing director at "Bali's premier sporting and entertainment club", Finn's. His Instagram is a real treat and also incredibly envy-inducing.
He's partied with Malin Andersson
In a wonderful reality TV crossover, former Love Island series two contestant Malin visited the beach club Justin works at in June. Judging from these vids – which also reveal he's still friends with fellow contestant Leah (more on her later) – they had a grand old time.
Justin's also very into yoga
Debbie still loves sausage dogs
We can't even begin to imagine what Juliet would think of this collection.
And her actual dog has her own Instagram account
*follows Little Old Lucy immediately*
We didn't get to see the whole of the penthouse in the episodes
This kid's room didn't make the cut (probably as no children were staying there, but still).
Gene and Sharon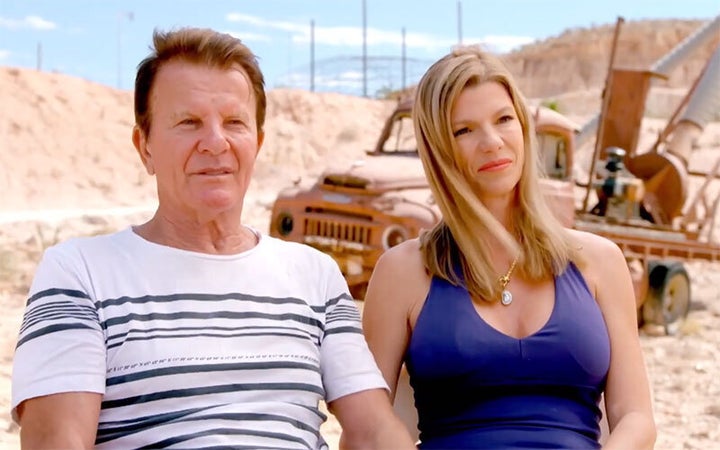 Gene was born in Italy and his real name is Giancarlo Salvestrin
In Venice to be specific. His dad then emigrated to Australia in 1949, with Gene and his mother following a year later, and settling in New South Wales.
His family then emigrated to Australia when he was four years old.
Gene's rock'n'roll past is teased rather slowly in the series and, despite the fact he's not lacking in the ego department, Gene actually makes very little mention of his decades-long career in the music industry.
So upon finishing the show, we immediately looked it up.
Gene's career began in 1963, when he won a hotel talent contest and landed a regular gig performing there. Audio Culture reports:
"By late 1966, Gene was on the brink of Australian pop stardom. He was offered a permanent gig at Sydney's Bowl nightclub, owned by Ivan Dayman who also ran the Sunshine record label.

"Gene's music and family world came crashing down in with one phone call from his mother in early 1967. Not only had his father been diagnosed with a brain tumor, but an Army conscription letter had arrived by post that instructed Gene to report to the nearest Army base – in seven days.

"Pacifist Gene was shattered and didn't fancy a one-way ticket to Vietnam, nor did he want to leave his mother alone to nurse his terminally ill father.

"Gene realized quickly that he had to avoid conscription at all costs. During this period, draft age males in Australia couldn't travel abroad without an Army exemption form. The one exception to this was to New Zealand."
Gene then hotfooted it to Auckland, where he introduced himself to some of the biggest names in the industry, by claiming he was "Australia's biggest popstar" – and the blag worked, as he then signed his first ever recording contract.
He returned to Australia in around 1970
Gene went back shortly after his father's death, attending his funeral and staying, after enjoying professional success.
Here's one of Gene's musical hits:
Love, Love, Love was a big hit the regional charts, which were a big deal back then (we're not being shady, they really were).
Gene then moved behind-the-scenes
He began booking shows for huge acts including AC/DC and started his own record label, which is still active.
Their Misty Mountains mansion has a helipad that didn't feature on Instant Hotel
The couple's website reveals the full level of luxury available at the hideaway estate, and it's even more grand than the show let on.
We feel a bit robbed, to be honest – a shot of Laurence and Juliet emerging from a helicopter would have topped the final off nicely.
Gene and Sharon weren't kidding when they said it's an "eco-friendly" house, and it seems the couple really are committed to sustainable living.
They also run a luxury private island retreat
This looks even more spectacular than their rainforest home.
Of course, Sharon is in all of the promotional videos.
If you get hitched at one of the properties, Sharon can host your wedding
The former air hostess-turned-model-turned-luxury travel expert is also a qualified marriage celebrant.
The couple have two daughters together
In the two series of Instant Hotel to air so far, none of the contestants' younger kids have ever featured (or been mentioned much).
Leah and Jay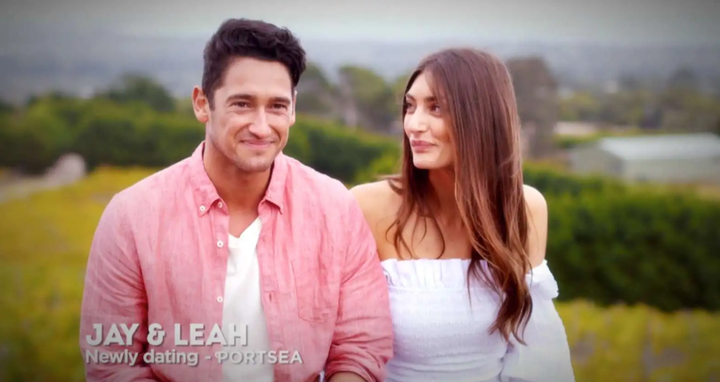 The model and personal trainer have apparently split up
A news story published earlier this month points out that the pair do not follow each other on Instagram anymore, and haven't posted any pictures together in quite some time.
And their Air b'n'b doesn't seem to be online anymore either
Sorry, their Instant Hotel. The couple started renting out the property, which belonged to Jay's family, in order to future-proof their finances.
But it seems that now they've split, he's no longer pursuing that source of income and all of the listings appear to have been taken down.
Jay is pals with Holly Valance's sister Olympia
It's not just Justin who has famous pals, as Jay is pals with Olympia who played Paige Smith in Neighbours .
Leah is getting that sweet #spon money
She's making the most of having over 50,000 followers.
Leah appeared on Australia's Next Top Model in 2009
But it wasn't an enjoyable experience. She says on her website: "I was kicked off pretty early on and felt really disappointed about the entire situation."
Is there nothing he can't do?