For some it's the ultimate souvenir from exotic climes - a picture next to, or even patting, what appears to be a tame wild animal.
But few are aware of the grim realities behind the lucrative tourist trade. As the world marks International Tiger Day today (Friday), the shocking reality behind the tiger selfie craze has been revealed.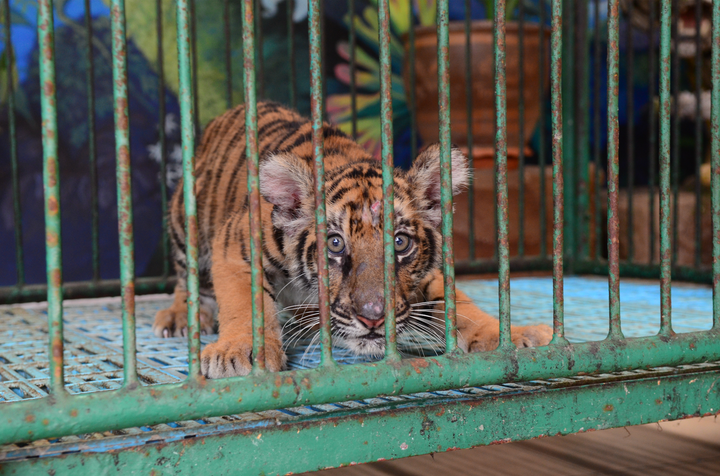 The truth behind such pictures, which are common in tourist hotspots such as Thailand, reveals what it really means to have a selfie with a wild animal.
World Animal Protection's (WAP) report 'Tiger selfies exposed: a portrait of Thailand's tiger entertainment industry' is the first comprehensive study of the tiger entertainment industry in Thailand.
When authorities raided the temple, scores of cub carcasses were found frozen and in jars of liquid.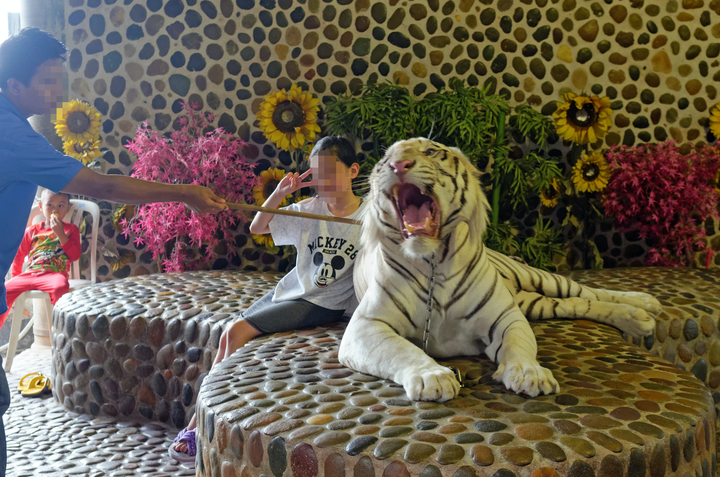 WAP's undercover investigation reveals the fast expanding tiger tourism industry with a third more captive tigers in Thailand in the last five years.
Investigators discovered that in 2015 and the beginning of 2016 there were 830 tigers in captivity at entertainment venues, compared to the 623 in Thailand in 2010.
Tiger entertainment venues are increasingly popular attractions where tourists can get up close and personal for a 'once in a life-time' encounter with a wild tiger in captivity.
In addition to a growing number of tigers being kept in captivity, WAP's report revealed how the wild animals were tamed to be submissive.
WAP's research showed "that most tigers in Thailand's entertainment venues are being kept in severely inadequate conditions".
The main welfare concerns witnessed by the investigators at these tourist venues were:
Tiger cubs who are separated from their mothers, two to three weeks after they are born

Young cubs being presented to tourists, and being mishandled hundreds of times a day, which can lead to stress and injury

Tigers being punished using pain and fear in order to stop aggressive unwanted behaviour. One staff member told a WAP researcher that starvation is used to punish the tigers when they make a 'mistake'

Most tigers were housed in small concrete cages or barren enclosures with limited access to fresh water. 50% of the tigers we observed were in cages with less that 20sqm per animal, a far cry from the 16-32km they would roam in a single night in the wild

12% of the tigers we observed showed behavioural problems; such as repetitive pacing, biting their tales. These behaviours most commonly occur when animals feel they cannot cope with stressful environments or situations.
WAP is calling for governments worldwide to investigate tiger entertainment venues and for travellers to stay away from wildlife tourist entertainment venues that allows direct human-animal interaction, such as hugging and selfies with tigers.
Julie Middelkoop, head of the Wildlife – Not Entertainers campaign at WAP, said: "It is very worrying that at the time of our research 207 more tigers were abused for tourist entertainment than there were five years ago.
"We're asking tourists to think about the welfare of the tigers, and we're calling on the travel industry to stop promoting and profiting from tiger cruelty.
"If you can get up close, hug or have a selfie with a tiger it's cruel and don't go."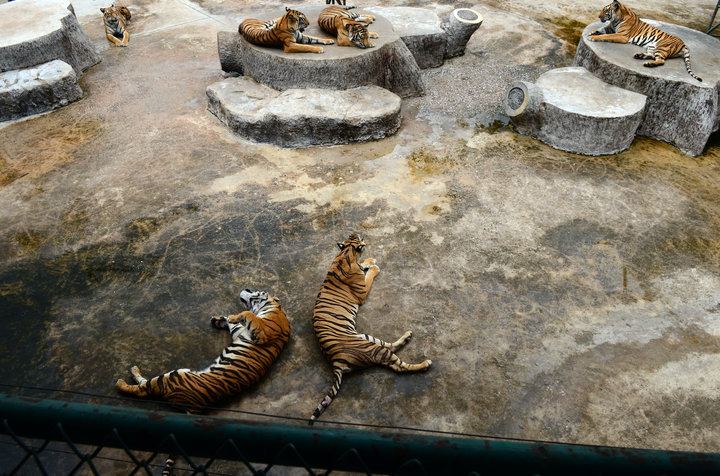 World Wildlife Fund (WWF) has revealed that 76% of Brits surveyed were not aware of tiger farm practices in Asia.
WWF, who is calling for countries to take urgent action to phase out all tiger farms, said that Londoners and millenials were most likely to visit attractions with captive tigers, which could be fuelling the illegal wildlife trade.
WWF said that not all attractions with captive tigers across Asia are tiger farms.
Tiger farms are captive facilities that breed tigers with an intent of engaging in the commercial trade in tiger products and parts. Many often masquerade as tourist attractions.
WWF said there are more than 200 facilities across Asia currently housing between 7,000 and 8,000 captive tigers.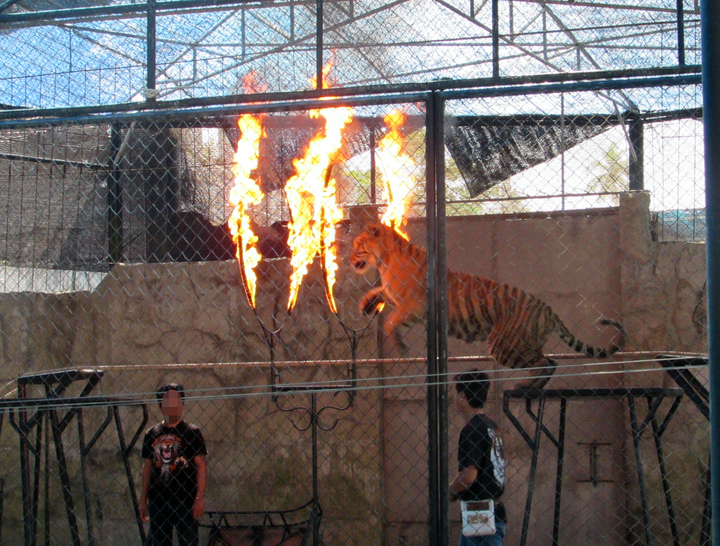 Heather Sohl, WWF-UK's chief advisor on wildlife, said: "We have seen the number of tiger farms increase at an astounding rate across Asia over recent years.
"These undermine efforts to halt the illegal trade and protect wild tigers by complicating enforcement efforts and boosting the demand for products and parts. It is vital tiger farms are closed.
"Thailand's official closure of the Tiger Temple and investigation into other facilities is a good start, but they need to do more. We are also calling for China, Vietnam and Laos to act immediately."
WWF said there are now estimated to be close to 3,900 tigers in the wild, up from the previous estimate of as few as 3,200 in 2010.
In 2010 all 13 tiger range states, plus partner countries and organisations committed to work towards the TX2 goal of doubling the number of wild tigers by 2022.
Related