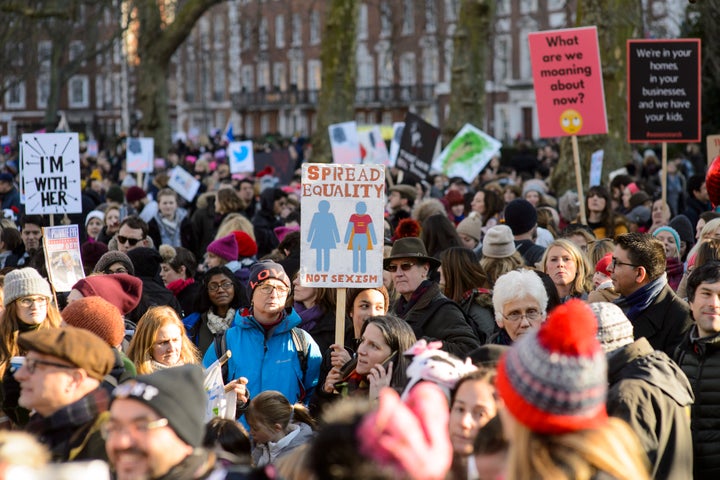 People are "wildly over-optimistic" about how quickly the gender pay gap will be closed, a survey to mark International Women's Day has signalled.
An Ipsos poll has found respondents in Britain think pay and economic equality will be achieved in 2035 - when World Economic Forum estimates suggest parity will take 82 years longer.
The same "over-estimate" is apparent in the US, where people think women will be paid equally with men by 2028, whereas the current rate of progress suggests the gap won't be closed until 2059.
British people also have misconceptions about women's representation at the top level of business.
In the UK, people think that 12% of chief executives in the largest 500 companies around the world are women. The real figure is actually four times less than that at 3%.
People tend to be closer to the mark when it comes to estimating the proportion of female politicians in their country. Britons, in common with other nations, slightly underestimate the reality, guessing that a quarter of MPs are women when in fact it is 32%.
The Ipsos collaboration with International Women's Day across 27 countries, which comes in the wake of the #metoo campaign, highlights a series of equality issues.
It found that while sexual harassment is seen as the top equality issue facing women globally, in Britain it is only the second most important issue - with equal pay seen as more significant.
Britons are also more concerned about sexualisation of women and girls in the media compared with other countries.
Despite serious concerns about sexual harassment, people tend to underestimate its prevalence. Some 68% of women in Britain say they have experienced sexual harassment in their adult lives, yet the average guess in Britain is that 55% of women have.
Close to half of all those who took part in the study think giving women equal rights has reached a peak. Only one in four Brits, however, think enough progress has been made.
Kully Kaur-Ballagan, research director at Ipsos Mori said: "One of the first steps on the path to achieving women's equality is getting people to recognise that we still have a long way to go – but our unique new study shows many of us around the world have a very wrong idea on that.
"We underestimate women's experience of harassment, are wildly optimistic about when economic equality will be achieved and over-estimate their representation in business leadership.
"There is a sense of complacency among many people and in many countries that we've already come far enough."
Glenda Stone, partnerships director for International Women Day, said: "The good news is that a focus on gender parity has increased exponentially worldwide.
"This has been fuelled by a significant increase in coverage of gender issues by mainstream media, an impressive rise in women's voices via social media platforms, employers actively working to create more diverse and inclusive workplaces, an increase in awareness raising campaigns, and an overall expectation by younger generations for more equal societies.
"There is no place for complacency. Complacency belittles women."