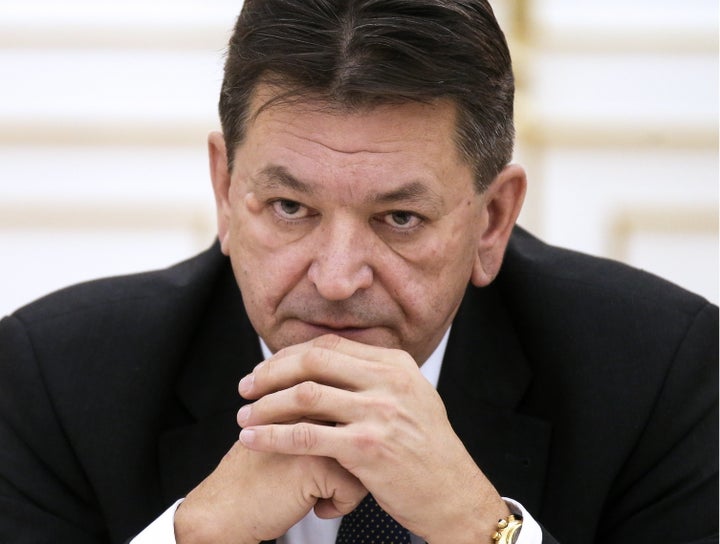 Tomorrow, Russia may achieve a diplomatic coup. If you a believer in due process, the rule of law, and human rights, this move should gravely concern you.
Interpol's General Assembly will meet to elect a new president, and the choice falls between the current interim president Kim Jong-Yang of South Korea, and the Kremlin's Alexander Prokopchuk, a Russian official and currently Interpol's Vice-Chair for Europe.
The election comes after the previous president, Meng Hongwei, disappeared in mysterious circumstances. He was secretly arrested by the Chinese government after sending his wife a knife emoji, which is understood to be his way of communicating he was in danger. Since his disappearance Interpol reportedly received, and accepted, an unsigned resignation letter from Hongwei, which was delivered by the Chinese government.
In Hongwei's convenient absence, the Kremlin stands ready to rule the roost at Interpol. But Russia's presidency be a travesty - here's why.
First and foremost, the Russian government has outdone itself in demonstrating its complete rejection of, and contempt for, the international rule of law. From the Salisbury murders to the illegal annexation of Crimea and human rights abuses at home, Russia has shown it believes itself immune from the very laws Interpol seeks to enforce. Secondly, Russia has already repeatedly demonstrated its willingness to abuse Interpol's 'red notices' (essentially Interpol's international arrest warrants) to harass, intimidate and silence political opponents, activists and critics. Throughout this, Alexander Prokopchuk has been the person responsible for Russia's red notice applications.
With Russia leading Interpol, what hope is there for fairness and rule of law at the heart of this important policing and security instrument?
Recently the UK intervened to protect Bill Browder, who is the poster child for how Interpol's red notices can be abused – when he was detained by Spain in line with an Interpol red notice issued by Russia. Having begun his career investing in Eastern Europe, Browder made waves in Moscow campaigning against corruption in companies listed on the Russian stock market. This made him powerful enemies – especially amongst the oligarchs and their cronies – who plundered resources from these companies to grow their own personal empires. His actions eventually brought him into the Kremlin's crosshairs – and Browder's firm was wrestled from his control, then framed in an outrageous tax fraud – the proceeds of which are thought to have made their way into the pockets of Kremlin officials and insiders.
Browder was forced to flee Russia, but his local lawyer Sergei Magnitsky stayed on – considering it his patriotic duty to uncover the fraud and bring the real perpetrators to justice. Magnitsky himself was then arrested, implicated in the fraud and imprisoned. Beaten in prison, his health deteriorated and he was denied medical care. Eventually in November 2009 Sergei Magnitsky succumbed, dying in custody at the age of just 37.
Since then, Browder has led a crusade to force Western governments to act, and is responsible for the introduction of several Magnitsky Acts worldwide – legislation intended to penalise those responsible for the crimes that culminated in Magnitsky's torture and death – and prevent them from enjoying the spoils of their crimes in the likes of Beverly Hills or Knightsbridge. Such sanctions have been expanded, and were recently invoked in the USA in response to individuals culpable for the murder of Washington Post journalist Jamal Khashoggi.
Browder is without doubt one of the biggest thorns in Russia's side, in addition to securing the introduction of Magnitsky Acts in several countries, including the UK, he constantly focuses a spotlight on the malign acts Russia perpetrates, particularly overseas. In response Russia has issued a raft of spurious red notices – hoping an unwitting enforcement agency puts him on a plane before Russia's ruse is exposed. Brower's arrest in Spain was a close shave. Indeed, only this week Russia announced new criminal charges against Browder, accusing him of running an organised crime gang responsible for laundering hundreds of millions of dollars, and declaring that they would arrest him in whatever country he is located. If Browder is ever extradited to Russia on a dubious charge – it would likely be a death sentence. That this crusader for justice has been so frequently detained under Interpol red notices makes clear that some reform of the process is needed.
Russia is not the only nation state that abuses the Interpol system, but Russia is the foremost abuser of its red notices which it deploys readily as part of a vast hybrid warfare strategy, where all potential levers are deployed to enable the Russian government's continued perpetration of crimes at home and abroad by silencing those who challenge and expose them.
But the big question is: if Interpol member states elect the Kremlin's candidate to the presidency following its ongoing abuse of the system and its flagrant disregard for international law, how have our diplomatic efforts failed so utterly? That the UK and our diplomatic partners would have failed, and indeed in the first place even needed, to influence member states to recognise that Russia is not fit to police the world would show a catastrophic failure of diplomacy.
There are many arguing that should member states elect Prokopchuk it will herald the demise of Interpol and the need for a new policing force made up of Nato or other friendly states. I wouldn't advocate for this quite yet, but should Putin's government be successful in placing their man in the role, we must put in place a strategy to ensure we do not in any way aid their direction or deployment of the organisation to achieve malign intentions.
We have one day to act. It is likely that much diplomatic horse-trading is taking place as you read this. Alongside decency and common sense, I hope that our diplomatic service, and that of member states who recognise that the rule of law must be upheld, and that those who believe international security is precious, will win out.