The so-called Islamic State reportedly crucified a Catholic priest on Good Friday after kidnapping him earlier this month.
The terror group had previously threatened to carry out the grisly execution after gunmen seized Father Thomas Uzhunnalil in an attack in Yemen.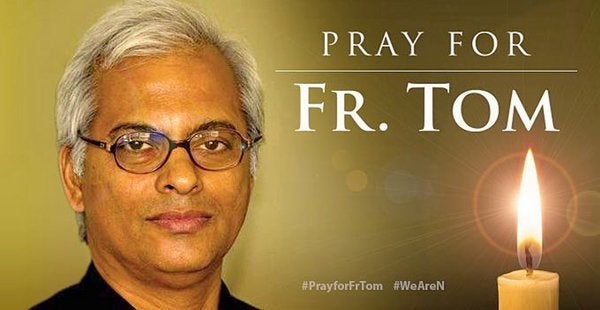 The priest, who was from India, was kidnapped when the charity-run nursing home in Aden he was in was attacked. A total of 16 people, including four nuns, were killed.
Father Uzhunnalil, a member of the Salesian order, was reportedly praying in the home's convent when the attack took place.
There has been no independent confirmation he has been killed.
The Salesian order had previously said it was confident of securing Father Uzhunnalil's release.
Dr Bernard Moras, the archbishop of Bangalore, where Father Uzhunnalil is from, told Premier he could not confirm the crucifixion rumours, adding: "People are making news without confirmation".
The first reports the priest might be crucified originated in a Facebook post by a South African Salesian group but others dismissed it as rumours. The post has since been deleted.
Father Mathew Valarkot, spokesman for the Salesians in Bangalore, told The Catholic News Agency that, despite IS having a presence in Yemen, it did not claimed responsibility for the attack on the nursing home.
"But even today we do not know who has taken him and what their motives are because no one has claimed responsibility," he said.
Related