A mother who was asked to get out of a swimming pool for breastfeeding has found herself the centre of an intense debate after appearing on ITV's 'This Morning'.
Natalie Forrester, who was in a baby swimming lesson with her son in Stoke-On-Trent leisure centre, says she moved to the corner of the pool when she realised he needed to be fed. She says she was then asked by the instructor to get out of the pool to breastfeed.
Journalist Virginia Blackburn, who appeared on 'This Morning', to discuss the issue, likened the incident to "urinating in the street". Her comments have caused outrage among the parents, many of whom have taken to social media to disagree.
"It's on a level with urinating in the street," said Blackburn. "You have a path that leads to increasingly anti-social behaviour and I'd say it's on that path. If I'm sitting in a cafe or a swimming pool I don't want people to start engaging in bodily functions that have usually been kept private."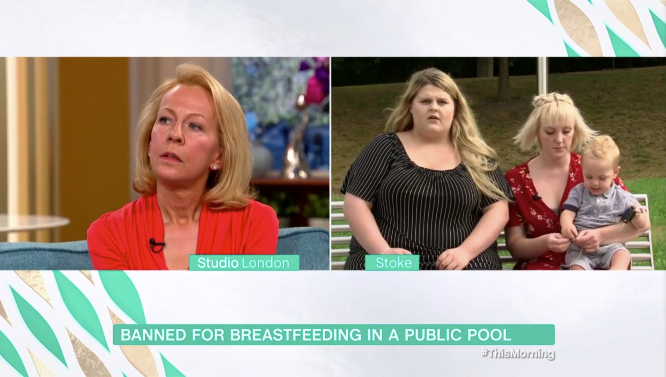 Recounting the incident, Forrester explained she was only waist down in the water, but the instructor said she had to be fully out of the pool. "I was really shocked because in the eight years that I've been breastfeeding for [for her previous children too] it was the first time that anyone has ever said anything," she recalled.
But Blackburn was firmly opposed: "It's about consideration for other people. If you are in a public place it's not something you necessarily want to see. I don't like breastfeeding in public at all [not just the swimming pool]."
Chloe Hattersley, who was asked to leave the same leisure centre, said: "Breastfeeding is the most normal and natural thing anyone can do. The idea that breastfeeding should be done behind closed doors... it's not something to be ashamed to do and should hide away for."
After both mothers said they would breastfeed anywhere, even at a funeral, Blackburn's disgust grew: "You're kidding. I think that's grossly disrespectful for people that are sitting in a congregation to mourn someone… I think that's just a horrible way to behave."
The show sparked a range of opinions on Twitter discussing on whether breastfeeding in a public swimming pool is appropriate.
Others raised concerns about the baby's health, because of the swimming pool water.
Stoke-on-Trent City Council said in a statement: "Our policy is that we ask people not to eat or drink in the pool and we ask people not to breastfeed. We have many areas at our poolside where breastfeeding can take place and actively support this, we are reviewing our existing policy and have invited Natalie and Chloe to be part of that review."