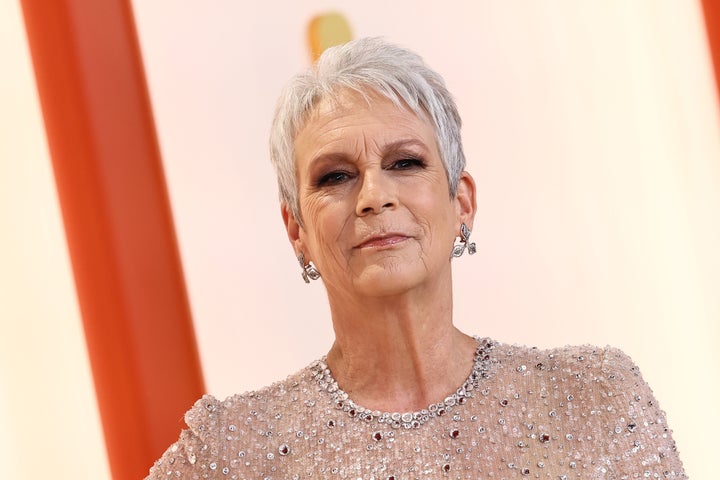 Jamie Lee Curtis is reflecting on being "incredibly lucky" to have overcome her struggle with substance abuse over two decades ago.
"I was an opiate addict, and I liked a good opiate buzz," the "Everything Everywhere All At Once" star told Joe Scarborough on MSNBC's Morning Joe, in an appearance that aired Friday but was taped before the beginning of the Screen Actors Guild strike.
"If fentanyl was available, as easily available as it is today on the street, I'd be dead," the 64-year-old Oscar winner said.
Curtis, who told Variety in 2019 that she'd battled a "secret Vicodin addiction" for over 10 years, said her life could have gone down a very dark route had she not gotten clean.
"My worst day was almost invisible to anyone else," she said. "I'm lucky. I didn't make terrible decisions high, or under the influence, that then for the rest of my life I regret."
"There are women in prison whose lives have been shattered by drugs and alcohol," she continued. "Not because they were violent felons, not because they were horrible people, but because they were addicts."
Curtis said her sobriety made everything in life "crystal and clear," and that she feels "incredibly lucky that that wasn't my path" because she was "headed there."
The Halloween star reflected on her family's history of substance abuse. Tragically, her brother Nicholas died as a young man due to a heroin overdose in 1994.
"He was clean and sober, and he went out and used one time, and died from an overdose," Curtis told Scarborough. "And he is one of millions and millions of people whose lives have been extinguished because of addiction."
In a 2021 interview with the Today show, Curtis spoke about "breaking the cycle" of addiction that "destroyed the lives of generations in my family." She called her sobriety her "greatest accomplishment."
"My sobriety has been the key to freedom, the freedom to be me, to not be looking in the mirror in the reflection and trying to see somebody else," she said at the time. "I look in the mirror. I see myself. I accept myself. And I move on, because you know what? The world is filled with things we need to do."
Just a month before, Curtis had also looked back on her sobriety journey with a heartfelt message on Instagram.
"A LONG time ago... In a galaxy far, far away... I was a young STAR at WAR with herself," she wrote, alongside a throwback photo of herself holding an alcoholic beverage. "I didn't know it then. I chased everything. I kept it hidden. I was [as] sick as my secrets."
"With God's grace and the support of MANY people who could relate to all the 'feelings' and a couple of sober angels... I've been able to stay sober, one day at a time, for 22 years," she continued.
Curtis concluded the post with some encouraging words for "all those struggling."
"I was a high bottom, pun kind of intended, so the rare photo of me proudly drinking in a photo op is very useful to help me remember," she wrote. "To all those struggling and those who are on the path... MY HAND IN YOURS."
Help and support: