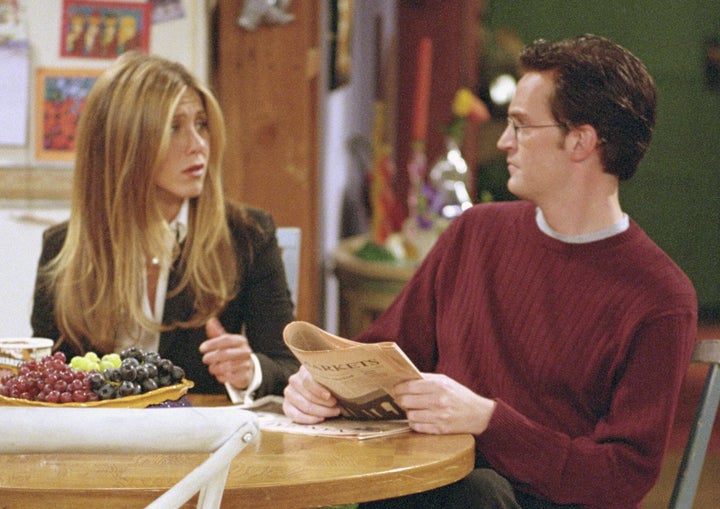 The Rachel Green actor heartbreakingly admitted she had been re-reading her messages to Matthew while "laughing and crying, than then laughing again" since his death last month at the age of 54.
Jennifer then shared a text and a picture the Chandler Bing star had once sent her, which saw the pair sharing a joke, to which he had said: "Making you laugh just made my day."
Posting that very picture to her 44.4 million followers on Instagram, Jennifer said: "Oh boy this one has cut deep...
"Having to say goodbye to our Matty has been an insane wave of emotions that I've never experienced before. We all experience loss at some point in our lives. Loss of life or loss of love. Being able to really SIT in this grief allows you to feel the moments of joy and gratitude for having loved someone that deep.
"And we loved him deeply. He was such a part of our DNA. We were always the 6 of us. This was a chosen family that forever changed the course of who we were and what our path was going to be. For Matty, he KNEW he loved to make people laugh."
Referencing a moment from the 2021 Friends reunion special, Jennifer continued: "As he said himself, if he didn't hear the 'laugh' he thought he was going to die. His life literally depended on it. And boy did he succeed in doing just that. He made all of us laugh. And laugh hard.
"In the last couple weeks, I've been pouring over our texts to one another. Laughing and crying then laughing again. I'll keep them forever and ever. I found one text that he sent me out of nowhere one day. It says it all. (See the second slide…)"
Jennifer went on: "Matty, I love you so much and I know you are now completely at peace and out of any pain. I talk to you every day… sometimes I can almost hear you saying 'could you BE any crazier?'
"Rest little brother. You always made my day…"
In her post, Jennifer also included a clip from Friends of the poignant moment Chandler and Rachel say goodbye to one another in the final episodes of the show, as Rachel prepares to move to Paris.
Jennifer and Matthew shared a close bond, with Matthew admitting in his 2022 autobiography that he had a crush on his co-star in the first few years of working together.
He also spoke of the support he received from her as he struggled with his addiction issues, including the moment she first confronted him about it on the set of Friends.
Matt, who played Chandler's best friend Joey Tribbiani, wrote: "It is with a heavy heart I say goodbye. The times we had together are honestly among the favourite times of my life.
"It was an honour to share the stage with you and to call you my friend. I will always smile when I think of you and I'll never forget you. Never."
The six co-stars were propelled to worldwide fame when they were cast as a group of 20-somethings navigating life and love in New York in Friends back in 1994.
The group formed an unbreakable friendship during their 10 years working on the US sitcom, even coming together to collectively negotiate their salaries after they found out they were being paid different amounts in the show's early years.