A petition has been launched to "free Jeremy Corbyn" after the the press revealed extraordinary lengths his staff apparently go to to keep him from meeting his opponents within the party.
As with all major political news, the revelations about how Corbyn's aides treat Corbyn led someone to start a Change.org petition calling for him to be released by his captors.
The vast majority of Labour MPs have just voted for a motion for no confidence against Corbyn but he is quietly confident he can win any leadership contest because of his wide support among party membership, which has made his MPs reluctant to depose him, one week into an ongoing coup.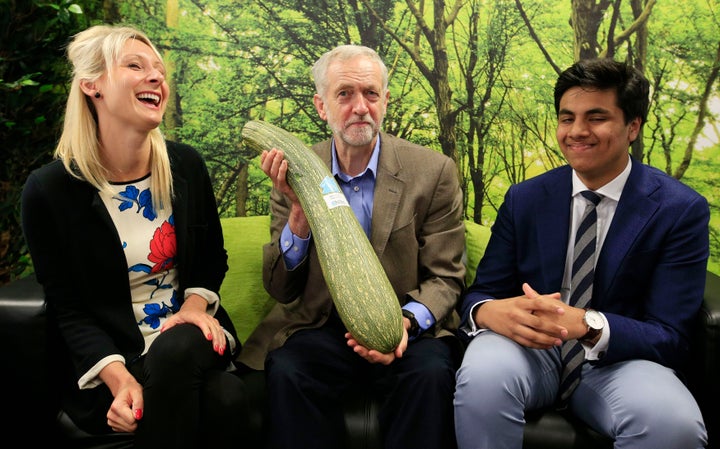 One staffer told The Observer they protected him from awkward meetings because they had a "duty of care" to protect the man who wants to be prime minister from being bullied by party colleagues, including deputy leader Tom Watson.
The Sunday paper quoted a senior Labour source who said: "They [Watson's aides] want Watson to be on his own with Corbyn so that he can jab his finger at him... We are not letting that happen.
The source added they had to do this because Corbyn, 67, is "a 70-year-old man".
They added: "We have a duty of care … This is not a one-off. There is a culture of bullying. Maybe it's a Blairite/Brownite thing."
This was too much for Martin Robbins, who founded the petition calling for the party to free Corbyn to return to his allotment.
At the time of writing, a whopping 119 people have signed. As the website points out, if 81 more people sign it, 200 people will have signed it.
"Jeremy Corbyn's aides are allegedly preventing him from meeting with the elected deputy leader of the Labour Party, in case he resigns out of sheer unhappiness. Some in the party are even describing him as a 'hostage'," Robbins wrote.
"This is clearly an inhumane situation. Corbyn should be released immediately, and allowed to return to the peace of his allotment with dignity."
The petition attracted some interest and support on Twitter...
...But the petition was, alas, underperforming in comparison to others people were signing on Sunday in relation to Corbyn.
Maybe it was inevitable the petition to free him would struggle for attention in the face of that competition.