Having won the backing of a Grime MC, Jeremy Corbyn has now struck a chord with a reggae singer who hailed the Labour leader's "good vibe" after he posed for a picture with him while ignoring "the sweet aroma of my spliff".
The Boy Better Know co-founder urged young voters to register and tweeted a picture of him and Corbyn talking politics on Sunday. Eight minutes later Corbyn posted a picture of the two posing shoulder-to-shoulder, next to a corrugated iron and brick, backdrop.
A Grime for Corbyn page has also been launched with those who register given the chance to win tickets to a 'secret party' in London. An image on the page features Corbyn's head clumsily photoshopped on Kanye West's body when the rapper took to the stage at the 2015 Brit Awards with a mob of 20 black-clad Grime artists to sing his hit, All Day.
On Tuesday a picture emerged of Corbyn posing with reggae singer Talliss Ites, who posted the image on his Facebook page over the weekend.
In a caption under the picture he described how the politician, who he wrongly referred to as Jeremy Corbin, "showed him respect" despite the fact he was smoking cannabis.
He added that Corbyn "ignored the sweet aroma of his spliff" and had a "good vibe about him still".
The musician, whose real name is Jamell, wrote: "#lol Bwoy my seh!
"Walking on the streets of London with my guitar on my back! Smoking a nice #higrade #skliff and I look up and see Jeremy Corbin!
"I hailed and he showed me respect whilst trying to ignore the sweet aroma of my #spliff . He had a good vibe about him still."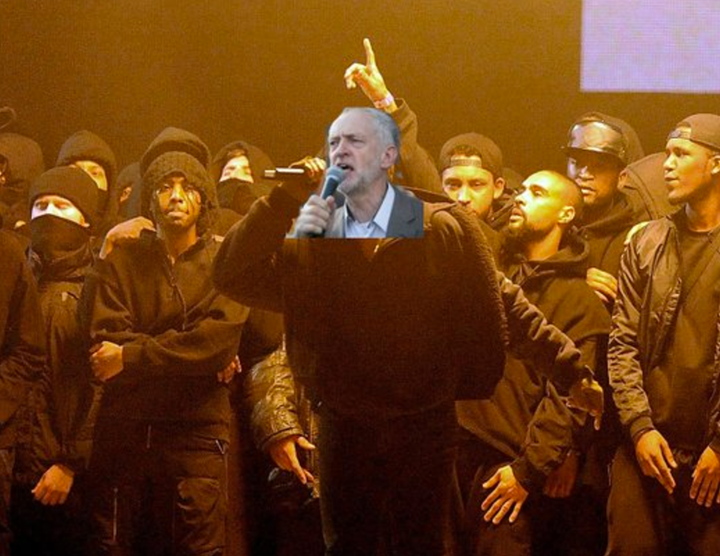 The picture went down well with Ites followers who said they are backing Corbyn in the June 8 General Election.
Daniel Webb wrote: "Legend! Who doesn't want Jeremy running out (sic) country?"
While Luke Norris added: "What a kind man."