Jeremy Corbyn has been re-elected Labour leader, winning a larger share of the vote than he did in 2015.
Corbyn secured 61.8% of the vote (313,209) and his challenger Owen Smith won 38.2% (193,229).
The Labour leader thanked voters for their "trust and support" and told Smith they were "part of the same Labour family".
"In our party we have much more in common than that which divides us," he said. "Elections are passionate and often partisan affairs and sometimes there are said in the heat of the debate which we sometimes later come to regret."
Smith has congratulated Corbyn on "being elected decisively as our leader", adding: "Now is time for all of us to work to take Labour back to power."
The Labour leadership contest, which was triggered earlier this summer after Corbyn's shadow cabinet resigned en masse, was often a bitter battle.
However Corbyn said he wanted to "wipe that slate clean" and urged Labour MPs to unite behind his leadership to fight the "hard right" Conservative government of Theresa May.
An exit poll of the result suggested Smith beat Corbyn among Labour party members who joined the party before 2015. Although he was defeated in the overall election, the YouGov/ElectionData survey found that Smith also won among 18-24 year-olds and Scottish party members.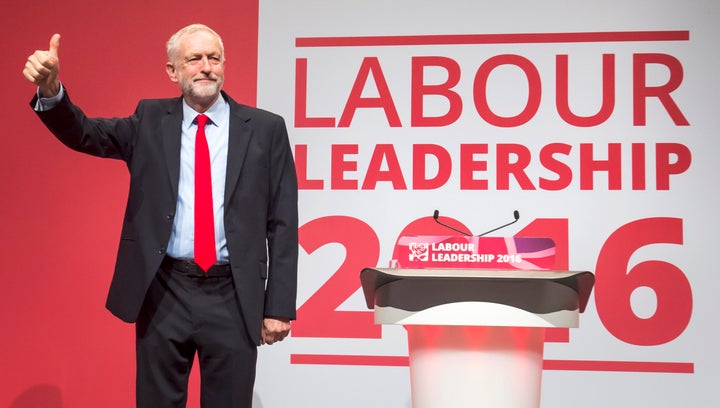 Shadow Health Secretary Diane Abbott, a close ally of Corbyn, said the leadership fight had been a "very nasty campaign" and said the "coup" by Labour MPs had "turned party members against the Owen Smith campaign".
She said Corbyn and his team were "pressing the reset button" on the internal party divisions and urged Labour MPs to unite behind the leader. But she told the Parliamentary Labour Party (PLP) to stop criticising Corbyn "every hour on the hour".
Labour's Scottish leader, Kezia Dugdale, who backed Smith, congratulated Corbyn on his win, and added: "We must all now harness the energy and enthusiasm of our movement into real change for people."
While Labour members gather in Liverpool for their annual conference, the Corbyn-supporting Momentum campaign group is holding its own meeting nearby.
Momentum Supporters Celebrate Jeremy Corbyn's Victory
After private talks this week with senior MPs on Labour's moderate wing, Corbyn is expected to seek to rebuild his frontbench team in the wake of the expected confirmation of his position.
The resignation of more than 40 frontbenchers in June left him unable to fill all his shadow ministerial posts and reports have suggested that as many as 14 may be ready to return following the apparent failure of Owen Smith's bid to unseat him.
But others, including Hilary Benn, Yvette Cooper and Chuka Umunna are thought likely to focus on their bids to secure the chairmanship of influential parliamentary committees, which will allow them to take prominent roles scrutinising Theresa May's government from outside Corbyn's camp.
Labour's ruling National Executive Committee is due to meet after the result is announced, having put off a decision earlier this week on proposals to restore elections to the shadow cabinet, which might have given some centrist MPs a route back into Corbyn's top team.
Conservative MPs jumped on the result. David Gauke, the chief secretary to the Treasury, said: "If Labour is so extreme that it can twice elect Jeremy Corbyn as leader, how could you ever trust it to run country?"
Lib Dem leader Tim Farron said: "This is a case of things can only get worse. Jeremy Corbyn has failed as opposition leader and failed to stand up for Britian's place in Europe.
"As Labour fight among themselves the Liberal Democrats will make the case for an open tolerant and united Britain. If Labour won't do its job as the opposition to the Conservative Brexit Government, we will."
Corbyn said today: "We are proud as a party that we're not afraid to discuss openly, to debate and disagree that is essential for a party that wants to change people's lives for the better that isn't prepared to accept things as they are.
"It's also an essential part of what has drawn over half a million people into membership of what is now the largest political party in western Europe a party which has nearly tripled in size since last spring.
"Those new members are now part of a nationwide movement who can now take our message into every community in the country to win support for the election of a Labour government."