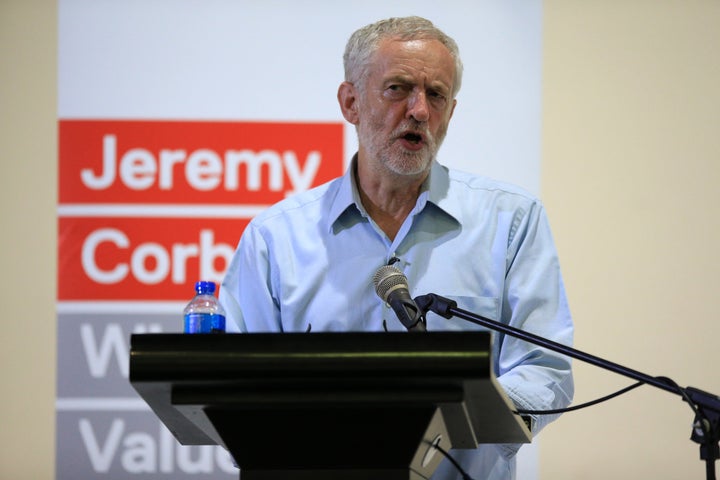 Jeremy Corbyn angrily clashed with a reporter on Wednesday morning as he faced questions about the row that has become known as #traingate.
Yesterday Virgin Trains released CCTV footage which appeared to show Corbyn walking past empty unreserved train seats before he was filmed sitting on the floor complaining about "ram-packed" carriages.
But the Labour leader was unhappy about being asked by Sky News' Darren McCaffrey to clarify what had happened."Can we move on please, we are discussing the NHS," he said. "Can we have an NHS question?"
McCaffrey pressed: "We live in a free country. I am entitled to ask you a question I want to ask you. Can I ask you the question I want to ask, not what you want me to ask you?
Corbyn replied: "I am very well aware we live in a free country."
"We have called a press conference on the NHS. I really hoped you would be able to find a question on the NHS but if you can't we'll take another one," he told the reporter.
Corbyn added sarcastically: "It's a really important issue this, absolutely crucial to the future of the whole nation and the NHS."
Last night Corbyn's campaign spokesman suggested Virgin owner Sir Richard Branson was having a "pop" at the Labour leader because he was "upset" at the party's plan to renationalise the railways.
Corbyn said today: "I am very pleased Richard Branson has been able to break off from his holiday to take this issue as seriously with the importance it obviously deserves.
"I hope he is very well aware of our policies, which is train operating companies should become part of the public realm not the private sector."
Corbyn was asked by ITV if he was a "liar" for having claimed there were no free seats on the train from Kings Cross when Virgin said there were. "I was hoping you were going to ask questions about the NHS - but sadly you're not," he said.
A spokesman for Virgin Trains said yesterday the company has to "take issue with the idea that Mr Corbyn wasn't able to be seated on the service, as this clearly wasn't the case".
Corbyn's campaign team said he was unable to find unreserved seats for his group, which included aide Emma Rees and his wife Laura Alvarez, so he sat with other passengers in the corridor who were also unable to secure a seat.
The Labour leader used the experience to make a point about what he said was "a problem that many passengers face every day" over overcrowded trains.
Popular in the Community