Jeremy Corbyn faced down Tory shouts of "shame" today as he blamed government cuts to local authority budgets for the tragedy at Grenfell Tower.
Theresa May hit back with an attack on Tony Blair for having changed fire regulations.
Corbyn used the first prime minister's questions since the election to target the "disastrous effects of austerity".
"When you cut local authority budgets by 40%, we all pay a price in public safety. Fewer inspectors, fewer planning inspectors – we all pay a price," he said. "This disaster must be a wake-up call."
May revealed during the exchanges, that began calmly but escalated quickly as party political punches were thrown, that the cladding on Grenfell Tower was not compliant with regulations.
The prime minister also announced total of 120 tower blocks across 37 local authority areas in England have so far failed fire safety tests and have combustible cladding.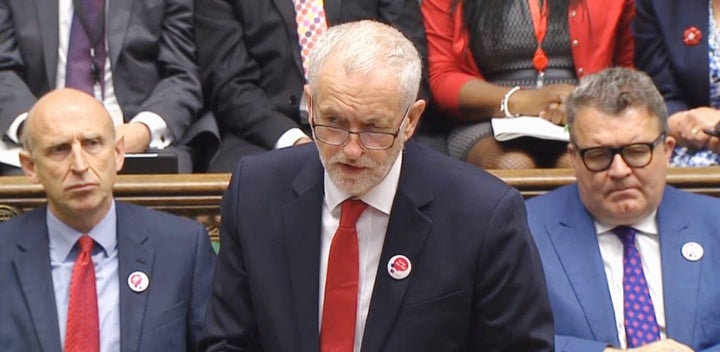 At least 79 people are known to have died in the fire that engulfed Grenfell Tower earlier this month.
Tory MPs shouted angrily across the Commons in reaction to Corbyn's claim government austerity was in part responsible for the deaths.
And May claimed Labour shared responsibility for what happened as the problem stretched back years.
"The cladding of tower blocks did not start under this government, it did not start under the previous coalition governments, the cladding of tower blocks began under the Blair government," she said.
"In 2005 it was a Labour government that introduced the regulatory reform fire safety order which changed the requirements to inspect a building on fire safety from the local fire authority to a 'responsible person'."
However other senior Labour figures have distanced themselves from his comments.
Shadow Brexit secretary Jenny Chapman told the BBC this morning "some of the language had gone too far" but added McDonnell, who is a west London MP, was "very angry" at what had happened.
May will be challenged this evening to show she are committed to ending austerity in the police and fire services by backing a Labour amendment to the Queen's Speech.
A Labour amendment calls for an end to cuts to the police and fire services and calls on the Government to lift the public sector pay cap.
Chancellor Philip Hammond has suggested the government could ease austerity, stressing that Tories were "not deaf" to the message delivered in the general election.
And Defence Secretary Sir Michael Fallon this morning said the Conservative Party's seven-year public sector pay freeze could soon be over.