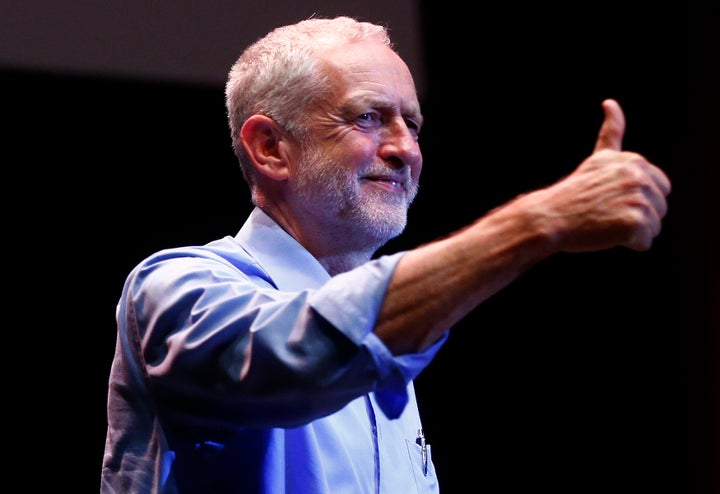 Barring a last minute upset, Jeremy Corbyn is set to be comfortably reelected leader of the British Labour Party on Saturday. His opponent, Owen Smith, who had the support of most Labour MPs, never had much chance of winning.
For Corbyn's supporters, the grassroots Labour members who gave him a shock landslide victory when he was first elected leader in 2015, he is a breath of fresh air who has returned the party to its leftwing roots after years of "Blairite" centrism and compromises with the right.
But for the overwhelming majority of Labour MPs, in the words of former Labour foreign secretary David Miliband, Corbyn is not only "unelectable", his policy platform is "undesirable".
Labour is arguably now two parties. One in parliament. And one in the rest of the country.
In expectation of victory, Corbyn has said he wants to "wipe the slate clean" and is encouraging the MPs who quit his top team en masse, the shadow cabinet, to return to the fold. The Labour leader has offered a public olive branch - he is growing an actual olive tree on the balcony of his parliamentary office - to his critics.
But following a bitter leadership campaign plagued by Twitter trolling, bricks through windows and allegations of sexism and anti-Semitism - unity will be hard to achieve. The distrust runs deep. Labour MP Peter Kyle, who has been targeted by supporters of Corbyn for what they see as disloyalty, said "Jeremy is the first person I have ever come across who uses an olive branch as a weapon to beat people with".
In a sign of the deep split in Labour, party staff have been issued an unprecedented warning they may face "aggressive and potentially violent" situations at the annual conference in Liverpool, which begins this weekend.
With Labour at war, Prime Minister Theresa May's new post-Brexit Conservative government, which has a narrow majority in parliament, is left to its own devices. And even some Tory MPs are worried. Former minister Anna Soubry has warned "as a democracy, we need a good strong Opposition who are credible, who test government and hold them to account".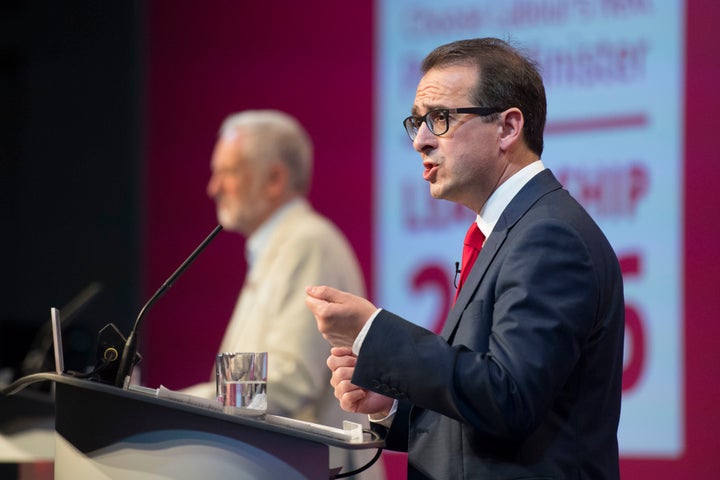 Why they hate Corbyn
The Labour leadership battle was triggered earlier this summer following the Brexit vote, when 80% of Labour's 230 MPs passed a vote of no confidence in Corbyn. Smith, who served as work and pensions spokesman on Corbyn's frontbench, was the sacrificial lamb thrown into the contest at a time MPs feared that May, who took over from David Cameron in July, would force a snap general election.
For those Labour MPs, 67-year-old Corbyn is too leftwing and too incompetent to win power for the party. In their eyes, he has underperformed even by the low standards they set for him. His poll numbers with the British public at large are bad. A YouGov survey this month showed voters believed May made a better PM than Corbyn would by a margin of 50% to 18%. And in local elections, Labour's recent performance has been, according to election expert professor Tony Travers, "abysmal".
The party establishment is almost united in its criticism of Corbyn. Tony Blair, who won three elections for Labour, has repeatedly warned his party against choosing Corbyn. As have previous leaders Gordon Brown, Ed Miliband and Neil Kinnock. Corbyn's victory on Saturday, Lord Kinnock claimed, would doom the party to be out of power for the rest of his lifetime.
On policy, Corbyn is at odds with much of his parliamentary party. His is opposed to the renewal of Britain's nuclear weapons and has displayed a lukewarm commitment to the Nato alliance have. The final straw for many MPs, was Corbyn's perceived lack of commitment to keeping the UK in the European Union during the referendum. Labour is a staunchly pro-EU party. However Corbyn voted to leave Europe at the last referendum in 1975 - and many MPs suspect he is not too upset at the Brexit result.
And where they agree on policy, Corbyn is accused by many backbenchers of lacking the political ability to do damage to the Tories, under Cameron and now May. His performance at prime minister's questions was famously branded a "fucking disaster" by Labour MP John Woodcock. MPs were up in arms at a behind the scenes Vice News documentary which revealed Corbyn decided against exploiting the resignation of a Conservative cabinet minister to hammer Cameron over cuts to welfare.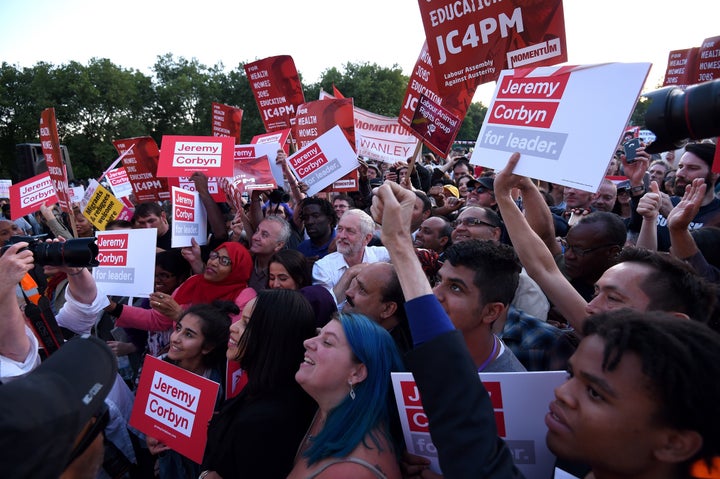 Why they love Corbyn
However, among an apparent majority of Labour Party members it is a different story. Corbyn's support among the grassroots is is vocal, extremely loyal and with the help of his Momentum campaign group, well organised. Why, they ask, should they listen to Brown, Balls and the Miliband brothers given they lost the 2010 and 2015 general elections.
The move against Corbyn, the Islington North MP who has been in parliament for over 30 years, only deepened their fervour. For the 'Corbynistas', his style, less slick-advertising salesman, more sincere geography teacher, appeals.
Labour, they argue, lost in 2015 as it offered voters merely austerity-lite rather than a inspirational and substantive progressive alternative to Cameron's public spending cuts. Labour's poll numbers, it is argued, are a fault of the MPs who launched a coup. And they remain unconvinced Smith, despite emphasising his focus on winning an election, would perform any better.
Some Corbyn supporters accuse the right of the party of moving against the leader because they fear he could win a general election and implement a leftwing programme, rather than because he can not.
A large part of Corbyn's personal brand is his claim to do politics differently. "I don't do personal abuse," he insists. And frequently requests his supporters follow his lead. John McDonnell however, a close ally of Corbyn who serves as his shadow chancellor, is known for putting things more bluntly. The attempt by Labour MPs to topple Corbyn, he famously declared, was "fucking useless". And he blames Blair, despite the former prime minister's three election victories, for taking Labour "to the edge" and ruining public trust in politics with the 2003 Iraq War.
In a sign of the deep split in the party between camp Corbyn and Labour HQ, McDonnell publicly accused party officials of "rigging" the leadership contest in Smith's favour.
Corbyn's supporters have also been encouraged by the huge crowds the Labour leader has been able to draw at his campaign rallies. The sight of thousands of people enthusiastically shouting "Jez we can", a phrase neatly adopted from President Obama's rally cry, is unusual in British politics. Party membership has surged to over 500,000 - making it the biggest in Europe. Corbyn hopes he can use this as a "very strong campaigning basis" to win power.
During the campaign, Corbyn held 59 rallies, raised over £300,000 in small donations and his team made over 400,000 campaign calls.
Parallels have often, and deliberately, been drawn between Corbyn and Bernie Sanders as well as Donald Trump's insurgent campaigns. The 'Jeremy For Leader' team hope to model their general election battle on Sanders' digital mobilisation techniques. Corbyn was quick to highlight a message of support he received from Sanders - which the Senator denies sending - in his fight against Smith.
But for Corbyn's detractors, mass rallies do not necessarily translate into electoral success. No one can remember Cameron holding huge rallies. Because they did not happen. Tory party membership is only around 130,000. Yet he won an unexpected general election victory in 2015. Critics are also dismissive of the Sanders' comparison, noting for all the noise around the Senator's Democratic primary campaign - he did not win.
What now?
And there is also a feeling on the Labour benches that they do not want to give up their party to Corbyn and his allies. As Lord Kinnock told a recent closed door meeting of Labour MPs and peers: "There will be no retreat! Dammit, this is our party! I've been in it for 60 years, I'm not leaving it to anybody!"
Even if an uneasy truce is brokered in parliament between Corbyn and his MPs - with some senior politicians returning to the shadow cabinet - the conflict may continue at a local level.
Momentum, the leftwing campaign group that grew out of Corbyn's 2015 leadership challenge, is a source of anger for many MPs. Smith has accused the group, which boasts thousands of members, of treating Labour as a "host body" for the hard-left as happened in the 1980s. It is a charge Momentum strongly denies.
MPs who are seen as disloyal fear deselection - the equivalent of an US Democratic Senator facing a primary challenge from the left. Corbyn, while not publicly encouraging local activists to try and oust sitting MPs, has been accused of tacitly endorsing it by insisting he does not want to "interfere".
Demands of loyalty from Corbyn's supporters particularly wind-up Labour MPs. Corbyn, as a backbench MP, rebelled against successive Labour leaders over 500 times.
In 2015, Corbyn said annual leadership contests could be a good idea. Now leader, he has changed his mind. But another leadership contest, perhaps one every year, before the 2020 general election is entirely possible.
Related