Jeremy Hunt has urged junior doctors to accept the new contract on the table because it is "incredibly generous".
The Health Secretary told MPs that medics were in line for a Saturday premium much higher than nurses, porters and other hospital staff amid renewed talks between the Government and the British Medical Association Union.
Ministers have suspended the imposition of seven-day contracts for five days as part of a "truce".
But in the House of Commons, Hunt upped the pressure on the BMA to accept the deal by drawing a comparison with other public sector workers.
However, doctors argue the Health Secretary is not making a comparison with the current contract doctors on.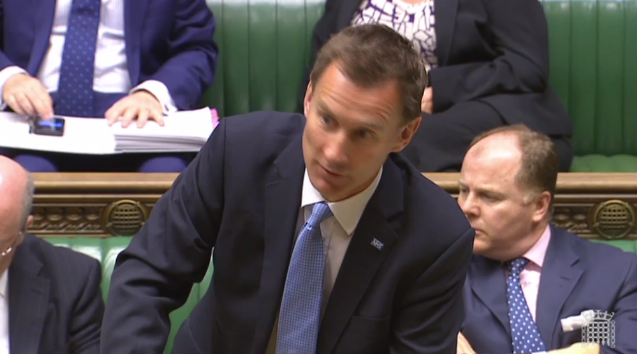 He was asked by Tory MP Lucy Allan to confirm whether Saturday pay offered was a 30% premium above "hard-working midwives, nurses, firefighters and paramedics" in her constituency.
Hunt replied: "She makes a very, very important point. That the proposals on the table with the next contract are incredibly generous compared to the other people working in hospitals.
"That is why it is very important we have some flexibility from the BMA on Saturday pay so we have the seven-day service we all want.
"It is a very good deal for junior doctors. If you look at it objectively we should be able to come to a deal this week. But there need to be flexibility on both sides."
Negotiations between doctors' leaders and the Government have now entered a second day as officials bid to break the deadlock over the controversial contract for junior medics.
Around 90% of the contract had previously been agreed, but the main bone of contention was over whether Saturdays should attract extra "unsocial" payments, among other issues.
The agreement to resume talks follows a wave of industrial action launched by junior doctors in recent months, which saw thousands of operations cancelled after negotiations reached an impasse, with Mr Hunt threatening to impose the controversial contract.
HuffPost UK has asked the Department of Health to provide details of why the the offer is "incredibly generous".