In an interview with the BBC Brendan Cox referenced the fact that Mair had said he murdered Cox for "Britain", and said: "Britain is ashamed of him and very proud of Jo."
Cox told the broadcaster: "Her voice has been strengthened by all this and not silenced.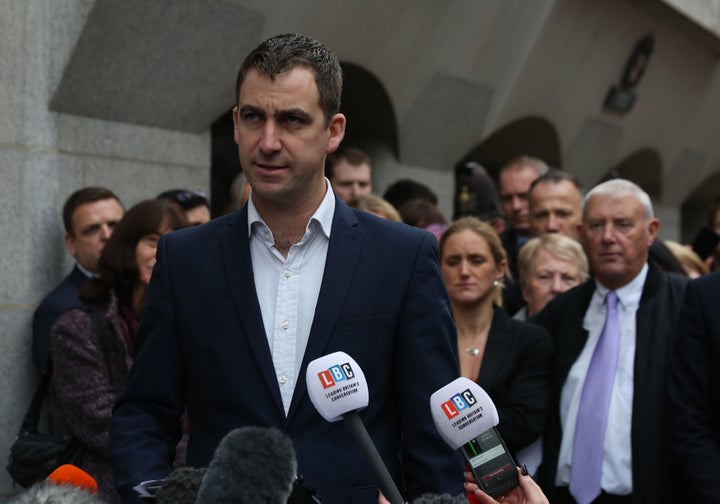 "How she lived is more important than how she died, and what she stood for is more important than the hatred that drove this act."
He told the broadcaster that life since his wife's death was still a "bad dream" and how "every other night" he asked her friends to write stories about her which he read to their children who "love them".
"We have a lifetime of stories. Jo packed in probably 80 or 90 years into the 40 she lived.
"I'll remember her for her zest for life, an enthusiasm in almost all circumstances and about most things, an empathy towards other people and a love both of our family but also just of others."
A jury at the Old Bailey in London took a little over an hour and a half to find Mair, 53, guilty of the killing along with causing grievous bodily harm to a passer-by who was stabbed when he came to Cox's aid, possession of a firearm with intent and possession of a dagger.
Brendan Cox issued a plea to Brits on Twitter following the verdict: "We hope the country will take something from this.
"That Jo's death will have meaning. That those in politics, the media or in our own communities who seek to divide us will face an unassailable wall of British tolerance and the articulation of Jo's belief - that we hold more in common than that which divides us."
He ended the tweet with "Jo lit up our lives. And she still does."
During the trial Cox told the court he was not there for "retribution" and felt "nothing but pity for" Mair who he described as "cowardice personified".
In a statement he later said: "The killing was in my view a political act and an act of terrorism. An act driven by hatred which has instead promoted an outpouring of love."
Sky News further quoted him as saying: "We feel nothing but pity for him that his life was so devoid of love and filled with hatred, his only way of finding meaning was to attack a woman who represented all that was good about the country."
Cox's "strength and dignity" in dealing with the very personal and public tragedy his family have endured inspired a chorus of applause on social media.
Labour leader Jeremy Corbyn said after the verdict that the "single biggest tribute we can pay to Cox will be to confront those who wish to promote the hatred and division that led to her murder".
Charity Hope not Hate said that "neo-Nazi propagandists must share some responsibility for fuelling and directing the hatred and violence inside him (Mair)."
The group urged authorities to do more to "tackle the growing threat of Britain's far right" which was becoming "more violent and dangerous".
Mair shot and stabbed the mother-of-two as she arrived at Birstall library in West Yorkshire for a surgery on June 16, a week before the EU referendum.
The defendant, who shouted "Britain first", had a stash of neo-Nazi material at his home and had collected a dossier on his 41-year-old Remain campaigning MP, the Old Bailey heard during his trial.
Mair gave no evidence in his defence but had denied all of the charges.