Polling guru John Curtice is to receive a knighthood it has been announced, capping off a year where the academic cemented his reputation as the UK's foremost political analyst.
The Strathclyde University professor burnished his stellar credentials in 2015 when he defied many other pollsters by correctly forecasting a Tory general election victory.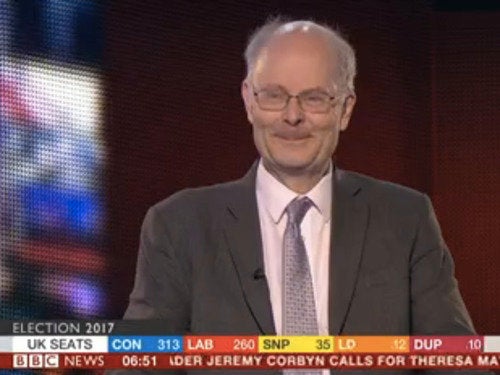 And he repeated the trick this year when his exit poll published as voting ended signalled a hung parliament - one of the greatest political shocks of recent times as Theresa May forfeited a Tory majority.
Curtice has been a staple of the BBC's election night coverage for almost four decades, and claims to have done as many polling night programmes as David Dimbleby.
But he was eventually proved right. "John Curtice is beaming with pleasure hearing that," the veteran broadcaster Dimbleby suggested.
"Well, I hope you found it useful and that it helped to inform your coverage during the course of the night, David," responded Curtice.
"The crucial thing about the exit polls is not necessarily whether it is right or wrong, but it gives people a guide as to what the results might be."
Between elections, his main job is working for the National Centre for Social Research, exploring British and Scottish social attitudes and running websites on the Scottish independence and EU referendums.
In the midst of all of this, Curtice has become a cult figure on social media, as epitomised by the "Is John Curtice On TV?" account that tracks his broadcast appearances.
Underlining the fascination with him, the BBC even took a tour of his allotment this summer.