John Humphrys has sparked outrage by dismissing the death of Jo Cox as murder, rather than an act of terrorism.
The BBC Radio 4 presenter was discussing a new police counter-terrorism initiative on Monday when he said it "muddies the water" to compare the MP's killing with other extremist acts.
The broadcaster was interviewing Mark Rowley, assistant commissioner at the National Police Chiefs' Council, on the Today programme about the current level of terrorist threat directed at the UK when he made the comment.
Rowley said: "Of course in the UK we do have to worry about... extreme right wing groups are very provocative and can cause significant risk to our communities and, indeed, we know that extreme right wing related issues which led to the tragic murder of Jo Cox not that long ago."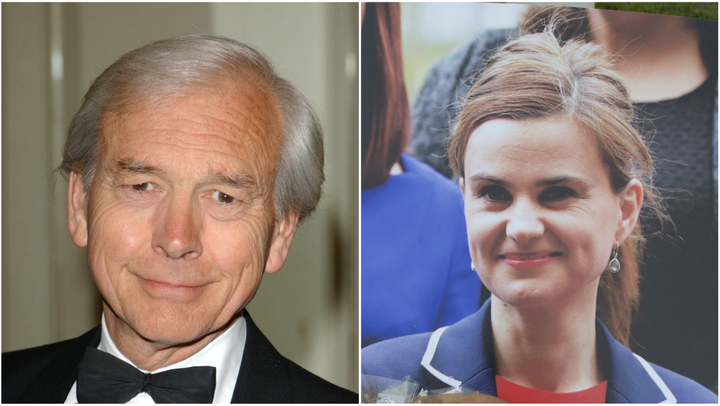 Humphrys interjected: "But in that case wasn't that just a very deeply disturbed man, mentally ill wasn't he?
"That slightly muddies the water doesn't it when we talk about that as terrorism? I mean, it was a murder, wasn't it?"
Rowley responded: "Well it's not my classification. That was the view of the court in the sentencing. That was the conclusion they came to."
Thomas Mair was handed a whole life sentence in November for killing Cox a week before the EU referendum. The 53-year-old shouted "Britain first" as he fired three shots at the Remain campaigner and stabbed her 15 times.
The CPS said that Mair had been "motivated by hate, his pre-meditated crimes were nothing less than acts of terrorism designed to advance his twisted ideology".
During his sentencing, Mr Justice Wilkie said: "It is clear from your [Mair's] internet and other researches that your inspiration is not love of country or your fellow citizens, it is an admiration for Nazism, and similar anti-democratic white supremacist creeds where democracy and political persuasion are supplanted by violence towards and intimidation of opponents and those who, in whatever ways, are thought to be different and, for that reason, open to persecution."
Humphrys was on Monday reminded of the judge's sentencing remarks.
Humphrys' "ignorance" was slammed:
The presenter was also accused of hypocrisy:
And many demanded an apology:
A BBC spokeswoman said in a statement: "Listeners expect robust and challenging questioning and John was establishing whether the murder of Jo Cox should be equated to other recent terrorist acts.
"Mark Rowley made it clear that the view of the court and sentencing was that Jo Cox's murder was an act of terrorism."
Humphrys' comments came on the same day that Cox's husband, Brendan, revealed he was writing a memoir celebrating her life.
More In Common will be released on the eve of the first anniversary of the 41-year-old's brutal death.
Cox's widower said her loss had left his life "more hectic than ever before", as the civil society campaigner simultaneously became a single parent to their two young children and the focus of great public interest.
"I wanted to write about Jo, but felt doing so was probably impossible because of all the pressures on my time," he told The Guardian.
"What I hadn't factored in was lack of sleep. Sleeping used to be one of the things I was best at, but since June that is no longer true.
"I often wake at 4am or even 3am nowadays and am unable to get back to sleep. So this book is very much the product of sleep deprivation."
The memoir will be published by Two Roads, an imprint of Hodder and Stoughton, on June 15, the Press Association reports.
The publisher described the memoir as a "moving and impassioned portrait of Jo - as daughter, mother, wife, sister, MP and activist - we see how much she gave and how much more she had to give, and her legacy of values and beliefs which will live on".
Related