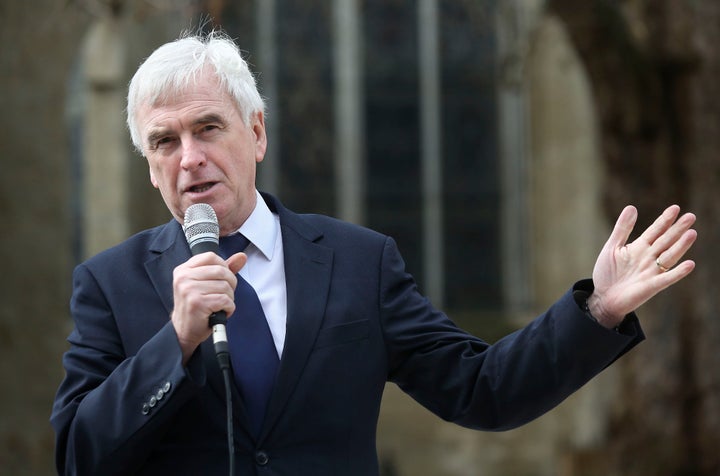 John McDonell has dismissed criticism after he branded some Labour MPs "fucking useless" last night - arguing he was just joking.
The shadow chancellor also denied his choice of words contributed to an abusive political climate.
"It was a stand up comedy event. I know I promised Jeremy Corbyn I wouldn't do any more jokes - I broke my promise to him," McDonnell told BBC Radio 4's Today programme this morning.
"I'm an ordinary bloke. I used some bad language. If my mother was still alive today she'd be coming down and telling me she was going to wash my mouth out with soap."
"I'm an ordinary bloke. I used some bad language"
McDonnell was challenged over the language he used on stage at a pro-Jeremy Corbyn rally in north-London on Tuesday evening.
The event, with an audience of hundreds, kicked off moments after the Labour Party's NEC ruled Corbyn would automatically be on the leadership ballot.
McDonnell was joined by Corbyn, shadow health secretary Diane Abbott, several union leaders, comedians and musicians on the stage.
McDonnell said today: "That's normal politics. That's normal political descriptions. Of course politics can be rumbustious in debate but it isn't abuse as such."
Veteran Labour MP Margaret Hodge, warned today "dirty politics" was coming back to the party.
"Bricks being thrown through windows, people being called 'scum', people being insulted, people being bullied, people being intimidated," she said.
"I yesterday for the first time in my 50 years of political life had to refer two really offensive emails I received, anti-Semitic emails, to the police."
She added: "This is not the new politics; it's actually the old politics, it's the politics I fought in the 1980s when people like John McDonnell and Ken Livingstone again were in leadership roles."
Former shadow work and pensions secretary Owen Smith, who launched his Labour leadership bid today, said McDonnell's remarks last night were "not the sort of language he should be doing".
He accused the shadow chancellor of being "part of the problem we have in Labour".