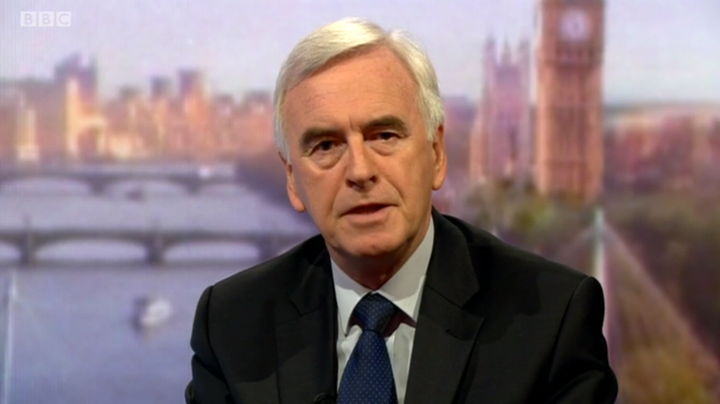 John McDonnell today made an unusual straight-to-camera appeal to Labour members and MPs to warn them not to "destroy" the party - as a bruising leadership campaign gets underway.
Speaking on the BBC's Andrew Marr programme this morning, the shadow chancellor also said he and Jeremy Corbyn would quit if Labour lost the general election.
Corbyn will spend the summer attempting to fight off a leadership challenge from former shadow work and pensions secretary Owen Smith.
Having been quizzed by Marr on reports one of his staff broke into the parliamentary office of a former shadow cabinet minister, McDonnell asked which camera he was on before addressing party members directly.
"Let me just say this to Labour Party supporters, Labour members, members of the Parliamentary Labour Party, we've got to stop this now. There is a small group out there that are willing to destroy our party just to remove Jeremy Corbyn, we've got to stop them. We've got to unite. If you want to come for me and Jeremy Corbyn that's up to you. But don't pick on staff who can't defend themselves."
McDonnell said he wanted both Smith and Corbyn to tell their supporters to "stop this now".
The shadow chancellor also said he hoped the leadership contest, which is already bitter, could be used to "heal some of the wounds and bring us together".
Asked whether he and Corbyn would quit if the party loses the next general election, due in 2020, McDonnell said: "That would be inevitable wouldn't it. Of course it would. Every Labour leader who loses an election usually goes."
However he said he could not "understand" some of the criticism leveled at the leadership - given the party had won every by-election since Corbyn took over last year.
Corbyn appears to be on track to beat Smith handily in the leadership contest. But McDonnell said it "isn't a foregone conclusion".
McDonnell's appeal to camera came after Seema Malhotra, the former shadow chief secretary to the Treasury who was close to McDonnell, accused aides to the shadow chancellor of entering her House of Commons office without permission.
She said the action constituted a "breach of parliamentary privilege" and has lodged a formal complaint with Commons Speaker John Bercow.
In a statement to The Observer, Malhotra – who quit the shadow cabinet last month in protest at Corbyn's leadership and is now backing Smith – said her staff felt "harassed, intimidated and insecure" as a result of what had happened.
A spokesman for Corbyn played down the incident and said that claims of intimidation were "untrue".
The latest extraordinary twist comes against repeated claims that critics of the Labour leader – particularly women MPs – have faced threats, bullying and abuse if they speak out.