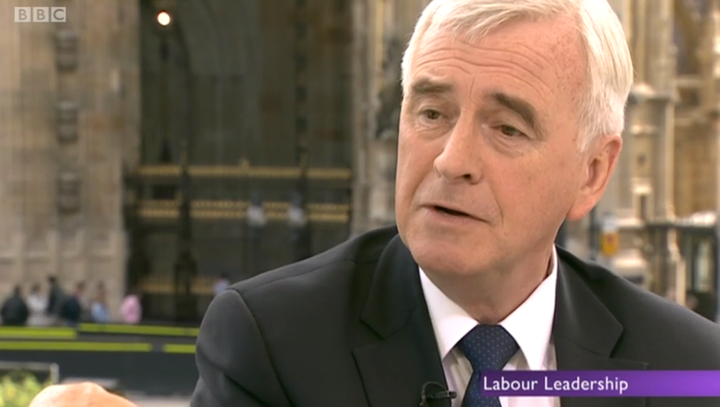 McDonnell insisted Labour were on the "path to victory" under Corbyn, and urged his Shadow Cabinet colleagues to get a "good night's kip" before making any decisions.
After Benn's sacking, Heidi Alexander quit her position as Shadow Health Secretary and more resignations are expected later today.
Speaking on BBC's Sunday Politics this morning, McDonnell denied suggestions Corbyn could step down as leader.
He said: "No, not at all, not at all. Jeremy's not going anywhere.
"He was elected nine months ago, the biggest mandate of any political leader in our country, and he is not going anywhere.
"The people who are sovereign in our party are the members.
"It's the members who elected Jeremy and he will remain."
When asked if he would stand for leader if Corbyn did go, McDonnell said: "I will never stand for the leadership of the Labour Party. If Jeremy has to stand for another leadership election I will chair his campaign and I think the Labour Party members will elect him again."
Presenter Andrew Neill pressed McDonnell over rumours that his Shadow Treasury team colleague Seema Malhotra was ringing Labour MPs sounding out support for a McDonnell leadership bid.
He said: "She hasn't but if she has let me make this absolutely clear: Seema's not spoken to me about this whatsoever and I'm not standing as leader of the Labour Party no matter what happens."
McDonnell insisted that under Corbyn's leadership "we are on a path of building a majority government for Labour."
Referring to claims from some Labour MPs the party is unable to win a General Election, McDonnell said: "They are citing polls at us. Who trusts polls anymore? I've seen polls demonstrating that we are on the path to victory. Calm down."
He added: "We should all have a day off and have a good night's kip."
Corbyn is facing mounting criticism over his rule in Labour's campaign for a Remain vote in the EU referendum.
Remain campaigners say that pro-EU lines in Corbyn speeches were cut, his diary was scheduled to avoid Labour In events and any attempts to work with Tony Blair, Peter Mandelson and Gordon Brown were overruled.
This morning, McDonnell insisted Corbyn had done all he could to secure a Remain vote, and added: "I know how disappointed people are at the loss of the European referendum but now is the time when we hold together."