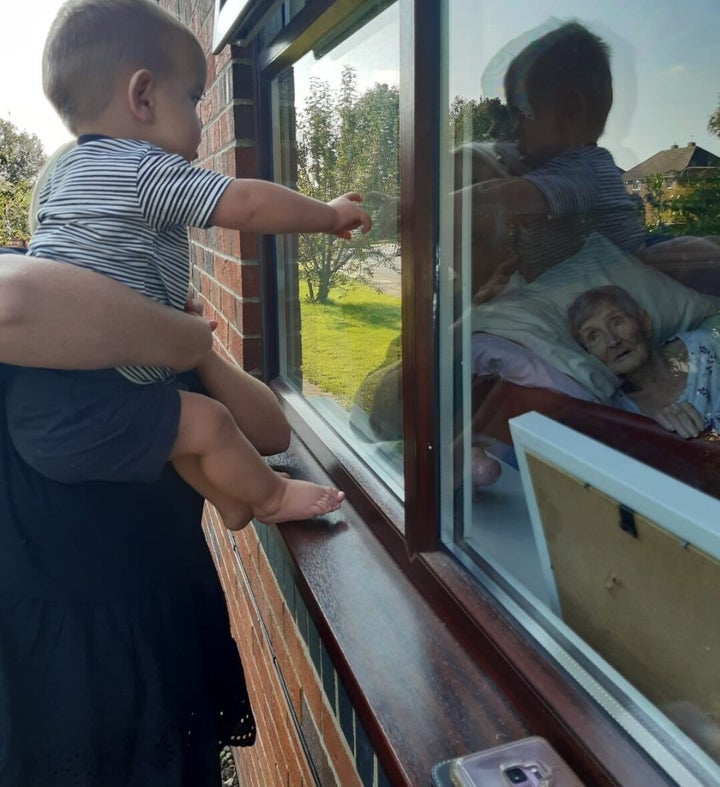 Ninety-one-year-old Salina Ward gazes through a shut window, catching a precious glimpse of her one-year-old great-grandson.
In this poignant photo taken over the summer, Levi points at his grandmother with a chubby hand, clearly recognising her, even though he has not seen her in the flesh since March.
Ward is now living in a care home in County Durham, suffering from dementia and completely immobile after a fall.
Until Wednesday this week, the region is under tier 2 coronavirus restrictions, which means Ward's access to family has been severely restricted, with households not allowed to mix indoors and the "rule of six" applying outdoors, including in private gardens.
But stricter rules about who is allowed to visit care homes brought in during the first lockdown mean Levi's mother, Danielle Owens, has spent a total of 1.5 hours with her grandmother over the past 166 days, with the rest of their interactions relying on kind-hearted care home staff wheeling Ward to the window so she can see her family.
At one point, the care home suspended Ward's window visits, claiming it was unfair on residents who could not be brought to the windows and that it created an extra layer of administration to organise, but Owens fought this and they have been reinstated.
She and her family are being supported by a charity that is fighting for the rights of dementia patients to have family support during the pandemic and taking urgent legal action against the government over its guidance on care home visits.
John's Campaign claims safety measures set out by the Department of Health and Social Care (DHSC) amount to a blanket ban on family visits to residential care in high-risk areas of the country.
It believes that limiting family visits to dementia and Alzheimer's patients has contributed to the 79% rise in deaths between March and September recently reported by the Office for National Statistics (ONS).
It is the largest increase in non-Covid mortalities compared with any other health condition.
Owens, a social worker, said: "Since Covid-19, visiting has quite rightly been halted and then restricted. We understand keeping her alive and well is paramount.
"However, we now feel this needs to be weighed up against her quality of life, emotional distress and damage to her mental health of not seeing family regularly and in a way that meets her individual needs. We are heartbroken that the current guidelines mean only one of us can visit now she has been deemed 'end of life' – my mother is the designated visitor – and that this visit is twice a week for 30 minutes.
"Put simply, it is not enough for my grandma. She is used to daily visits to the home, love and affection from us all and seeing her great-grandchildren who are a tonic to her and 'keep her young' as she would say. Prior to her being deemed 'end of life' none of us were allowed to visit and she spent months with literally no one.
"If she was at home, we would be seeing her, sensibly, with caution and measures in place. But because she is in a care home, her right to a family life is being removed. This I do not agree with."
Data published last week by Public Health England show care homes are now the setting for the highest number of coronavirus outbreaks, with the most recent numbers showing 397 "acute respiratory infection incidents" – that is, outbreaks of two or more cases – linked to care homes. The second highest number of outbreaks, 334, was recorded in workplace settings.
Owens says the rules are unfair given that outbreaks during lockdowns must have been caused by staff, and says testing visiting relatives would negate the risk of them spreading the disease.
She said: "As you can imagine, this is breaking our hearts. My grandmother is heavily distressed and is now on anti-depressants to help her cope with this heartache. Whilst she does have dementia, she still knows her family and that we are not seeing her as we should. I don't know when or if I will ever see her again. She may in fact die before I have the chance to see her again. We have no timeline for things progressing. This is extremely painful.
"Care homes should be doing more to promote family contact, and the guidelines should be more compassionate to those who do have extensive and loving families. One 30-minute visit for one family member is simply not enough.
"My grandmother's mental health is deteriorating and her emotional wellbeing is very much compromised by the draconian decisions both the government and care providers are making. We as a family, understand the need to protect my grandmother's physical health but this should be balanced holistically with her emotional health and needs.
"She pleads for family to come. She talks of staring out of her bedroom window watching cars pull into the car park and waiting for her visitors to come but no one does. Knowing she feels this way is truly heart-breaking. We need change."
Carol Milnes is in similar circumstances. Her mother, Margaret Johnson, 86, has been in a care home in Yorkshire for more than two years and suffers from dementia.
Milnes, who has been limited to a single 30-minute visit per week, agrees with Owens that visitors should be tested weekly for coronavirus in order to give them access to their relatives.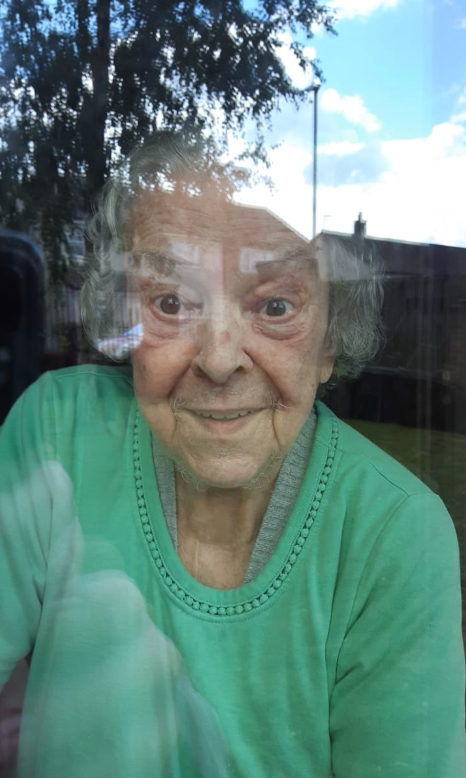 She told HuffPost UK: "I firmly believe that the only way we can stop these poor residents – with or without dementia, but in particular with dementia – from slowly dying before us, is to be treated just the same as employees from care homes and be tested weekly in order to see our loved ones.
"I have read so many awful stories and can fully understand what the people who write them are going through because I personally am in the same situation. One lady got a job washing dishes in the home where her husband is – he has dementia – so that she can see him after her shifts. Why is it right that anyone off the streets can get a job in a home and not do anything to console these poor residents when we, their families, are denied this possibility?
"I haven't seen my mother smile for these eight long months. She looks troubled, sad and unwell – unsurprisingly – and has cried nearly every time she has seen me because she wants me to go inside and doesn't understand why I won't."
John's Campaign was founded by writers Nicci Gerrard and Julia Jones in 2014.
Gerrard was severely restricted from seeing his father, an Alzheimer's patient, in the last weeks of his life due to infection control measures in hospital.
The campaign paused the process of bringing a judicial review this summer when the DHSC promised impending updates to shielding guidelines would clarify the situation.
But it claims the tier system introduced on October 15 has made the situation significantly worse in tier 2 and tier 3 areas, while the looming national lockdown could make things even harder.
The current guidance states visits in high- and very high-risk areas "should be limited to exceptional circumstances only such as end-of-life".
In court documents submitted this week, John's Campaign argues the guidance mis-states the law, and instead all care home providers are under a legal obligation to carry out individual risk assessments.
It claims the government's lockdown legislation provides a general exception for care homes allowing visits to take place.
The campaign cites the government's Social Care Task Force, which has commented: "Importantly, we have heard that visits can happen safely and in a way consistent with infection control, but individual risk assessments are crucial to this."
One senior infection control nurse told the campaign the restrictions had led to multiple examples of people "suffering both physical and mental deterioration exacerbated by restrictions".
They said they had seen "the most heart-breaking stories I have come across in my 30-year career as a nurse".
Gerrard and Jones said in a joint statement: "The cruel and unnecessary gap between the law and the government guidance has already caused deterioration and premature death among many of those living with dementia in care homes, and has inflicted anguish and despair on thousands of residents and on their families.
"We hope that – after unacceptable delays to the legal process – the government will finally proceed swiftly, so that this inhumane situation can be brought to an end and men and women who are in the last stage of their life can be reunited with those they need and love and have sorely missed."
The government must formally acknowledge the action taken by John's Campaign by November 11.