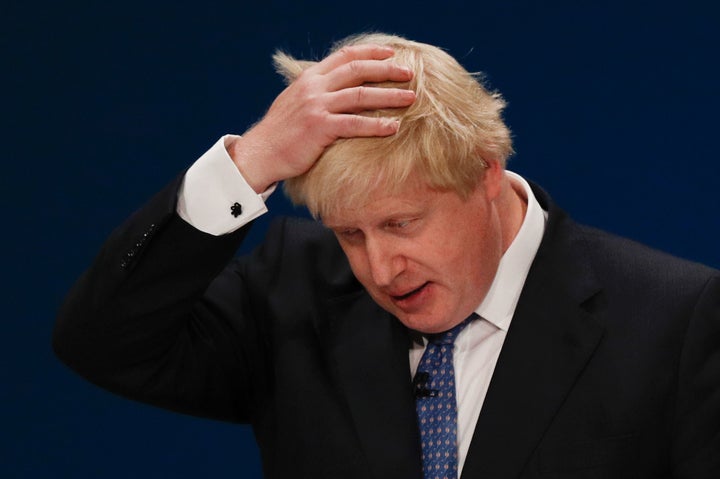 Boris Johnson delivered a sober and sensible speech at the Conservative Party conference this afternoon – well, almost.
In what was his first conference address as Foreign Secretary, Johnson proclaimed that liberal democracy was "badly damaged" by the 2003 Iraq War and 2008 financial crash.
The former London Mayor also warned that some regimes across the world were using current international instability "as an excuse to move away from democracy."
Johnson said that it was not possible to have economic prosperity "without political and social freedom."
He added: "Indeed there is a view now in many parts of the world that the ONLY way to ensure prosperity and stability is to suppress freedom to crack down on pesky NGOs and irritating journalists and independent judges and generally to deprecate the western liberal consensus about how a society should be ordered.
"And so if I have one message for you this afternoon, my friends, it is that this illiberal analysis is deeply and dangerously wrong and that these social and political freedoms - freedom of speech, freedom of association, freedom to practice whatever religion you want and to live your life as you please - these freedoms are not inimical to prosperity – they are in fact essential to sustained growth."
Yet while Johnson's speech was focused on serious matters, he still managed to fit in some rather weird gags.
Here are nine of the best.
SNICKERS PROVE CAPITALISM IS GREAT
"We assumed then that this political freedom went with economic freedom like buying a two for one ice cream snickers bar (only free markets could produce something so ingenious) and a copy of Private Eye (free speech of a kind still unknown in much of the planet) like two sides of liberty's golden coin."
BORIS HAD NO IDEA WHAT HE WAS DOING AS MAYOR
"Why have we got more tech wizards in London than any other city in Europe? Is it because the politicians decided to embark on a soviet style programme of training people to do tech? On the contrary, I had no idea what tech was – though later claimed credit for it."
"Over the last couple of months I have sat in all kinds of EU meetings vast and ruminative feasts of lunch or dinner in the castles of Mitteleuropa washed down with the finest wines known to man and on one occasion a splendid breakfast that seemed to stretch, for course after course, from 8 am to 11 and I have enjoyed them all."
HE LOVES A GOOD ELEPHANT JOKE
"But we will also be able to speak up more powerfully with our own distinctive voice leading the world as we now are, in imposing a ban on ivory helping to save the elephant in a way that the disunited EU is unable to do; in fact we have an absurd situation in which the EU is actually trying to veto the ivory ban in spite of having a president called Donald Tusk."
"Every day I go into an office so vast that you could comfortably fit two squash courts and so dripping with gilt bling that it looks like something from the Kardashians."
SORT OF POPULAR CULTURE KLAXON
"It is a happy fact that since 2012 there have been more Hollywood films about Somali pirates starring Tom Hanks than there have been pirate attacks."
JEREMY CLARKSON IS A 'PROPHET'
"Up the creeks and inlets of every continent on earth there go the gentle kindly gunboats of British soft power captained by Jeremy Clarkson - a prophet more honoured abroad, alas, than in his own country or JK Rowling who is worshipped by young people in some Asian countries as a kind of divinity or just the BBC – and no matter how infuriating and shamelessly anti-Brexit they can sometimes be."
BBC IS BRINGING WAR AND PEACE TO THE WORLD
"I think the Beeb is the single greatest and most effective ambassador for our culture and our values and it was Sergei lavrov himself who told me that he had not only watched our version of war and peace, but thought it was 'very well done' and that, from the Kremlin, was praise."
"No other country is such a formidable exporter of human talent: business people, lawyers, teachers, prospectors, adventurers, poets, painters, whisky-sellers, French knicker sellers to France."