The Labour Party has demanded a "plainly racist" newspaper article about Kate Osamor be taken down, which suggested the MP and her baroness mother have only reached prominent positions because of the colour of their skin.
Rod Liddle was labelled a "rampant racist" in his latest column for The Sun on Thursday entitled "Labour Family's Shame".
In it, he tore into Osamor after her son, Ishmael, was found to be working for her in her Edmonton constituency despite a conviction for drug possession.
Ishmael Osamor, 29, was caught with £2,500 worth of drugs at Bestival in 2017.
Liddle criticised the politician's parenting, as well as that of her mother Martha Osamor, who was recently made a life peer in the House of Lords.
"What a fabulous family the Osamors are," Liddle's column began. "What a great parenting job both she and her daughter have done.
"And do you suppose that either would be in the positions they are now were it not for the colour of their skin?"
The controversial columnist added: "Then there's Grandma Osamor, recently ennobled as Baroness Osamor of Tottenham and taking her seat in the House of Lords at your expense."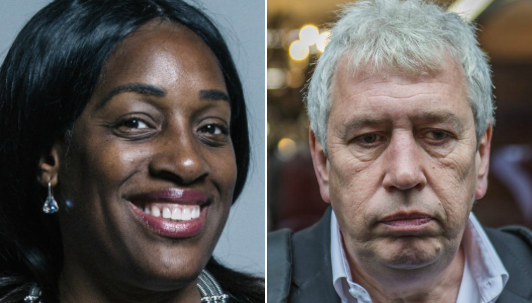 A spokesman for the Labour Party urged editors to retract the article "immediately".
"This column by Rod Liddle, printed on page 13 of The Sun today, is plainly racist. The Sun must immediately retract this article, apologise and explain how this was ever allowed to be published.
"The editor should also explain why they continue to publish columns by Rod Liddle who has a track record of publishing racist bile."
The comments were criticised online by prominent Labour figures.
Writer Owen Jones said: "Unapologetic racism by Rod Liddle in The Sun, again showing how you can be a rampant racist and flourish in the British media while so many talented and diverse writers can't even get their foot in the door."
Labour MP Ruth Smeeth slammed the comments as an "utter disgrace", tweeting: "Rod Liddle should be sacked immediately and how did the editor of @TheSun let this be published?"
A spokesman for The Sun said: "We publish plenty of pieces by columnists from a range of different perspectives, which don't necessarily represent the paper's views.
"Rod has an opinion column and as such he's entitled to have his own opinions, and people are similarly entitled to strongly disagree with them."
It comes as Osamor stepped down from the Labour frontbench amid claims she misled the public about knowledge of her son's legal troubles, and was accused of threatening to attack a journalist.
Osamor, 50, was reported to parliament's standards watchdog for continuing to employ her son following the revelation of his conviction, but said she did not know about his case until after he was sentenced.
But it emerged she likely did know, after she reportedly wrote to the judge asking for leniency, The Times reported last week.
Her resignation as shadow secretary of state for international development also followed allegations by The Times that she verbally abused a journalist before pouring water over him.
Osamor was elected in 2015 and was soon after appointed to the shadow cabinet as minister for women and equalities.
Her mother was a councillor and deputy leader of Haringey council in the late 1980s and was appointed to the House of Lords this week after being nominated by Labour leader Jeremy Corbyn.