The police force investigating the deaths of five men at Camber Sands beach has complained to Twitter over an "incredibly insensitive" post by Katie Hopkins in which she asked her followers to speculate on who the men were.
Police have since said the men were friends who were visiting the beach, near Rye, East Sussex, on a day trip from London.
However, earlier today, as mystery continued to surrounded the identity of the men and the circumstances leading to the tragedy, Hopkins tweeted a poll asking her followers if the Camber Sands victims were: "Aspiring footballers", "Mentally ill", "Fans of Anders Brevik" or "Big fans of inflatables".
She has since deleted the post.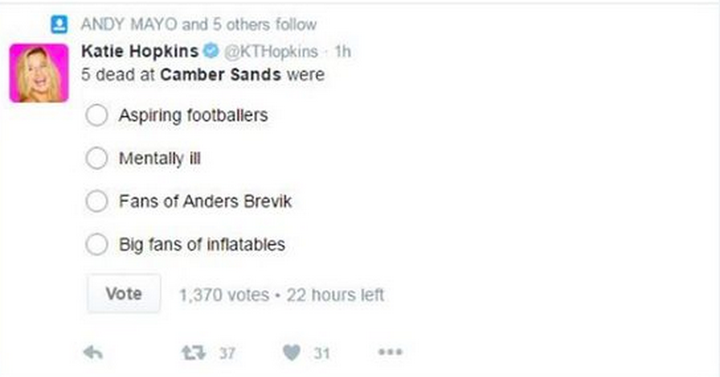 The tweet led to one member of the public asking Sussex Police if there was "anything you can do about this", as it was in, "very bad taste at the very least".
Sussex Police replied to the tweet, agreeing it was "incredibly insensitive" and suggested the person complains to Twitter - something the force said it had already done.
In response to a comment from another Twitter user, Sussex Police added: "Simply not appropriate to joke about five deaths the day after the incident."
Sussex Police later added that they had not requested Hopkins remove the tweet, saying the post was "not a crime but it is very insensitive".
Police are yet to release the identities of the victims, saying their next of kin are still being informed.
When asked by HuffPost UK to comment on the police reaction to her tweet, Hopkins said: "There were 2,766 recorded violent incidents recorded in Sussex in 2016. I wish Sussex Police every success with their work fighting real crime on their patch."