Katie Price has launched an official petition calling on the UK government to make online abuse a criminal offence and create a register of offenders.
The 38-year-old has decided to take the action after years of trolls sending nasty messages to her teenage son Harvey on social media.
Price's son Harvey, 14, suffers from Prader-Willi syndrome. He is blind, finds walking difficult and is on the autism spectrum.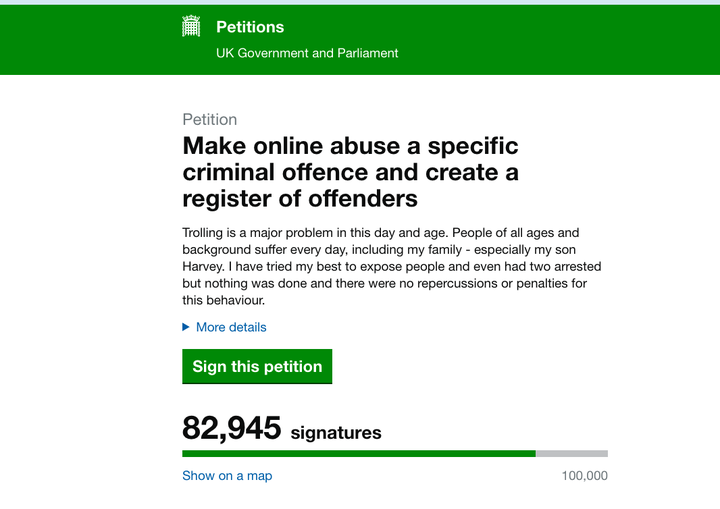 The Loose Women panelist wrote in an online statement: "Trolling is a major problem in this day and age. People of all ages and background suffer every day, including my family – especially my son Harvey. I have tried my best to expose people and even had two arrested but nothing was done and there were no repercussions or penalties for this behaviour."
"This does not affect just high profile people, it affects everyone from every walk of life from young children, teenagers, people at work, husbands and wives. This abuse includes racism, homophobia, body shaming and a whole range of other hate speech."
The petition has already gained 84,000 of the 100,000 signatures required to get a government response, as the ex-glamour model called on people to "help hammer home" that bullying is unacceptable.
"This petition is an important topical issue and I want it to help bring justice to everyone who has ever suffered at the hands of trolls," said Price.
One of many examples of the trolling was when the mother-of-four was criticised for kissing her son on the lips, with Instagram commenters saying things such as, "this is so wrong" and "another attention seeker".
Most recently Katie Price had to defend herself against trolls who criticised her leaving Christmas decorations up because Harvey didn't like the change.