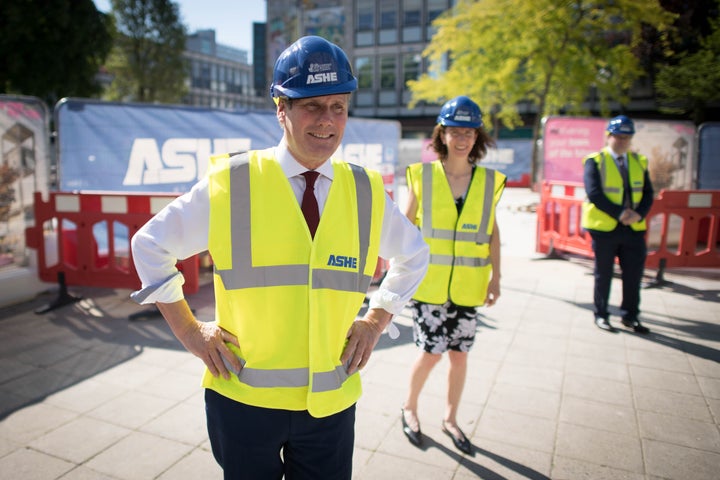 You're reading The Waugh Zone, our daily politics briefing. Sign up now to get it by email in the evening.
Taxing times
Back in February, when the Labour leadership was far from in the bag, Keir Starmer moved to reassure party members that he was not backsliding on Jeremy Corbyn's radicalism. At a hustings meeting in Cardiff, he said: "It's right that we ask those with the broadest shoulders - the top 5% of earners - to pay more in tax."
But Starmer also had a lawyerly eye for the small print which perhaps others didn't at the time, and he made plain he would not be writing Labour's 2024 tax and spend plans in advance of the next general election. He said he would "work towards writing a tax and economic plan" that was "radical and relevant for the end of the 2020s and 2030s".
In the Newsnight leadership debate over a week later, he studiously refused to say whether he would repeat Corbyn and John McDonnell's plan to impose a 45% tax on those earning more than £80,000 a year and 50% on those earning more than £125,000 a year. Sources told me at the time that losing the election meant some specific pledges had to be reexamined.
Rebecca Long-Bailey spotted the Starmer side-step and tried to ram home that she would unequivocally keep the 45% and 50% tax hikes. But she got little traction and her campaign was steamrollered by her opponent, who in the end beat her by a huge margin of two to one.
Since then Starmer has made big strides, gripping his party's internal machinery and even sacking Long-Bailey for defying him. He's persuaded the public he would make a better prime minister than Boris Johnson, he's narrowed the gap between Labour and the Tories (though they retain a healthy gap) and he's outthought and outfought the PM in several PMQs.
On economic policy, Labour has largely been effective at forcing ministers to improve their coronavirus support (renters, flexible furlough, funding for the arts). Yet all of this has been about spending, not about how to pay for it. And in the last few days, the party has been forced onto the defensive itself about just how it would foot the bill to tackle the pandemic.‌
The trouble started on Friday, after shadow chancellor Anneliese Dodds delivered her first big speech in the job. The Guardian's economics correspondent Richard Partington asked a perfectly sensible question: "Would Labour propose a wealth tax to finance extra spending or would you continue with higher levels of borrowing at record levels?"‌
Dodds' suggested that record low interest rates wouldn't last forever and when they did change then "I've been very clear, it should be those who have the broader shoulders, who are asked to make more of a contribution". In some ways it was classic Starmerism: sound like you're grasping a hard truth (borrowing isn't the long term solution) while staying vague on specifics like a wealth tax ('broadest shoulders' is such an elastic term that was an Osborneism during early austerity).
But then the Times' Patrick Maguire tried to pin Dodds down. His exact question (and it's worth quoting given what's happened since) was this: "On a wealth tax again. Obviously that's something that John McDonnell proposed and you were in his shadow team. Are you happy to continue that policy?"
Dodds replied that an across the board tax rise on everyone would damage demand (again, ducking the question). But then she finally got specific, or so it seemed. "When it comes to wealth taxation...I think the government does need to look at this area. I don't think we're in a fair situation where the amount of tax paid by the very worst off people is actually less proportionately as part of their income than that for the very best off. And of course for the very very best off people quite a bit of their money coming in is derived from wealth. I think we do need to have that new settlement."‌
That full sentence is important. Dodds talked about the different proportion of tax paid by the poor and the rich. That is precisely the case made by advocates of a 'wealth tax'. An early backer of 'Corbynomics', prof Richard Murphy, had made the case in the Guardian in April that the effective tax rate for the wealthiest 10% of the population – once income and wealth were combined – was 18%, less than half the 42% effective tax rate for the bottom 10%.‌
Just as important was Maguire's reference to John McDonnell. Although a 'wealth tax' was never Labour policy, the outgoing shadow chancellor said the day before he was replaced that such a policy was needed, along with an immediate windfall tax on banks and a new tax on multinationals. As shadow chief secretary, Dodds cannot have been unaware of the McDonnell piece nor of the meaning of "wealth tax". Her line about money that was "derived from wealth" sounded like assets rather than income.
Dodds got a first in Politics, Philosophy and Economics at Oxford. Although she went on to specialise on social policy and public policy, it's a fair assumption that she knows what a "wealth tax" is. If more corroborating evidence were needed that she knew precisely what was being asked, she said: "Actually much of the opinion data has indicated that has a lot of support among the UK population as well." A recent You Gov poll found 61% supported a wealth tax on individuals with assets worth more than £750,000. Was she referring to that?‌
Still, it was just about possible that all Dodds was talking about was that manifesto pledge on income tax. "Wealth taxation" could at a stretch mean "taxes on the wealthy" solely from their salaries. And some polls had indeed shown that the 2019 income tax policy was popular. But then came the Sunday political programmes.
SkyNews's Sophy Ridge asked three times specifically what assets Dodds was thinking of taxing. Each time, she refused to deny the premise of the question but ducked it. At one point she talked about "an increase in income and wealth inequality" under the Tories, about "a whole variety of elements of taxation of the very best-off people" and the need for the "broadest shoulders" to bear the burden. On the Marr Show, asked again specifically about a wealth tax, she said the government should "engage" with academics proposing "a number of different mechanisms" for such a tax.
There was however, by this stage, a big caveat. Dodds said tax hikes for the richest "would only be needed if we're not growing our way out of this crisis". "I want us to be in a situation where the economy's growing, where the debt is being eroded because people are paying more tax because they're in employment," she told Marr. Most importantly, she refused to "commit" to any tax proposal at all.
When Keir Starmer was asked on LBC about "a potential wealth tax" proposed by Dodds, he would have been expected to kill the idea outright. But he didn't. "Well, she said, look, it's got to be amongst the issues that we look at. She's right about that." When asked directly if he would support it, he refused to say. "We are saying to the government look at the idea of the wealth tax...But, at this stage, four years before an election, I'm not going to start setting out [our] tax regime. We'll have to look at it carefully and we will have a fully costed Labour manifesto in due course."
Starmer then went on to make a crack about the next manifesto being "a much shorter one, by the way", a dig at Corbyn's long wishlist that he thinks did so much damage for Labour's credibility. Asked about another Jeremy's possible support - Jeremy Clarkson revealing he could vote Labour for the first time because Johnson was so incompetent - Starmer almost licked his lips. "[I'm] very, very, very pleased to have the votes of as many people as possible...I am very pleased that people are beginning to notice the Labour Party and the Labour Party has changed and that's good."
Yet if Labour has "changed" on tax, is it now wedded to an even more leftwing policy than Corbyn dared insert into the manifesto? The answer to that is a firm 'no', I'm told. In fact, one source tells me that "we want to stimulate growth...and growth doesn't happen through tax rises". The party is categorically not proposing any tax rises either on assets or income. 2024 remains a long way away.
Starmer still has his "top 5% should pay more tax" commitment from the leadership hustings, but it's perfectly possible he will reshape even that. Although one guy on an election QuestionTime was mocked for not realising his £80,000 salary put him in the top 5%, he expressed the view of some senior doctors, headteachers and other public servants - as well as other private sector workers - that they don't feel "rich".
Either way, Starmer must realise he can't have his cake and eat it. He can't say the Tories "should look at" a wealth tax, without supporting the idea in principle himself. He can't hide behind the next election manifesto if he's suggesting specifics right now for ministers. And you can bet that Tory HQ won't forget the past few days. I'd be amazed if Johnson didn't raise in PMQs this whole wealth tax plan on Wednesday, as a curtain raiser to the Summer Statement. It could make the flip-flopping accusations over school reopening look like a picnic.‌
I'm told Tory MPs are already gearing up to gently praise Dodds for attending the same private school as Michael Gove in Aberdeen (Robert Gordon College). When she gets up for her first big moment in the Commons, answering Rishi Sunak's statement, she can expect an even tougher onslaught from the Chancellor and Tory backbenchers keen to exploit any Labour confusion over tax. She and Starmer had better get their story a lot straighter before then.
Quote Of The Day
"We discovered too many care homes didn't really follow the procedures in the way that they could have."
Monday Cheat Sheet
Boris Johnson is facing a backlash from the care home sector after suggesting "too many" failed to follow procedures during the coronavirus pandemic.
Downing Street has said the government will no longer publish daily figures on the number of people tested for coronavirus.
The Department of Health and Social Care has released figures suggesting that around a fifth of coronavirus tests sent out have effectively been wasted.
The PM is facing fresh calls to support the wages of workers asked to self-isolate with Covid after the head of NHS Test and Trace admitted the public have real "financial" worries about taking part in the system.
Dominic Raab announced that 47 people and two organisations accused of the "most notorious human rights violations in recent years" would be hit by sanctions imposed by the UK.
What I'm Reading
Got A Tip?
Send tips, stories, quotes, pics, plugs or gossip to waugh.zone@huffpost.com.
Subscribe To Commons People
Each week, the HuffPost UK Politics team unpack the biggest stories from Westminster and beyond. Search for Commons People wherever you listen to podcasts and subscribe.