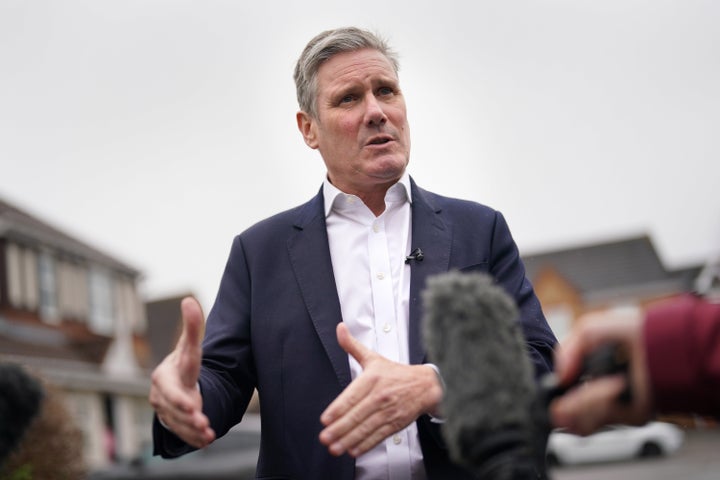 Keir Starmer has defeated his left-wing critics to win backing for his "serious and credible" general election plans.
In a major victory for the Labour leader, the party's National Policy Forum rejected "unfunded" proposals by the Unite trade union and pro-Jeremy Corbyn campaign group Momentum.
A party spokesperson said: "Labour's democratic policy-making body has endorsed Keir Starmer's programme, his five missions for government, and the fiscal rules that he and Rachel Reeves have set out.
"This is a serious, credible and ambitious policy programme that lays the groundwork for an election-winning manifesto and a mission-driven Labour government that will build a better Britain.
"There are no unfunded spending commitments in the document.
"This weekend is another proof point that shows that Keir Starmer has changed the Labour Party and is ready to change the country in government built on the rock of economic responsibility and strong fiscal rules."
The GMB union said the plans "would make a real difference for workers and industries they work in".
But Unite refused to give the policy document their backing, claiming it "clearly crossed the union's red lines including around workers' rights".
"As the general election draws nearer, Keir Starmer has to prove Labour will deliver for workers and we need clear policies on this," the union said.
Momentum said it was "a missed opportunity for Labour to lay out real solutions to the Tories' broken Britain".
They said: "Unions and members proposed urgent, popular policies like a £15 minimum wage, workers' rights and free school meals. But Starmer's fiscal conservatism put paid to hope.
"Worse, the leadership's steadfast refusal to commit to scrap heinous Tory policies like the two-child cap and anti-protest laws means that an undemocratic and unequal status quo risks being left in place under a Labour government. Britain deserves better."