Peter Tatchell, the human rights and LGBT campaigner, says that MP Keith Vaz has "not broken any laws" and should not resign over claims in a Sunday newspaper that he paid for sex with male prostitutes.
Vaz has said he intends to stand down as chairman of the Commons Home Affairs Committee, following reports in the Sunday Mirror he paid for the services of escorts.
Tatchell said he found it "very difficult to see any public interest justification" for the intrusion into Vaz's life, and that he suspected the story was the result of entrapment.
"As far as I can see he has not broken any laws, or caused anyone any harm," Tatchell told Radio 4's Today programme on Monday.
He pointed out that it is not illegal to buy sex in the UK (except for in Northern Ireland) and called the Sunday Mirror's story a "classic tabloid sting" and a "throwback to the sensationalist tabloid stye of the 1980s. It's not something you'd expect to see in 2016".
Tatchell argued that Vaz's alleged involvement in prostitution did not mean he was unable to continue his role as chair of the Home Affairs Select Committee, which is overseeing a review of prostitution laws.
"We don't demand that MPs who buy or own cars step down from committees when they are debating legislation to do with the car industry," he said.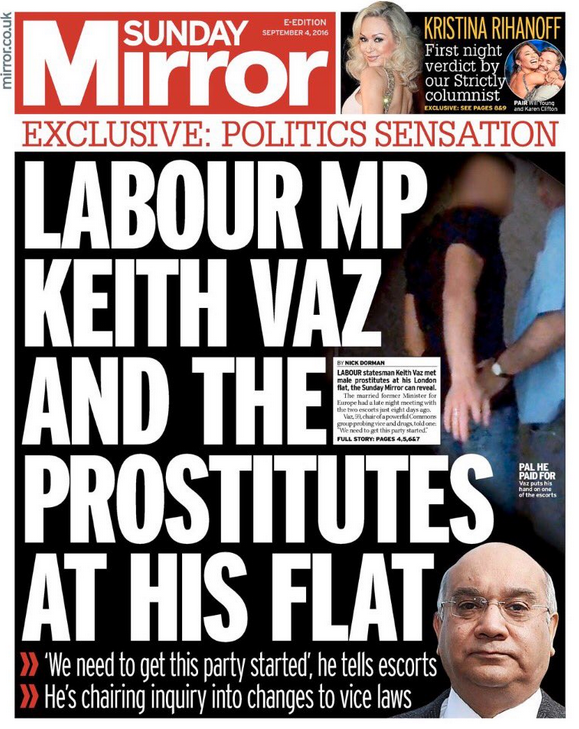 Vaz has a "strong" record of supporting gay rights, and had never done any "tub thumping" about family values, so could not be accused of hypocrisy, Tatchell said.
He said he did not know if the Sunday Mirror had prior knowledge that the prostitutes had arranged to visit Vaz, but that he "suspects" entrapment was involved.
Vaz himself said in a statement that it was "deeply disturbing" that the newspaper had "paid individuals to have acted in this way".
"On the available evidence, I think this is a storm in a tea cup. Whatever you think about Keith Vaz's behavior…. I don't think it's a resigning mater."
Tatchell, who has previously supported the sexuality of some gay figures like bishops being revealed, said he backed "ethical outing", but not of anyone who was "a private citizen or who was not guilty of hypocrisy".
He said Vaz's alleged activities should not have been revealed because "that does not apply in this case, and there is no double standards on his part".
The high-profile MP indicated he will stand aside as chairman of the powerful Commons Home Affairs Committee at a meeting on Tuesday, after publicly apologising to his wife and children for the "hurt and distress" he caused them.
Tory MP Andrew Bridgen told the Press Association he would write to the Parliamentary Commissioner for Standards regarding Vaz's conduct.