Christmas bubbles will stay permitted over Christmas, despite growing pressure for MPs to reconsider the relaxation of tier rules. But for many key workers, the official line makes no difference.
HuffPost UK has spoken to essential workers who won't be forming bubbles over the festive period – either because they're working, or because they've decided it's too risky.
Several of the workers feel they've been forgotten by the public and politicians ahead of Christmas – in stark contrast to the first wave of the pandemic, where key workers were vocally celebrated across the country.
Matt Tacey, 30, from Chesterfield, is an NHS nurse and will be spending most of Christmas alone, for the first time in his life.
"My wife is also a nurse and working, my daughter lives in London, my mum lives in Spain and my in-laws are in the high risk category," he explains. "I'm devastated. However, even if spending time with family and friends was an option, I'd decline."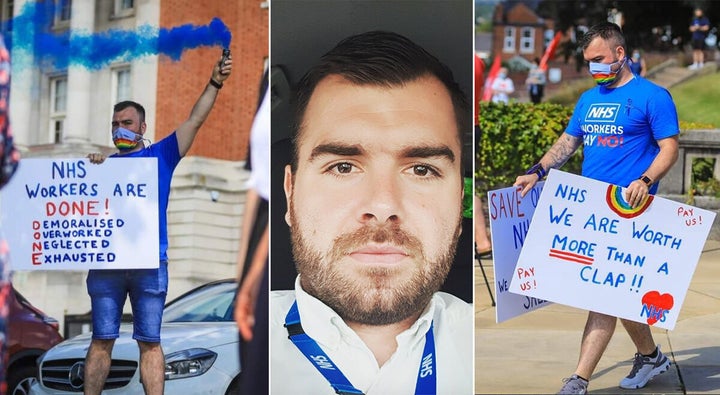 Tacey views the relaxation of tier rules over Christmas as "another example of how undervalued the NHS is".
"The government has clearly, time and time again, shown a complete and utter disregard for the staff working in the NHS," he says. "We are tired, we are exhausted and we are literally on our knees. How does the NHS get repaid for our heroic efforts this year? The government rewards us by easing restrictions which will cause another spike in Covid, causing further pressure on the NHS."
He doesn't blame members of the public who are considering seeing family at Christmas. Instead, he says the onus lies with MPs.
"Personally, I feel appreciated by the general public but absolutely not by the majority of MPs," he says. "We don't want badges and we don't want snack boxes. We want the government to invest in the NHS, protect the staff and reward staff for their efforts.
"We are unable to provide the care our patients desperately need as we are dangerously understaffed. Improving pay will retain and recruit more staff."
Pamela Craig, 43, who works in the social care sector in Glasgow, also disagrees with the relaxation of rules over Christmas. She'll be spending it with her wife, who also works in social care, but they won't be seeing any friends and family outside their household.
"It's been a rough year already, but with people around us starting to get the vaccine, another couple of months of distanced measures is worth the end goal," she says, adding that she understands the mental health strain that has been put on some people by the pandemic.
"But I cannot fathom the logic in relaxing at Christmas," she says. "The number of households at least should be less. We've had a holiday to a cottage only 40 miles away cancelled for the first week in January, even though it's just our household. But at Christmas, numbers of households can get together? It makes no sense."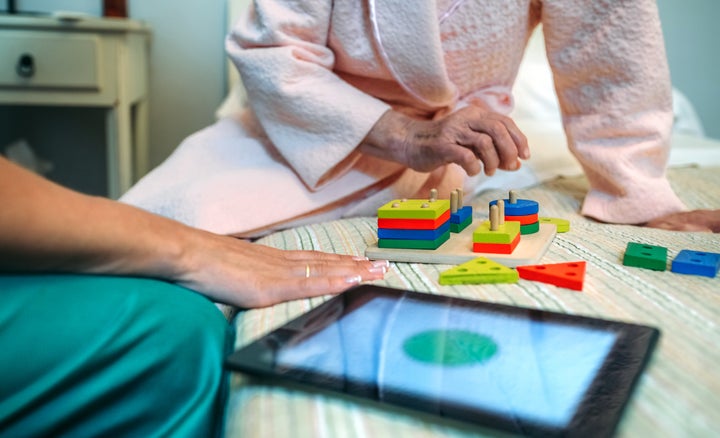 Those pushing the regulations to their limits are "irresponsible", she adds.
"I think overall, the general public don't understand how much the pandemic has taken out of key workers," she says. "It's taken its toll on their physical and more importantly, mental health. If people thought about key workers in recent months as they did in the early pandemic, they wouldn't be meeting multiple households at Christmas."
Some frontline workers won't be seeing family over Christmas because they're continuing the essential work they've been doing all year. Marzena, a catering assistant on a Covid-19 ward in a south London hospital, says she's proud to be working throughout the holidays.
Marzena, who chose not to share her surname, had a difficult journey to becoming a key worker. She was homeless before the social enterprise Beam raised money for her to train as a beautician, but when the pandemic meant that work dried up, Beam supported her again towards securing her current role.
"It's bittersweet [to be working at Christmas] as I won't be able to celebrate with my family the way that I usually would – they live in Romania, where I am from originally," she says. "However, it feels wonderful knowing that I'll be able to serve Christmas lunch to those suffering with the illness over the festive period.
"I feel proud to be a key worker during the pandemic, so whilst it's difficult to be away from loved ones, it's a sacrifice that many others are also having to make."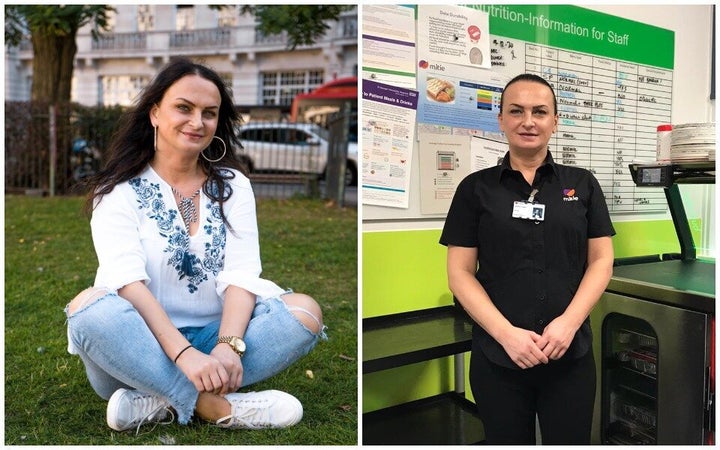 Marzena travelled to Poland between the national lockdowns to see family members who live there and doesn't think people should be stopped from seeing loved ones over Christmas.
"In all honesty it makes me happy to know that despite such a difficult year, families will be able to celebrate with each other for a few days," she says. "I think as long as people are doing what they can to mitigate the risks, they should enjoy the festivities."
There has been growing tension around school policy in the run-up to the festive break. When Greenwich Council in south London said it would be closing schools early, following a rise in Covid-19 cases in the borough, education secretary Gavin Williamson ordered them to stay open. Meanwhile, the #CloseSchoolsNow hashtag has been gaining momentum.
Emma, a 25-year-old teacher from the East Midlands, who also chose not to share her surname, lives with her parents – and is relieved her school is among the few that have closed early, meaning she can relax a little over Christmas.
"Many students were choosing not to come in anyway as, if they were contacted, they would have had to self-isolate over Christmas," she says. "After contact tracing, over half the students were self-isolating before the closure."
She'll be with her parents for Christmas, but she knows of at least one colleague who'll be spending the holidays alone, as they don't feel they can travel across the UK safely to be with loved ones.
In general, Emma does not feel teachers have been taken into consideration in the run-up to Christmas. "During the first wave, a lot of the focus was on the NHS – and rightly so. As far as I can see, teachers have never been fully appreciated," she says.
"It feels worse now in light of the recent Sun article [in which Rod Liddle questioned teachers' attitudes to the pandemic] and Gavin Williamson threatening legal action over schools in Greenwich. Teachers are seen as the enemy, when in reality, we just want a safe work space. There's no social distancing, class sizes are the same and we don't have PPE. It's really difficult."
Overall, the plea from most key workers this year is for people to be extra careful. Tacey would like members of the public to remember key workers when making decisions about Christmas.
"Please, if you plan to spend Christmas with other households, be very cautious in making decisions," he says. "You need to pay Covid the respect it deserves."