Cooking with toddlers can be hard work as you have to constantly keep an eye on what they're doing.
Kim Johnson, 48, realised kids and kitchens don't always mix when her 14-month-old daughter Aimee had a close call with a pan of boiling water.
"I was transferring the pan from the hob to the sink and Aimee toddled right up behind me, my knees gave a little and I nearly dropped the pan," Johnson, from Sheffield, told The Huffington Post UK.
"Luckily, I didn't spill it and all was ok. But it made me look for something to keep her safe."
That moment inspired Johnson to search for - and ultimately invent herself - a gadget that would enable Aimee to be around her in the kitchen safely.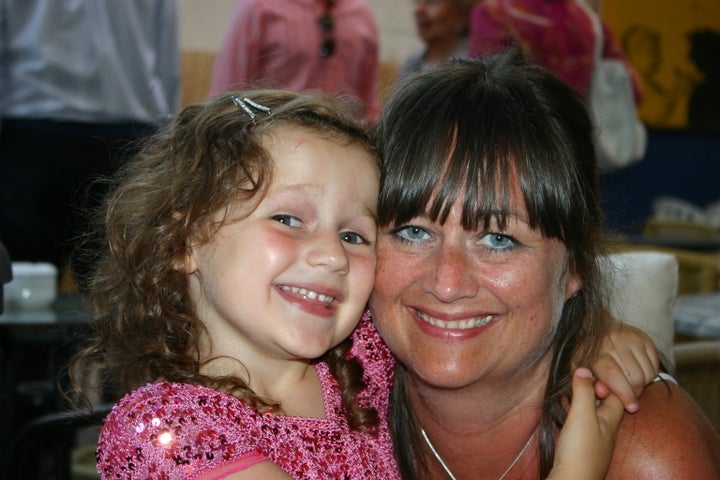 Johnson said the incident with the pan of boiling water wasn't the first time she had worried about Aimee's safety in the kitchen.
"Aimee used to drag a chair over to the worktops to stand on and this was a no-no for me," she said.
"I ended up standing Aimee on a small table, wedging it into a corner and then surrounding it with bean bags, at the same time as becoming a one-handed cook.
"I used to the mums at toddler group about safety proofing because we were all worried about our little ones getting in to everything."
Johnson said part of the problem was that her daughter loved being near her all the time.
She said as soon as Aimee could walk, her arms were constantly in the air because she wanted to be at the same level as her mum.
The idea of creating a product that would enable Aimee to watch her in the kitchen (without balancing on a chair) came to Johnson during a conversation with her dad and step-mum about the boiling water incident.
During the conversation, she sketched a very rough version of something that would help avoid this happening again - and this became the initial drawing of the FunPod.
The FunPod is a kitchen safety stand that elevates toddlers up to kitchen worktop height on an adjustable platform.
The aim of Johnson's product was simple: to keep kids safe in the kitchen while still allowing them to learn and interact with food.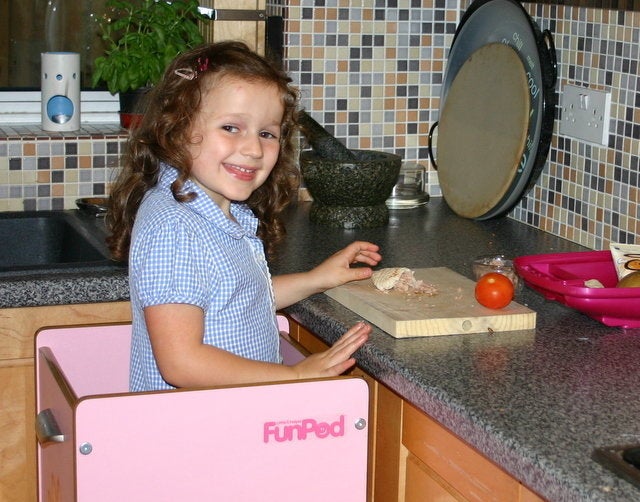 Johnson explained why she felt it was so important for toddlers to be able to enjoy cooking with their parents.
"Child obesity is a topic that constantly crops up in the media and children learning to cook at an early age, so they become less reliant on processed food, is something that a number of governing bodies are encouraging," she said.
"Children form their habits and opinions between the ages of one to four years so this is a crucial time to teach children essential life skills that would stay with them for the rest of their life."
Johnson had a design background and had run an advertising agency for a number of years, so she had the right contacts to help her with the prototype.
She briefed a friend to come up with some rough sketches and sent these off to a carpenter in Spain.
Weeks later, Johnson received 12 samples of her creation.
She gave six of the samples to friends and six to other mums she didn't know for a trial period.
"I then had three evenings where I got a total of 120 mums and dads together to show them the product and asked them to critique it," she explained.
"It was a unanimous agreement that it was a great product, but they gave me some invaluable feedback, which allowed us to modify the product to make it the best it could be.
"To this day, apart from those things, the product has not changed because it was designed by parents, for parents."
But it wasn't all smooth sailing for Johnson.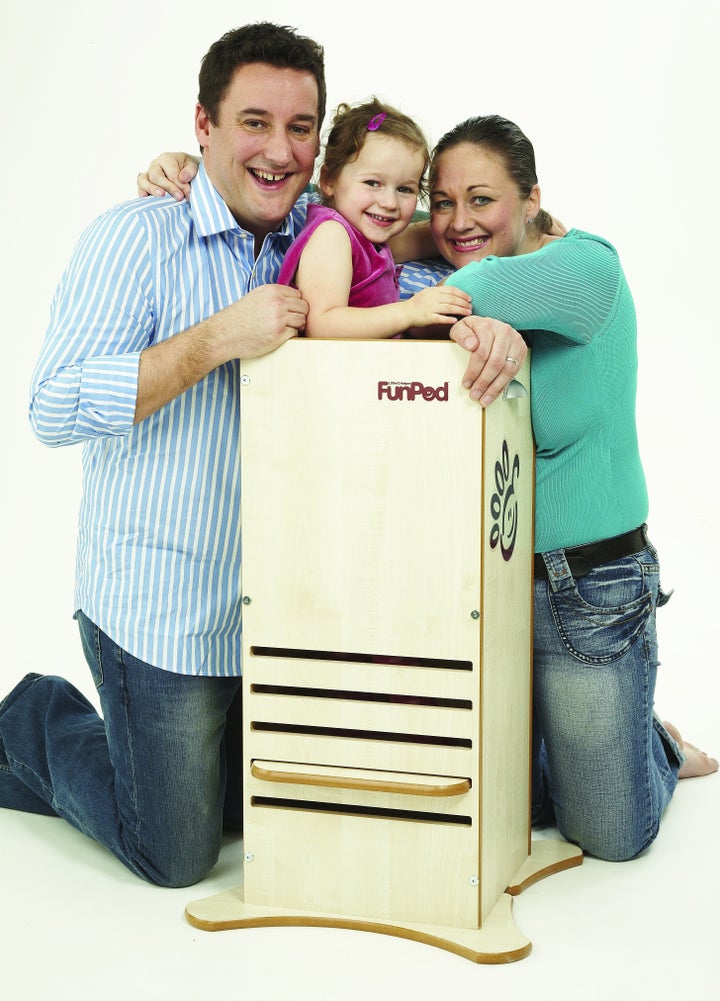 "In the early stages, getting someone to take me seriously in the manufacturing industry in this country was like trying to push water uphill," Johnson admitted.
"It was only when a grandma at my local toddler group saw the FunPod that it got off the ground – her husband worked at a factory in Chesterfield that produced children's furniture."
Johnson initially intended to only sell the FunPod on a website so she could work from home and be around her daughter.
But after taking the product to a consumer show in Birmingham, the high interest meant selling it through retail seemed like the best option.
The soft launch of the FunPod was in May 2006 and it was officially launched to trade in November 2006 - with Kiddicare being the first retailer to stock it.
Johnson said creating the FunPod was one of the "best decisions" she has ever made.
"I have never worked so hard as I do now," she said. "There is no such thing as switching off for me or my husband Sean.
"But we have achieved our main objective for setting it up which was being in charge of our own destiny.
"We wanted to make sure that one of us took Aimee to school and were there at the school gates at the end of the day, and with our own business we can do that."
But best of all the FunPod meant Aimee could stand by Johnson's side in the kitchen to help her cook, bake and prepare lunches.
Ten years on from launch, Johnson and her husband have expanded their range under the Little Helper brand name.
"Committed to developing young minds and to creating something that we knew would last for a while, we developed a range of furniture for children like our four-in-one art station or three-in-one sand and art pit," she explained.
"The company has changed beyond all recognition in some 10 years."
Aimee, now 12, also helps out in the holidays, working on new designs with her mum.
Johnson says she regularly gets messages from parents grateful to have something to assist their kids in the kitchen.
"We bought this for my daughter who has developmental disabilities and is unable to stand unassisted," a mother named Stacy said about the FunPod.
"This is a great way to involve her in the kitchen and not worry about her losing her balance.
"I can see how it would be helpful for any small child as they often tend to fidget and move around while standing on chairs, and this just takes away the chance of any accidents in the kitchen."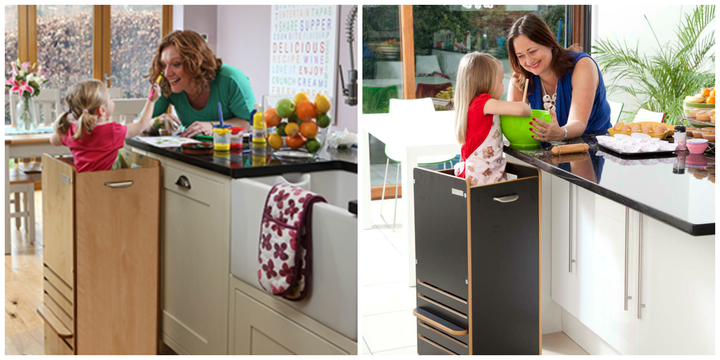 Another mother said she bought the FunPod for her son when he was 18 months old and still uses it now he is three.
"He loves to be involved in cooking and baking, and to help us make dinner, but he was getting far too heavy to hold and scratching at our legs to get up," she explained.
"He stashes his soft toys in it while he's helping us out at the counter. He also loves it for water play at the kitchen sink.
"It makes him feel involved and empowered and has helped him develop a huge love of baking and cooking - he's always asking to get up in it to get involved in what we are doing he loves to make things and likes to smell and feel food."
Johnson said she loves hearing the positive reviews from families.
"It's a very nice feeling knowing that we have a product that helps makes lives easier and more enjoyable," she said.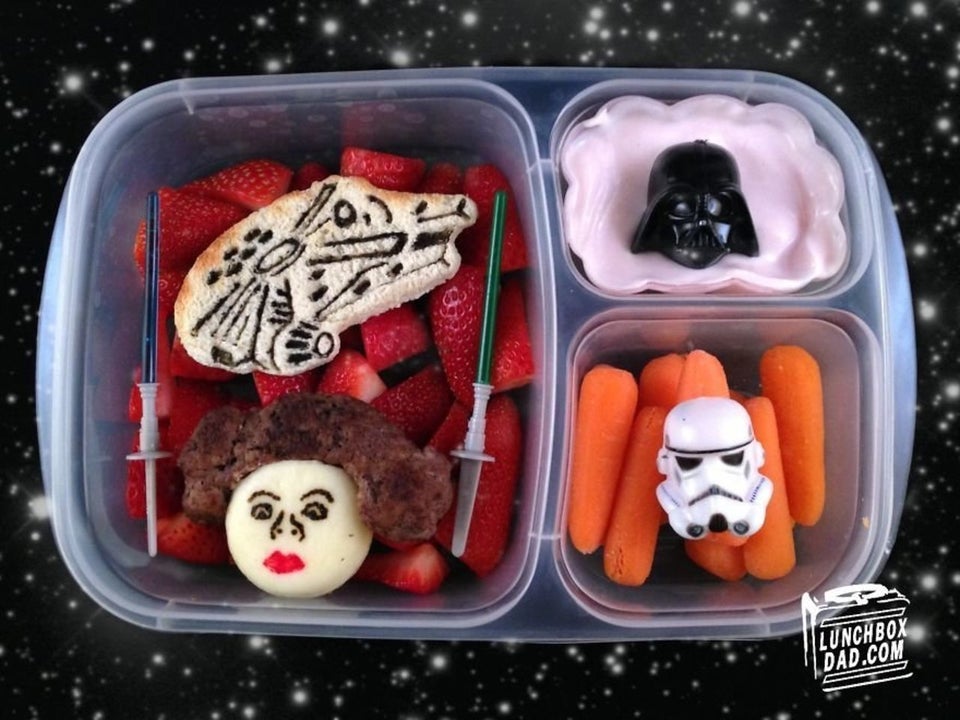 Dad's Star Wars Lunches