South Korea knows good skincare, and where to find it. Namely the bustling, store-laden streets of Seoul, often cited as the ultimate beauty junkie's Mecca.
Luckily for us Brits, the internet has bestowed upon us access to the whole world's skin regimens at the click of a button.
Skincare from beyond-the-sea is no longer word of mouth and reserved for the well-travelled (or friends of the well travelled), it's a whole empire - from French pharmacie must-haves in magazines, to the ubiquitous Instagram sheet mask selfie.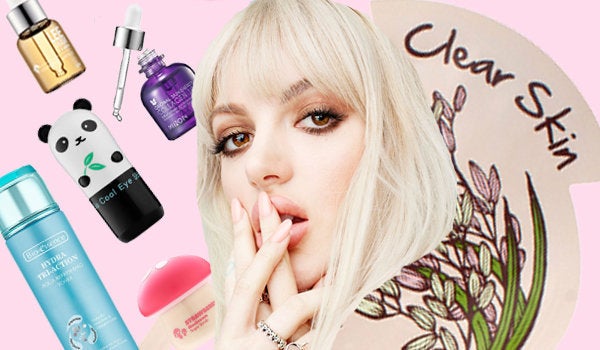 Korean beauty products are some of the biggest in the global market - last year, south Korea exported more than £1.85bn of cosmetics goods - and the success is down to pioneering skincare research.
According to a BBC report, south Korean women spend twice as much of their income on cosmetics than their American counterparts. It's big business, enabling big investments.
The UK is cashing in too - online beauty stores The Silk Rose and Cult Beauty are bringing east to west with carefully curated selections, while major players like Estée Lauder and Lancôme are utilising Korean technology in their products.
The first time I clapped eyes on a sheet mask years ago, I was baffled. Now they're practically de rigueur. Sheet masks on blogs, sheet masks in Boots, sheet masks on Victoria Beckham in her Cannes hotel suite.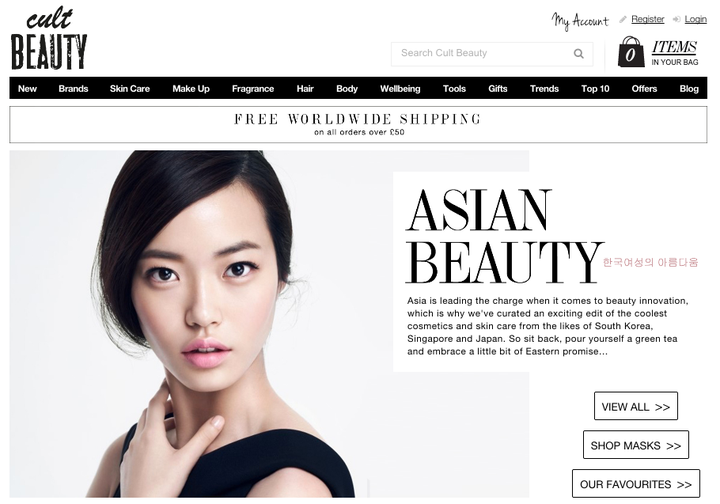 Keen to try it out for myself, I enlisted the help of Cult Beauty co-founder, Alexia Inge, to talk me through the famous multi-step Korean skincare routine - some go up to 13 - before embarking on a week-long crash course.
"Korean women (and increasingly Korean men) don't have a couple of favourite products – they have a fully targeted beauty wardrobe," she told me.
"Our skin changes from day to day, sometimes it's dehydrated, or oily around your nose or chin, or you wake up and it's like someone's put a muted Instagram filter over your mirror - the Korean technique is to properly look at your skin before you start your routine and select products that target the issues of the day using an arsenal of essences, cleansers, acids and serums.
"We change our clothes every day depending on the weather, why not our skincare routine?"
Inge explained that a typical Korean evening routine starts with a double cleanse: an age-old technique that involves first removing skin-clinging makeup and SPF, before following with a deeper cleanse.
"The second stage is more about cleaning pores and softening the skin so that it's ready to absorb the maximum active ingredients in your serum and moisturiser for the best results," she explained.
Without even knowing, I'd cleared the first hurdle - my nightly routine of Bioderma Micelle Solution followed by Avène Gentle Milk was already doing the job, and I feared to stray from it (harsh or oil-based cleansers have a habit of enraging my acne-prone skin).
Next up, toning - which Korean beauty guru Charlotte Cho, from Soko Glam, claims is important for balancing the pH of your skin after an acidic cleanser. The Bio-Essence Hydra Tri-Action Refreshing Toner left my skin soft and comfortable after the acid exfoliator had done its work.
Cho swears the secret to applying so many products is all in the application, advising the two-bird-one-stone method of a light tapping motion - helping increase both absorption and circulation.
Come the first morning I was expecting my moisture-drenched face to still feel practically embalmed, but instead awoke with perfectly hydrated skin and - if I wasn't mistaken - a glow. I began to suspect I was on to something.
Double-cleansing is traditionally skipped in the morning for a simple water wash (you don't want to unduly strip your skin of all the previous night's hard work), so I topped up on ampoules and applied a cocktail of K-beauty-inspired Erborian BB Crème and Lancôme Miracle Cushion Foundation.
"ALWAYS SPF" Inge exclaimed in an email, and thankfully I was suitably covered by the SPF 25 and 23 in the above products (not terribly high, but there were only cloudy, grey skies to contend with).
By this point, my skin looked flawless. I'd never understood the real meaning of the 'baby skin' product sell so popular in Korea - did I really want to look like a baby? - but now I finally got it.
It's that fleeting dewy radiance, so quick to vanish when we start a 'grown-up' routine of stressful commutes, busy cities and long working days.
After just one week (and in fact, even before the seven days were up) my skin looked better than it ever had in my adult life. The 13-step routine hadn't quite knocked me back to complexion infancy, but it's safe to say I am a big fan of Korean beauty.
All-in-all, every single item I used on my face cost £385. A hefty price tag, admittedly, but the true beauty of this routine is that you can choose products that work for your skin, whatever the price tag.
Related