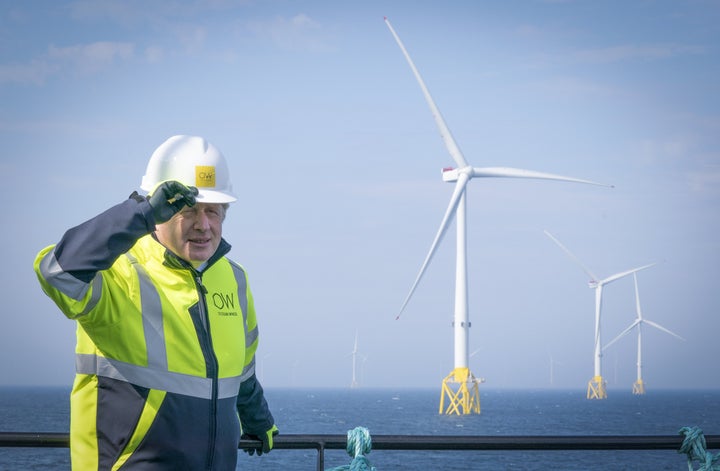 The government's energy strategy will not help to cut people's bills for up to five years, Kwasi Kwarteng has admitted.
The business secretary said the eagerly-anticipated document was "more of a medium term answer" to the cost of living crisis.
Kwarteng and Boris Johnson will finally launch the plan today with a pledge to massively increase nuclear and offshore wind power in the UK.
However, ministers have ditched plans to expand the number of onshore windfarms following a Tory backlash.
The aim of the plan is to reduce the UK's dependence on foreign sources of energy – an issue that has been brought into sharp focus by the reliance on Russian oil and gas since the Kremlin's invasion of Ukraine.
Rocketing energy bills faced by families, caused in part by a post-pandemic rise in demand for gas and lower levels of production, has also put Boris Johnson under pressure to respond decisively.
But on Sky News, Kwarteng acknowledged that the measures contained in the strategy will make no immediate difference to people already struggling to make ends meet.
He said: "You are right to say that the strategy is more of a medium term, three, four or five-year answer, but that doesn't mean that we can't address this.
"It's really important that we get an energy strategy, an energy policy, that means we can have more security and independence in the year ahead."
The cabinet minister stressed that the government had already announced a £9bn package to cut council tax and energy bills this year.
On BBC News, Kwarteng said he appreciated that "people are very concerned" about their bills now, but he added: "You've got to help people in the short term but also we've got to think about the longer term plans so that we're not in this type of situation in the future."
Shadow business secretary said it may be 10 years before the government's strategy cuts people's energy bills.
He told Sky News: "I'm afraid with the government's plan you won't see any impact for a decade.
"I'm in favour of new nuclear, but that's at least a decade away. The real flaw at the heart of this so-called plan is they have rejected the cheapest, cleanest most secure form of power, which is onshore wind.
"And they've done it, not because of the national interest, but because Tory backbenchers said 'up with this we shall not put, we're not willing to relax the ban that was put in place by David Cameron in 2015 on onshore wind' and your viewers are paying significantly more on their energy bills as a result of this."