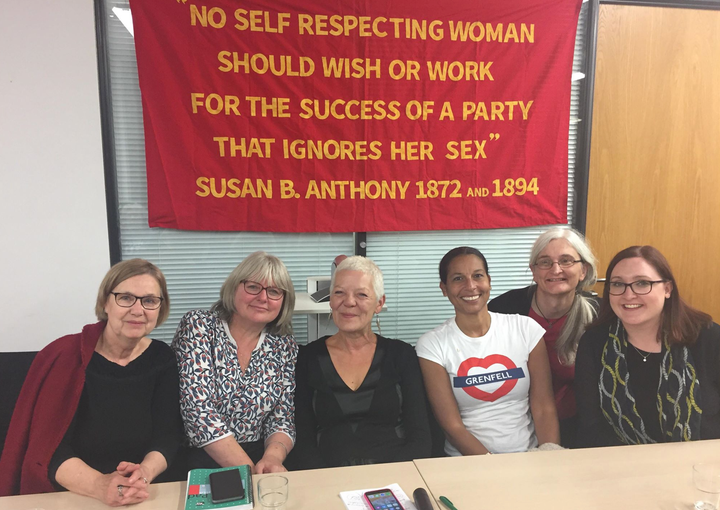 Labour members joined a crowd of feminist activists at a meeting to demand Jeremy Corbyn listen to them over changes to gender recognition rules on Tuesday.
The gathering heard speeches alleging that women "have been let down by the so-called left-wing media and... this Labour Party," over trans issues.
The Labour leader sparked controversy in May when he switched policy on all-women shortlists to say that self-identifying trans women would be eligible for the party's all-women shortlists and women's officer roles.
Under the rules, trans women are now able to do this without needing to show medical certification proving they have changed gender.
It comes as the government consults on proposed changes to the Gender Recognition Act, with Theresa May signalling she wants to "demedicalise" the process because "being trans is not an illness".
But some women say that liberalising self-ID could allow predatory males easier access to women-only spaces, minimise women's collective political voice and skew sex-based data such as gender pay gap statistics.
The meeting was organised by the group Woman's Place UK and held on the edge of the Labour Party conference in Liverpool on Tuesday night, in a location which was not publicised due to concerns the building owners would be targeted by trans rights activists.
Masoud targeted Guardian columnist Owen Jones and described him as "Talcum X", a reference to the American activist Malcolm X.
Jones has accused some feminists of being "on the wrong side of history" over the issue but Masoud said women "have been let down by the so-called left-wing media and we have been let down by this Labour Party."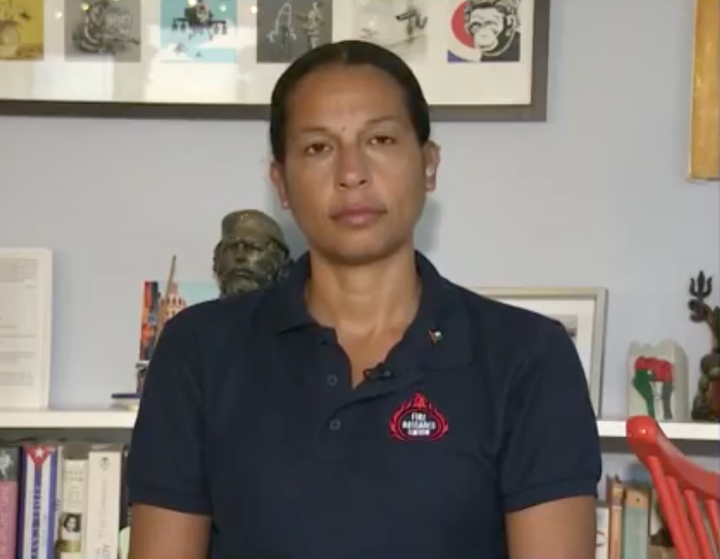 In an inflammatory speech, Masoud said: "Constantly, we see the faux lefties and the Islington elite of the British media tell us women we are transphobic, that we are out of step, that we are scaremongering."
"They try and school us on what it means to be a woman, so desperate are these woke folk journalists to pander to the alphabet soup of gender politics that feminists like myself only use the Guardian now to line our kitty litter tray.
"Of course, the likes of little Owen Jones, or as I like to call him Talcum X, lecture us and tell us we women are on the wrong side of history.
"Let me tell you this, Owen, the wrong side of history is staying silent on your keyboard as a male sex offender is allowed to be put in a female prison and allowed to rape women."
Her comment was a reference to the case of Karen White, a transgender sex offender, who was born male but now identifies as a woman, who was placed in a women's prison in Wakefield, where she sexually assaulted at least two women.
Masoud also said Labour has "stuck its head in the sand" over women being getting abuse from trans lobby.
"I have a few questions for the Labour leadership. Why aren't Labour politicians condemning the intimidation and violence that women like me face every single day simply for voicing our concerns?"
She concluded: "Know this, Labour, we will not let you throw away over 100 years of women's suffrage just so you can indulge the gender identity mafia.
"I'll say this until the day I die, we women are not going anywhere. We are strong, resilient, loud. We are mothers, we are firefighters, we are trade unionists, we are firefighters and we are party members – and you ignore us at your peril."
The chair of the panel said Masoud had "strayed" into being disrespectful with her comments towards Jones.
Jones himself later responded, telling HuffPost UK: "All the research shows that women are most supportive of trans rights, just as was the case with gay rights, and it's men who need to catch up.
"Women like Angela Rayner, who I really don't think could plausibly be described as 'Islington elite', have been at the forefront of solidarity with trans people, as have courageous, strong left-wing women like [commentators] Ash Sarkar, Dawn Foster and Ellie Mae O'Hagan, who I don't think could be plausibly described as 'faux lefties'.
"Gay men were once relentlessly demonised by the media and politicians as sexual predators, the brainwashers of children, mentally ill, and deviant: the same is now happening to trans people.
"As a LGBTQ person with a platform I feel a responsibility to show solidarity with our trans siblings as almost the entire media attacks them. Finally, any sex offender who poses a risk to women prisoners should of course be separated."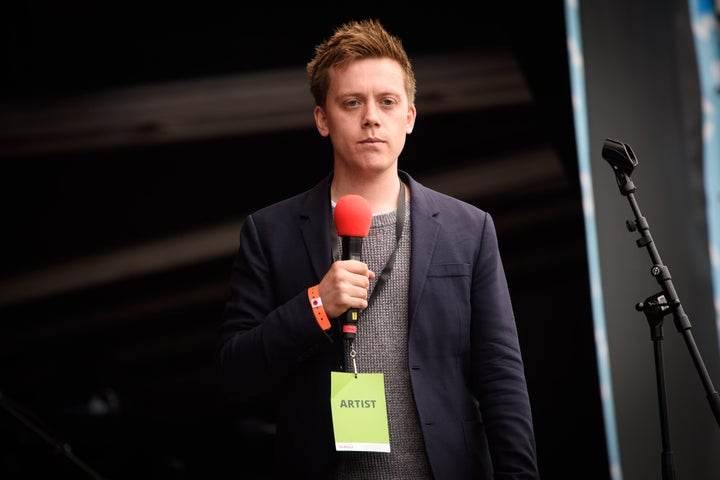 Former Girl Guide leader Helen Watts, meanwhile, said women were being "silenced" and their concerns not listened to by politicians.
″There will be no single sex spaces," she said, should self-ID be endorsed after the government consultation. "This isn't an original quote, but it's true, if we don't see sex then we don't see sexism.
"We live in a structural society and women need the solidarity of a female-only space, and that just won't happen.
Debbie Hayton, a physics teacher and a transexual woman, said the debate around self-ID had become "inflamed".
"One thing is for sure, we're not going to find the solutions by shouting at each other and shutting down the debate," she said.
"Firstly, in a healthy democracy, we must be able to discuss public policy. Secondly, it is not transphobic or bigoted to question assertions made by the trans lobby, and that includes me, I am part of the trans lobby as well.
"And thirdly, self-ID poses huge risks to transgender people. At risk is the social acceptance we have built up over the years and that is informal and based on trust."
Hayton also said feminists should have the right to question what she called the "mantra" of saying "trans women are women" – comments many trans women say they find deeply offensive.
"Sex is a pretty important distinction when it comes to identifying a woman," she said. "I don't identify as a woman. I'm not even sure what it means to identify as a woman.
"I identify with women and that is a good place to be, because it doesn't rely on assertions that I can't justify and I know I can't justify.
"My identity is not dependent on people believing me."
She said men could abuse self-ID guidelines to gain access to women-only places for "nefarious purposes".
"Abusers will take opportunities wherever safeguarding is weakest," she said.
Hayton also questioned Labour's policy on all-women shortlists.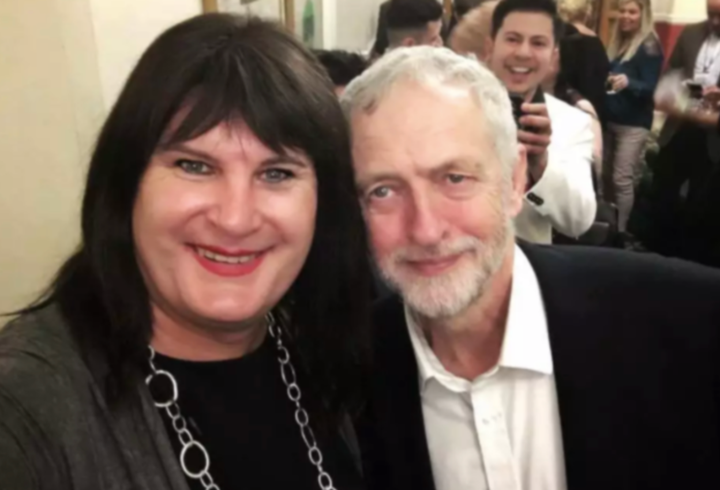 "I support affirmative action to promote under-represented groups but using all-women shortlists creates two wrongs: it excludes trans men, a group equally in need of representation, and secondly, it takes representation from another under-represented group: women," she said.
The debate around self-ID has been repeatedly raised with MPs during the Labour conference.
Shadow Foreign Secretary Emily Thornberry was asked about the issue during a fringe meeting hosted by the Times.
She said: "The feminism movement is big enough, and if someone believes they are born a man but are a woman, we have space.
"Sometimes people say 'What about women's shortlists?' There's going to be a whole load of men turning up in dresses. Really?"
She added: "I think we need to be a little more relaxed about it and I think it's desperately sad to see the way in which it's become so aggressive. We need to step down a little bit. "
HuffPost UK has contacted the Labour Party for comment.