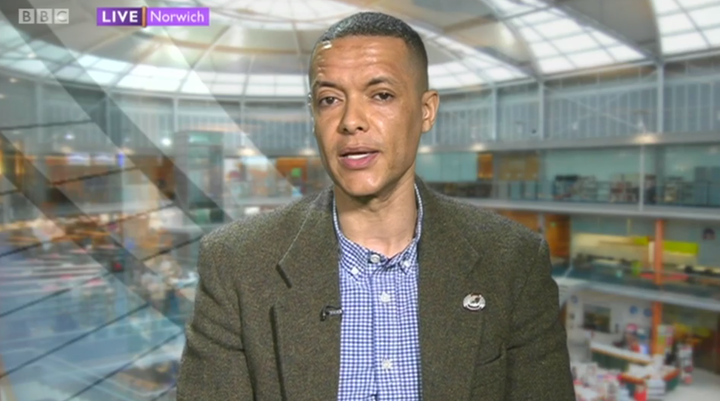 Labour's local election results are "nothing to shout about", an ally of Jeremy Corbyn has conceded.
Shadow energy minister Clive Lewis said the party had a "massive task" ahead of it if it was to win the general election in 2020.
Last week Labour was pushed into third place in Scotland behind the Conservatives and lost council seats in England.
The Labour leadership has argued the fact the party did not lose anywhere near the 150 seats some predicted showed it had "hung on" against expectations.
Sadiq Khan, whose victory in the London mayor race was a bright spot for Labour, has used his win to warn Corbyn not to focus on the party's "core" vote.
Speaking to the BBC's Sunday Politics programme today, Lewis said: "We all know it's a massive uphill struggle. We've now got to think about how we can best - make the best effort, the best attempt to win in 2020."
"When actually you look at the national share vote, we were up 2%. Tories down 5% and yet you and your commentators started on how this was a bad result for Labour.
"I'm not saying it's anything to shout out about. Let's have a look at the results, let's learn from the results."
Lewis said Khan was right to say Labour, having consolidated its vote on Thursday, needed to "start reaching out to people who in the past have voted Conservative".
He said: "That is a message that Jeremy Corbyn needs to listen to and I think it's a message that he will listen to. But consensus and a house is the key thing here. A house divided stands no chance in 2020 of being able to do that."
Speaking to the same programme, former Labour shadow cabinet minister Caroline Flint said the party needed to "make a hell of a lot more progress" than it was.
"John McDonnell said in the run up to these elections, 'we're looking to hang on'. Looking to hang on isn't enough," she said.
"This is the worst result for an opposition party after a general election in thirty years. The year after Michael Foot was elected I think we gained a thousand council seats, Tony Blair 1800, Ed Miliband over 800. We actually had a loss of 28."
Popular in the Community