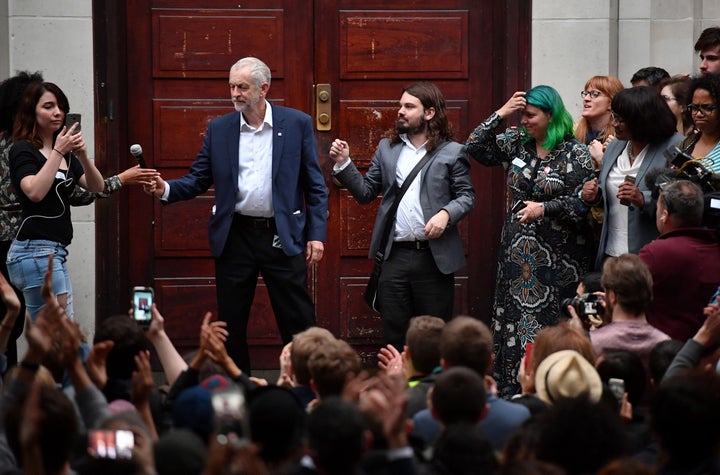 At least 100,000 people have applied to joined the Labour Party since the EU referendum result, The Huffington Post UK can reveal.
The flood of applications comes as Jeremy Corbyn faces a leadership challenge from his MPs.
It means Labour now has provisionally around 500,000 members. The surge in membership will be seen by supporters of Corbyn as evidence people want him to remain in post.
By contrast, the Conservative Party, which is also in the midst of a leadership election, has around 150,000 members.
On Thursday HuffPost UK revealed 60,000 people had joined Labour since June 23. The latest figures show the party continues to add members at a rapid rate.
It is understood 30,000 people applied to join the party on one day alone last week.
On Monday, Corbyn made a direct appeal to party members setting out his case as to why he should remain leader.
In any leadership contest, it is the votes of the membership that Corbyn needs to win to keep power.
Ahead of the expected leadership challenge, the pro-Corbyn Momentum pressure group has announced it had doubled its membership to 12,000 in the past week.
In a statement it said around 1500 people are giving over £11,000 per day to the organisation.
Labour's previous membership peak was under Tony Blair when it reached 440,000.
Earlier on Tuesday, Corbyn completed a shadow cabinet reshuffle he was forced into after much of his frontbench quit en masse in protest at his leadership.
Such is the lack of support enjoyed by Corbyn among MPs, he has had to give some MPs two jobs in his shadow cabinet.
Last week Corbyn overwhelmingly lost a vote of no confidence by his MPs in his leadership by 172 votes to 40.
Despite the standoff between the leadership and majority of Labour MPs, Corbyn has insisted he will not resign.
Former shadow business secretary Angela Eagle has publicly said she has the support of enough Labour MPs to challenge Corbyn for the leadership if he refuses to quit.