Leave-voting seats in the north and midlands are Labour's "Achilles heel" in the general election, Len McCluskey has warned.
With less than two weeks to polling day, the Unite general secretary revealed that his union had polled 75,000 of its members and found a "big" number of them were undecided voters.
McCluskey said that Labour had to tackle the "very real issues" it has with Brexit and Jeremy Corbyn's leadership in some of its traditional heartlands.
But he stressed he was convinced Labour could win over the doubters by emphasising its radical policy manifesto and by pushing Corbyn's offer to negotiate "a proper exit" from the EU.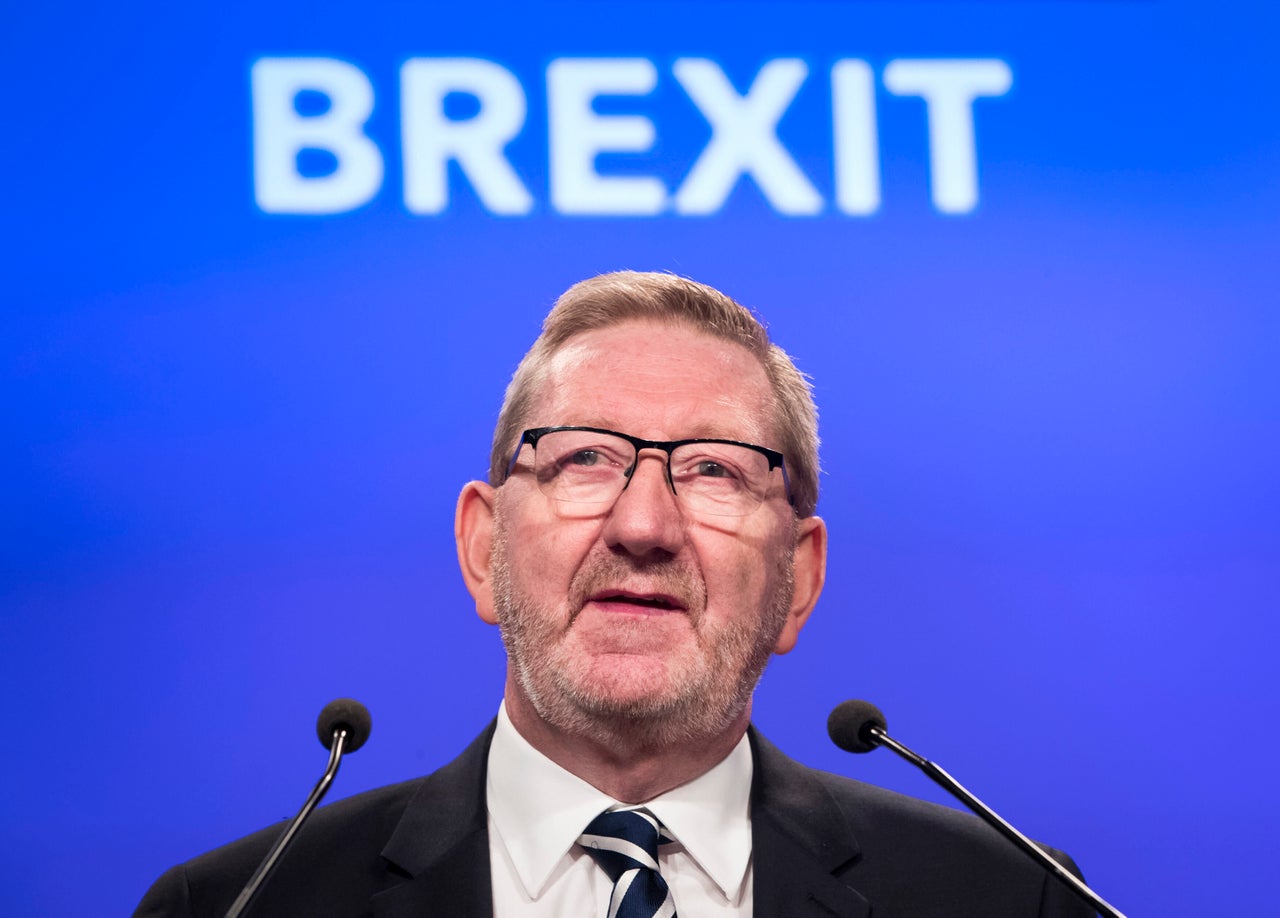 In a wide-ranging interview with HuffPost UK, McCluskey:
said Corbyn's leadership was coming up in the election because of "vicious" media attacks and because MPs who "betrayed" him gave an impression of disunity
revealed his union could convene a special conference to drop its 2016 EU referendum Remain stance and instead back a Corbyn Brexit deal
claimed pro-Remain figures in Labour had made a big "mistake" in panicking about the threat posed by the Lib Dems in the Euro elections
rounded on "unelected" Labour adviser Lord Kerslake for his "ridiculous" suggestion that Corbyn's leadership would be up for discussion in any hung parliament
warned against any "knee-jerk" response if Corbyn lost the election, signalling he should be given several months to decide his future
said Corbyn had changed Labour "forever" and it would never go back to the Tony Blair era
The UK's largest private and public sector union, Unite is also Labour's biggest financial backer in the election and its general secretary is one of Corbyn's strongest supporters.
McCluskey spoke to HuffPost in Derby as he launched Unite's "Come Home to Labour" advertising campaign across key seats in the midlands and north of England.
The weekend's polls suggest the Tories' lead is being cut by Labour, but one YouGov analysis last week pointed to the loss of traditional seats in the so-called "Red Wall", such as Bolsover, Stoke, Wolverhampton, Doncaster, Darlington and Leigh.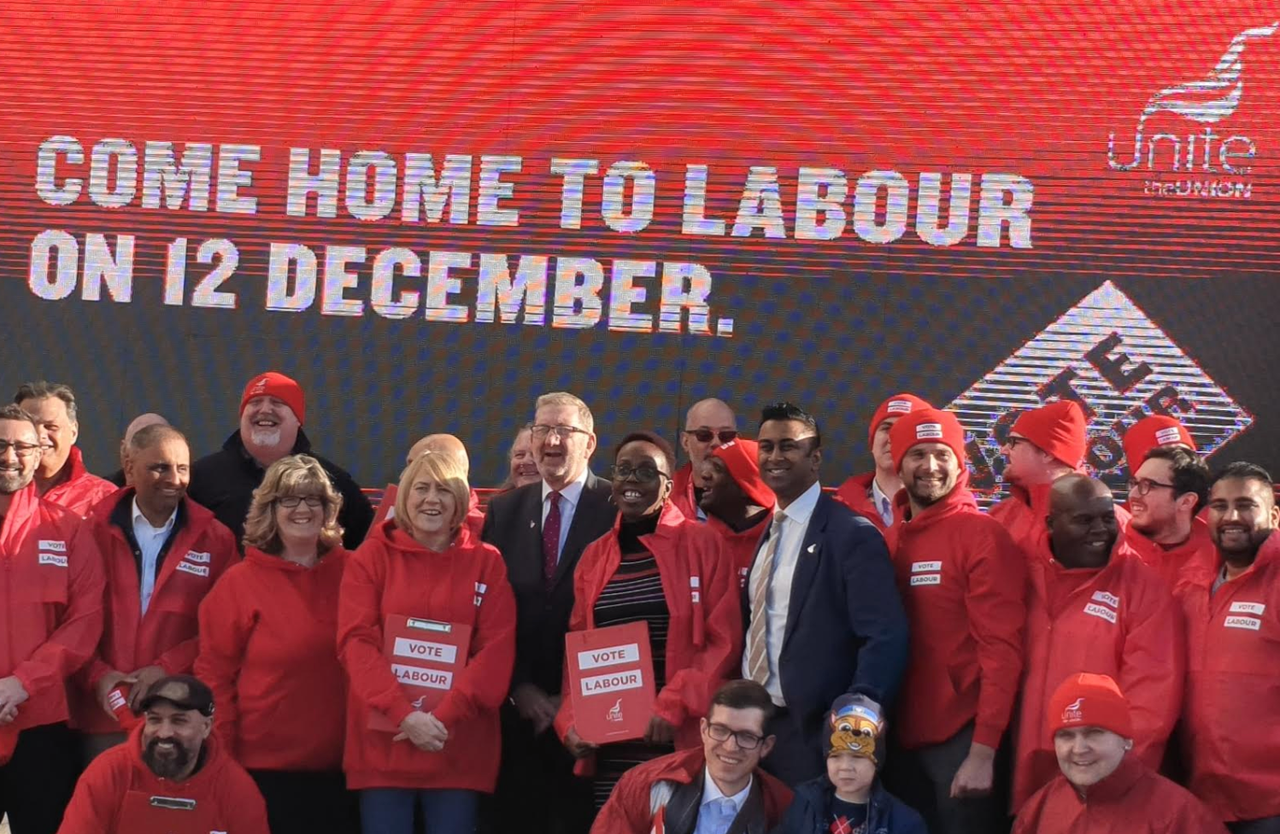 There was genuine unease among Unite officials as they gathered at Derby County's football ground to feed back to their general secretary the messages they were picking up from voters.
Although many supported Corbyn, some said he was "toxic" and "divisive" on the doorstep in some areas, and one shop steward even asked why Unite was "still backing a leader who can't sort" out anti-Semitism.
McCluskey said: "Our Achilles heel is in our communities, in what's known as our heartlands, that voted Leave and are not quite sure yet whether they will give their vote to Labour.
"If we can engage people listening to what's on offer, what type of Britain and country we want as we go into the future, then we are on a winner.
"It's very much a question of how we do that, whilst at the same time tackling the very real issues we've got over Brexit and with Jeremy in some places."
Asked by HuffPost why Corbyn's leadership was coming up on the doorstep and how widespread the problem was, McCluskey replied that a key factor was the media's treatment of the Labour leader.
"I'm not sure how widespread it is, but of course since Jeremy was elected four years ago, he has been consistently [attacked] in a way that I've never experienced before. I'm a huge fan of Tony Benn's and Tony used to get some terrible media.
"But there has been nothing quite like the vicious campaign against Jeremy Corbyn on every subject that the media could try to ascribe some blame to him. He's been slaughtered personally, in a way that a weaker man would have collapsed by now, but he's strong enough.
"He's been betrayed by many of his own MPs, in a way that has been difficult to understand. The one thing that we know about the public is they don't like any divisions and in any political party. So of course the whole issue of Jeremy becomes an issue within any election campaign.
"Of course you will have also had some people say how much they supported Jeremy Corbyn how he's been responsible for a massive increase in membership, how young people have flocked to the Labour Party. And in my opinion, history will record that it's Jeremy Corbyn who changed British politics forever."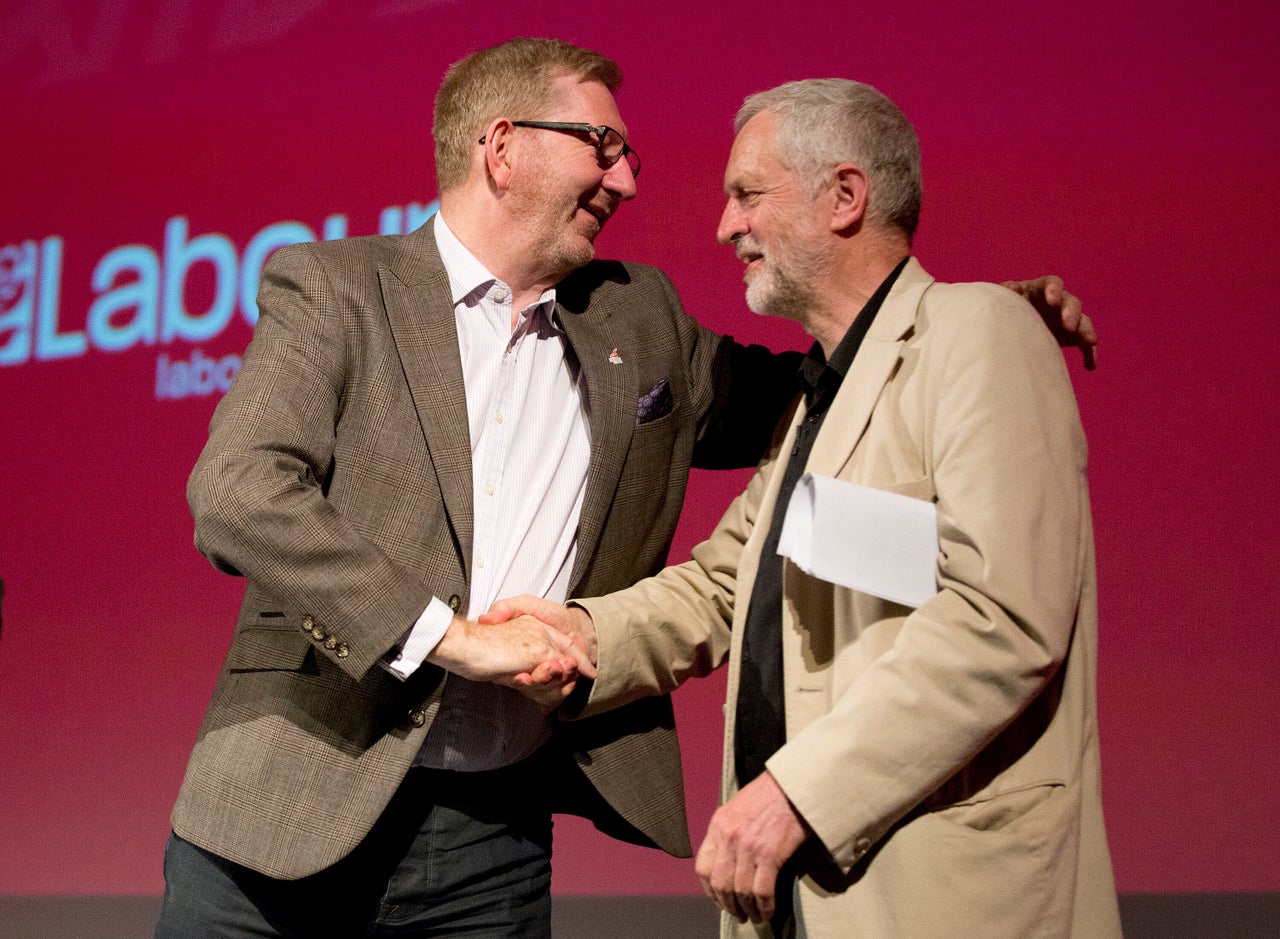 McCluskey was scathing about a recent suggestion from Lord Kerslake, a former head of the civil service who has been advising shadow chancellor John McDonnell, that Corbyn's leadership could be part of a "conversation" with the Lib Dems and SNP in any hung parliament.
"I thought it was extraordinary, absolutely extraordinary that this guy who's not a member of the Labour Party should open his mouth like that," he said. "I mean, it beggars belief as to why he's been involved in any discussions with the Labour Party. Absolutely ridiculous. And of course, it's not going to happen.
"The truth of the matter is if there is a hung parliament, it will be Labour that hold all of the aces. And, in my opinion, will not have to concede any fundamental issues to any of the minor parties."
Kerslake's role within the party was underlined when it emerged he had been the person to inform chief of staff Karie Murphy that she was being moved from the leader's office to Labour's HQ for the election.
"He's not a member of the Labour Party, he's not elected. I'm confused as to first of all what inputs or influence he thinks he has, and secondly to make a statement like that it has no credibility and it certainly wouldn't be influential in the Labour Party at all."
McCluskey, who has long warned Labour against pushing a stance on Europe that is too pro-Remain, pointed out that during the summer's European elections he had urged the party not to overreact to the Liberal Democrat surge.
"I did send out the call then, to don't panic, to calm down. I think people did make a mistake in viewing the European results in a particular way. Also the European results showed us the nation was split down the middle. We knew that anyway, and to react to that I felt was premature. We should have had a much more nuanced approach to it."
Asked if those shadow ministers who broke ranks to call for a pro-Remain position in a referendum would be held responsible for the loss of Labour Leave seats, he replied: "I think, even in the dying days [of this election campaign] I think we will see a shift, and I think Labour will form the next government.
"I don't want therefore, to get involved in any blame game at the moment, you can come and talk to me after the 12th of December."
McCluskey did however say that the 'People's Vote' campaign had failed to recognise the pro-Leave views of Labour voters in key areas.
"I know through my members and from where I was born, you know, working class through and through, I know the concerns that people have. When the debate was taking place about the whole issue of Remain or Leave, I was trying to balance the very strong voice of the Remainers, the People's Vote, I was trying to balance it to say look, you have to try to take the whole nation with you."
He said he was telling voters Labour was "serious about negotiating a proper exit from the European Union...a deal that protects jobs, protects investment protects workers rights protects the environment and consumer rights, unlike the current Tory deal".
"According to our own polling on our own surveys, there are huge numbers of people who are undecided still in these important weathervane seats here in the north and in the Midlands. And so it's right that in the coming 10 days we drive the message home."
McCluskey also suggested that former New Labour figures such as Peter Mandelson had backed a second referendum with ulterior motives.
"The reality is, of course, there were people who you know the so-called grandees of the Labour Party who had a different agenda as well. They were opposed to Corbynism, and therefore for them it was an opportunity to make life difficult for Jeremy," he said.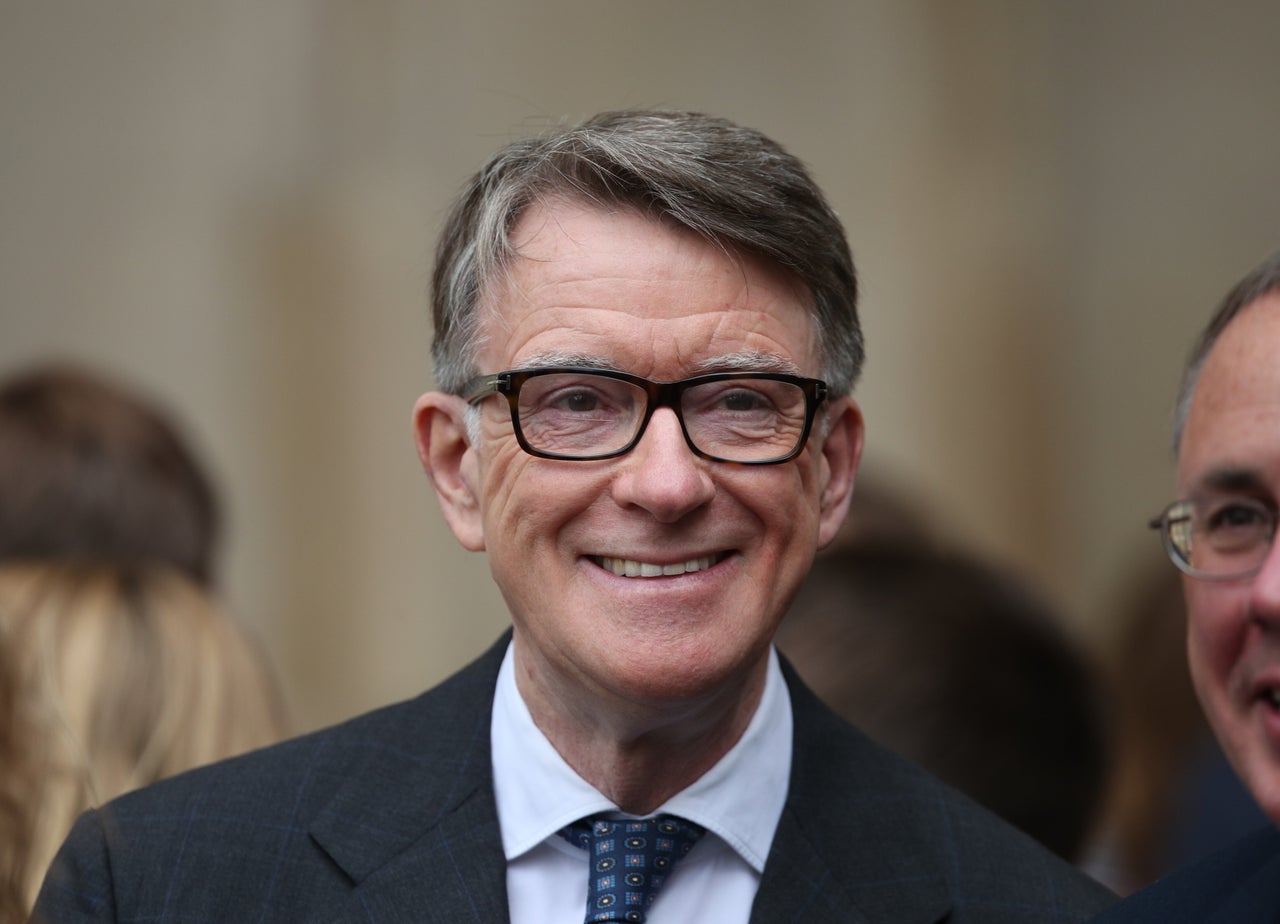 "I think was Mandelson that said there's nothing wrong with being filthy rich. He came from that position, maybe because he was filthy rich or was going to be filthy rich himself. He came from that position on the basis that wealth would trickle down... Unfortunately under 13 years of a New Labour government inequality increased."
McCluskey said that although Unite campaigned to Remain in 2016, if Corbyn won the election his union would call a special meeting and then decide whether to back the new PM's fresh Brexit deal.
"My executive may may look for me to make your recommendation, and in all honesty, I'm not sure at this juncture. You might ask me the question of 'which way would you vote?' I won't know until I see the offer," he said.
"There's every likelihood that if Labour win and then negotiate a credible offer, Unite will recall our policy conference. A thousand of our delegates will come, they will have the deal. And they'll be able to look at it and they'll be able to examine that. They'll be able to weigh up that 'well in 2016 we campaigned to remain', but they'll also be able to weigh up that in 2016 we also accepted the results.
"And therefore, and with the deal in front of them, they'll make their judgment as to which way Unite will go. People need to understand who voted Leave that we are serious about negotiating a real offer, an offer that will land and everyone will be able to look at."
McCluskey said that his latest campaign was about talking to Unite activists to keep tuned to the views of workers across the north and midlands.
"In, 2016 when I went around the country - and my union strongly supported Remain and reform - when I came to places like this, our activists were saying 'Lenny, we get it and we're supportive of that but we've got to tell you we've got problems on the shop floor where people are talking about voting Leave'.
"And it's that disconnect that is the important thing for me and so what I'm here to do, is to try and figure out a way that we can try and get our message through in a clearer fashion in these last days.
"It was interesting to hear some people saying look, you know, actually, when we start talking about policies and the manifesto we get a good response.
"We did a survey of 75,000 of our own Unite members and got a lot of information, different sectors different areas of our union, and different areas of the country.
"It's reinforced the fact that there is still a big don't know group there. And that encourages me to an extent because I believe if people are not sure then trying to get them to look, in a sense, beyond Brexit, and to the type of country we want to be in the future, I think puts us in a good position."
The union boss also underlined that had Corbyn won the 2017 election, the whole issue of Brexit would have been sorted and Labour could have focused on tackling austerity
"Had Labour come to power, just two and a quarter years ago - and we almost did, I think most people said that if the campaign that had gone on for another couple of weeks, Jeremy Corbyn would have been in power, as the largest part - Brexit would be over and done with, well over and done with.
"Because Labour would have negotiated a deal that would have reflected and satisfied the Leavers, but would have also alleviated the fears of the Remainers, we wouldn't have had two years of this horrible toxic debate and polarisation that has been caused by an incompetent Tory government. And we would have all moved on."
MCCLUSKEY ON... what if Corbyn loses

"I think Jeremy will be in Number 10, but I do feel that all parties, all political parties, the Tories, the Liberals, Labour if they get defeated in an election I always believe there should be a period of reflection. For example, when we lost in 2015, Ed Miliband resigned, that weekend. I didn't think that was the right thing to do because you need to look at what has happened in an election you need to look at the results.

"There should be a period of reflection is so that there's not a knee jerk reaction to blame A B C D or E."

Referring to Michael Howard's decision to stay on for six months after the Tories' 2005 defeat: "He did. I think in that sense, I don't expect Labour to lose, but I believe that there should be a period of reflection, so that people can have a discussion. Not just Jeremy or any particular leader, but you know people's views should be should be taken into account."

MCCLUSKEY ON... Corbynism after Corbyn

"I don't see, irrespective of what happens in the general election. I don't see us ever going back to a position where people couldn't distinguish between the political parties."

"You need a government to challenge that in order to start to bring about an element of equality in society. New Labour unfortunately never did it. I think Corbyn and McDonnell have changed the Labour Party forever, and I don't think we'll ever go back to that position again."

MCCLUSKEY ON... Chris Williamson standing against Labour in Derby North

"I wish Chris hadn't have done that because splitting the vote and allowing the Tory in, does not advance the values and the politics that Chris believes in."

MCCLUSKEY ON... EU/UK trade union rights

"I find it angers me that the very nation that defeated fascism at the end of the Second World War, and gave Europe all the freedoms that they currently have, everything that Europe currently has, we gave them. And yet, how is it right that German workers have got better protections than British workers? French, Spanish, Italian, Dutch, Belgian, have got better protections than British workers.

"It's because since the days of Thatcher, conservative governments and the establishment they present regard trade unions as the enemy within. Which is completely different to the way trade unions are treated in the rest of Europe, and all Labour is attempting to do is give us a level playing field and equality."

MCCLUSKEY ON... whether he will serve a full term to April 2022

"When the time comes for me to step aside my members and my executive will be the first to know...The reality is that all kinds of things come into play."

"There are a number of good Left candidates radical candidates who will keep Unite in the position that we are which is the biggest the most influential the strongest union."