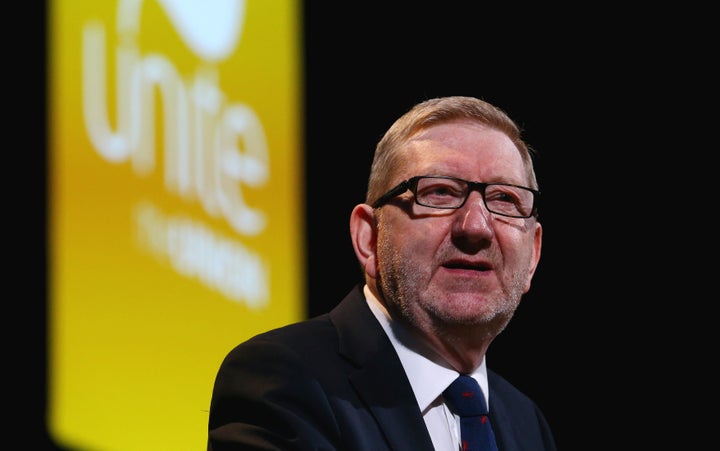 Len McCluskey has said the "establishment" media is critical of Jeremy Corbyn because it is afraid the Labour leader can win a general election - not because it thinks he can not.
The general secretary of the Unite union also told a fringe event at the Labour conference in Liverpool on Sunday that the party's poor poll rating was the fault of the "mass hysteria" caused by MPs who triggered a leadership election.
His comments came as a poll by BMG for The Huffington Post UK showed more than two-thirds of voters would prefer Theresa May and Phillip Hammond running the country than Corbyn and John McDonnell.
McCluskey said: "The media are the mouthpiece of the establishment, of the corporate elite, of course they want to stop Jeremy Corbyn and John McDonnell. The truth is the reason they attack him and say he is useless and will never win a general election, if that was true and they really believed that, they'd want him to stay there, they want to get rid of him, not because they think can't win a general election, it's because they fear he can."
McCluskey said Labour was level or ahead in the polls until MPs began calling for Corbyn to resign following the Brexit vote. He told the event "senior Labour people" were wrong to be predicting an election would be a "disaster" for the party.
"The truth of the matter is, until there was this mass hysteria and rush by PLP members to abandon their roles, and their jobs, until then, the opinion polls were showing that we were level that a few were showing we were ahead," he said.
However on an average of the polls, the Conservatives have been ahead since the 2015 general election. As FullFact notes, only three of the polls taken over the last year have shown Labour was ahead of the Conservative Party. One poll after the referendum result showed Labour was tied with the Tories.
In August, Anthony Wells from polling firm YouGov said claims that Labour were equal to or ahead of the Tories before Labour's leadership troubles was "a disingenuous claim at best" which "seems to rest wholly upon cherry-picking individual polls".
Speaking on a panel organised by the Daily Mirror, McCluskey attacked the Daily Mirror for joining the "gutter" press. "It was heartbreaking to see the Mirror fall into the group-think of the Westminster bubble, sniping against Jeremy Corbyn," he said.
McCluskey said he read the tabloid as "man and boy" and told its journalists to "get behind the leader of our party - Jeremy Corbyn".
The Union leader also urged Labour MPs to united behind Corbyn following his re-election. "I know Jeremy has reached out a hand of friendship to those members of the PLP who have been concerened about his leadership. I am very confident the vast majority of them will come back and we will unite," he said.